MIAMI -- In Miami's Little Havana neighborhood, people trickled in on Saturday into a small travel agency specializing in trips to Cuba, waiting to speak with an agent to purchase tickets and inquire about the status of their passports.
Havana Centro Travel, which does everything from sell tickets to Cuba to facilitate Cuban passports and visas, has seen an uptick in people inquiring about travel to the island since President Barack Obama announced a shift in U.S.-Cuba policy, including relaxing travel restrictions for Americans.
"We think the interest will continue to increase when we find out exactly what the rules are," said Havana Centro Travel's Yanet Palma.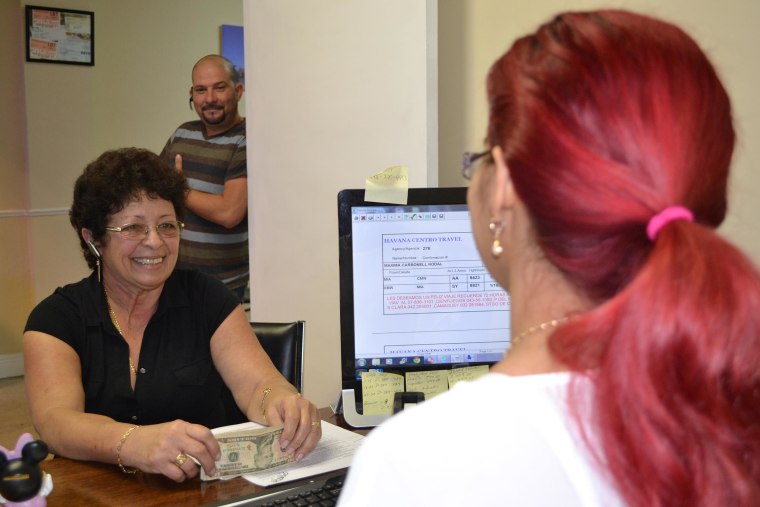 In the days since Obama's unexpected announcement, many travel agencies that focus on Cuba travel have seen a surge in interest from Americans hoping to catch a glimpse of the island. They're gearing up for what they hope will be a boom in Americans visiting the island, though travel for some Cuban-Americans remains tricky.
Experts explain that booking a trip to go lay on the beach soaking up the sun in a resort is not going to happen anytime soon. Going to Cuba as a mere tourist is still banned for Americans and the State Department's 12 categories of allowed reasons for travel are still in force. Some of these categories include visiting family or educational and religious purposes.
Yet it will be easier to travel to Cuba. This is because none of the 12 categories will require a general license, which means visitors will no longer have to request approval from the U.S. government.
Though not a huge change, it was enough for people to pick up the phone and start arranging their next trip.
At Road Scholar, a non-profit educational travel company based in Boston, Cuba has been their best seller each day since Obama made his announcement, according to JoAnn Bell, SVP of Programming.
These kinds of people-to-people visits are fully hosted travel tours that are meant to promote interactions with Cubans and the meaningful traveler – not resort-style vacations. The trips are heavily regulated by both the U.S. and Cuba. There are only 3 tour operators they can use on the island and everything has to be paid directly through the Cuban government.
Despite restrictions, about 300,000 Cuban-Americans and another 100,000 non-Cuban American citizens travel to the island each year. This is expected to increase after Obama's policy announcement.
Road Scholar, which has been sending about 2,000 tourists to Cuba each year since 2011, says they are already sold out for January, February, and most of March. They requested more space for 2016 from their licensed travel provider.
"What is going to happen is during the first year or two the country is going to change so much, so if you want to see how it looks now you have to go soon," Bell said.
Bell thinks people who have been nervous about going to Cuba in the past might feel more comfortable now.
However, Road Scholar - like other travel agencies - have had trouble processing Cuban-Americans born on the island, and have seen cases where they have been declined.
This is because the Cuban government doesn't recognize the U.S. nationality of American citizens born on the island or in some cases the children of Cuban parents. So, American citizens born in Cuba are required to apply for a Cuban passport, making preparing the trip a bit trickier.
Cuban-Americans who immigrated illegally - such as rafters or athletes and doctors who deserted while on a mission - must wait 8 years before applying for a Cuban passport in order to visit the island.
Despite the restrictions, this hasn't stopped nearly 100,000 American citizens from traveling to Cuba each year, as well as about 300,000 Cuban-Americans.
Currently only charter flights are allowed to fly from the U.S. to Cuba, and they will potentially gain from more travel between the two countries.
Cruise ship companies are excited about the possibilities Cuba could offer but the island would first need investments in infrastructure and docks in order to accommodate large ships.
Cuba itself has shortcomings which can impact the volume of travel, despite the eased restrictions.
"There's a limited infrastructure in Cuba for the amount of travel that is legal now," said Robert L. Muse, a Washington DC attorney who specializes in American laws relating to Cuba. He says Americans will have to adjust expectations with hotel rooms. The current groups that do people-to-people visits have become very efficient in booking transportation and hotel in Cuba, so it's difficult for regular Americans to get into these hotels on their own.
Muse stresses the first thing people have to grasp is that the current laws and regulations have not been lifted yet.
In Little Havana in Miami, this is something Palma says she has been reiterating to those who call the travel agency inquiring about Cuba travel. "We have to wait and see what happens."