U.S. Treasury Secretary Jacob Lew toured Puerto Rico amid a lingering financial crisis that has the island locked in a bitter dispute with Congress over how to handle the more than $70 billion in debt and $40 million in unfunded pension obligations. In an effort to press Congress to pass a resolution for the Island's worsening debt crisis, Jack Lew visited public services, such as a hospital and an elementary school, that have been hit hard by the choking debt crisis and which will only worsen if a restructuring plan is not agreed to.
"What I have gotten to see first-hand is there is a growing crisis in Puerto Rico," Lew said. "It can only get worse."
Congress remains at odds with administration's appeal to help the financially strapped island. Lew's visit comes at the heels of the Puerto Rican government's default on $370 million, the largest such failure to pay for Puerto Rico.
There have been talks for the past several days about new legislation this week from House Republicans that would create a control board to oversee some debt restructuring.
RELATED: Treasury Sec. Warns Inaction on Puerto Rico Could Cost Taxpayers
This is Lew's second trip to Puerto Rico this year. On January 20 Lew met with leading Puerto Rican officials and issued a warning to Congress, saying that the island would default on it debts and that residents bore the brunt of the crisis.
Lew's tour highlighted the already crumbling infrastructure of Puerto Rico as the crisis grows deeper.
RELATED: 'Forced Exile,' Say Puerto Ricans Leaving Island Amid Financial Crisis
Federico A. de Jesús, the Principal of FDJ Solutions said in an interview with NBC Latino that Lew has urged Congress and the administration to take action in the past. Congress is divided, which makes finding consensus and legislating a solution more difficult.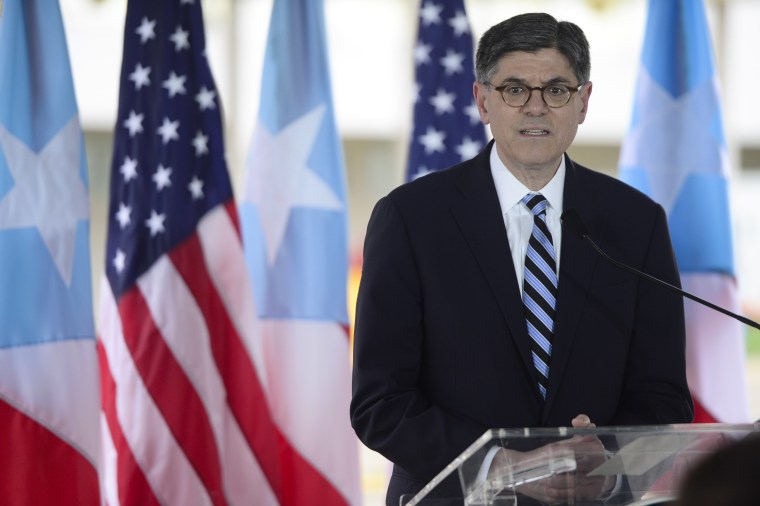 "We see that Congress dragging its feet provoked the massive default on May 1," de Jesús said. "Some people in the administration and Congress believe that if the Obama Administration plans to take executive action, that may give Republicans an excuse not to act," said de Jesús. "But Republicans also may be motivated to shape the policy and legislate it before the president acts."
RELATED: 'Hanging on the Cliff': Puerto Rico to Default on $422 Million Debt Payment
Whether healthcare or immigration reform, Obama has faced push back when his executive legislation has circumvented Congress. While an executive order could help the island restructure its loans, de Jesús said it would only be a temporary solution to the crisis.
"From what people on the hill have said, they feel strongly that the only permanent solution is Congressional action," de Jesús said. "Other people on the hill and experts have said that executive action is something that should be contemplated to help the legislative process. A law that would establish restructuring authority is the ideal approach, and we all would all desire and see Puerto Rico come out of the crisis."
"Executive action could help the legislative process, but could also help avoid another mess of another default on July 1," de Jesús added.
Puerto Rico owes $72 billion to creditors, On May 2 Puerto Rico defaulted on a $422 million debt payment to creditors, which signals that the government will not be able to pay the next payment.
Meanwhile, Congressman Raúl M. Grijalva (D-AZ), a ranking member of the House Natural Resources Committee, traveled to Puerto Rico on Monday for a week-long trip to address the humanitarian costs of the debt crisis.
RELATED: In Lin-Manuel Miranda's Puerto Rican Town, Crisis Worries Family Members
Grijalva is meeting with Governor Alejandro García Padilla and Resident Commissioner Pedro Pierluisi, and among the topics he will discuss is how major spending cuts have impacted medical care at a time when the Zika virus threatens hundred of thousands of American citizens on the island.
Puerto Rico's financial situation has affected basic services on the island. While the poverty rate climbs past 45 percent, hospital wings close and schools shut down, Puerto Rican officials are searching for solutions to pay nearly $700 million due by July 1.