Martina Zacarias, a farmworker in the Eastern Coachella Valley, called for help evacuating late Sunday when the wind turned fierce, the streets began flooding and the trees outside her mobile home bent deeply under the power of Tropical Storm Hilary as it moved through Southern California.
"It seemed like a tornado, because the air went everywhere. There's a giant tree on the corner, and it bent it, it bent it horribly," she said. She lost power Friday for about five hours and feared losing it again, which would have made the heat in the mobile home intolerable, she said.
Hilary was the first tropical storm to hit Southern California in 84 years. In the hours after the storm swept through the area, calls to TODEC Legal Center, which serves farmworkers of the Coachella Valley, changed from pleas for rescue to entreaties about finding work. Now, the questions for many farmworkers center on how they will pay for rent and food — all without the day-by-day income they earn because the fields where they normally harvest, plant or till are inaccessible or may be flooded.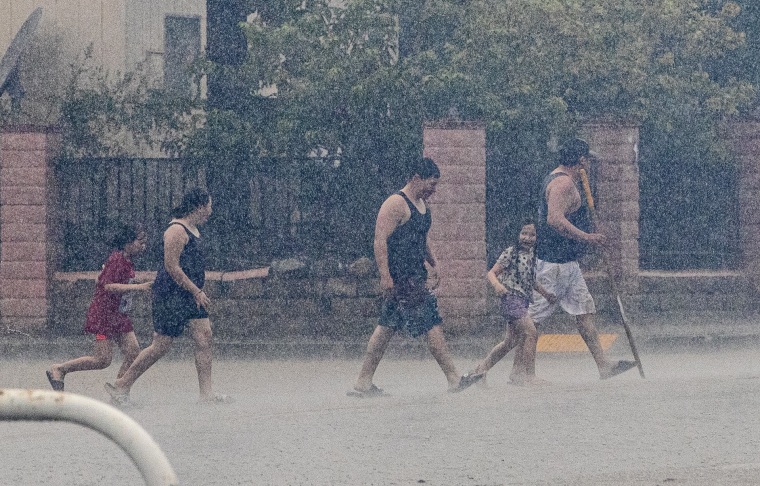 The Eastern Coachella Valley — which is made up of the unincorporated rural communities of Thermal, Oasis, Mecca and North Shore — is home to many farmworkers, a population that often lacks legal status and isn't eligible for unemployment or federal disaster aid. The area also lacks adequate infrastructure, making the population more vulnerable.
Riverside County, where the Coachella Valley is located, declared a state of emergency Monday afternoon after officials assessed the damage, KTLA-TV of Los Angeles reported. The proclamation requires approval from the county Board of Supervisors, the station reported.
Fearful of deteriorating conditions Sunday, Zacarias, 41, called a hotline set up by TODEC. Local law enforcement officials came to evacuate her, her children and a grandchild from their mobile home. Her husband refused to leave and stayed behind to guard their few possessions.
Now back at her home, with a roof collapsing in one room, she worries about the economic havoc the storm has wreaked on her and other farmworkers. She and others who harvest the area's crops live on the economic edge and have missed three days of work because of the storm.
"We don't know when we are going to return, when they are going to tell us we can work, because with the rain there is a lot of mud and a lot of water, and we can't work," said Zacarias, who most recently harvested dates for work.
Luz Gallegos, TODEC's executive director, said the group's 24/7 hotline staffed by volunteers since Thursday received several calls from other families. The group had warned the community of the coming storm and let it know the hotline was available should it experience flooding. She said the county sent vehicles to pick up families and take them to shelters.
"We are not used to hurricanes here in California, but we do know what floods look like, and we were prepared," she said.
Gloria Gomez, the president and founder of the Galilee Center, a nonprofit organization in the region that provides disadvantaged families with food, clothing and other basic needs, said the center opened its doors as a temporary shelter during the storm.
It sheltered 12 people Sunday night. The county Emergency Management Department brought in at least 10 from the Oasis Mobile Home Park, which is in Thermal. All had left the shelter and gone back to their homes by Monday morning, Gomez said.
Desert Mirage High School in Thermal also opened as a temporary shelter. The Coachella Valley Unified School District closed its schools and district office Monday and will resume instruction Thursday.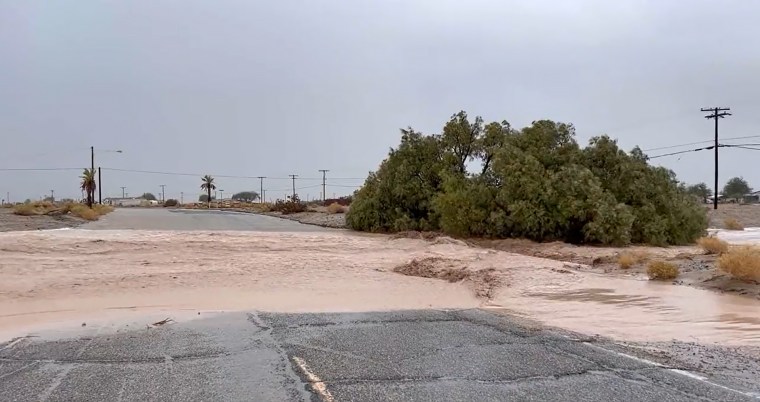 Latinos account for 69% of the population of the Coachella Valley. In total, 14.6% of all Coachella residents live below the poverty line.
Gallegos said that TODEC is providing food cards to help people pay for groceries but that its resources are limited. It will launch an online drive for donations, she said.
Manuel Torres, 30, a farm manager at Torres Farms in nearby North Shore, said weather-related events in the region have become more frequent in recent years. He said farm companies, owners and farmworkers are adapting to disruptive weather patterns by starting work earlier in the summer to avoid excessive heat and taking preventive measures ahead of expected heavy rainfall.
"People adapt pretty fast," said Torres, who saw flooding in his area and up to 4 inches of dirt in his street. For farmworkers, getting back in the field to work is essential, as "most of them live day by day or week by week when they get their paycheck. They have to invest their money right away into groceries, bills and everything. So even a day that they miss from work makes a big difference," he said.
Adding to difficulties, some families' vehicles suffered water damage, so they can't get to work. In other cases, roads have been closed because of storm damage or debris, so their routes to work are blocked.
"We have to do better as a country to provide resources," Gallegos said. "Agriculture is the backbone of our state's economy."