WASHINGTON — The Trump administration has announced it will allow eligible young undocumented immigrants to remain in the U.S. and work, but did away with a program that would have let undocumented parents of U.S. citizen and legal resident children stay.
The announcements late Thursday, the fifth anniversary of the Obama administration Deferred Action for Childhood Arrivals program, may help calm some fears among the approximately 790,000 DACA recipients. Many were bracing for a repeal of DACA or an end to acceptance of new applications as part of President Donald Trump's ramped-up immigration enforcement.
But in the context of Trump's immigration crackdown, some said the decision was small consolation.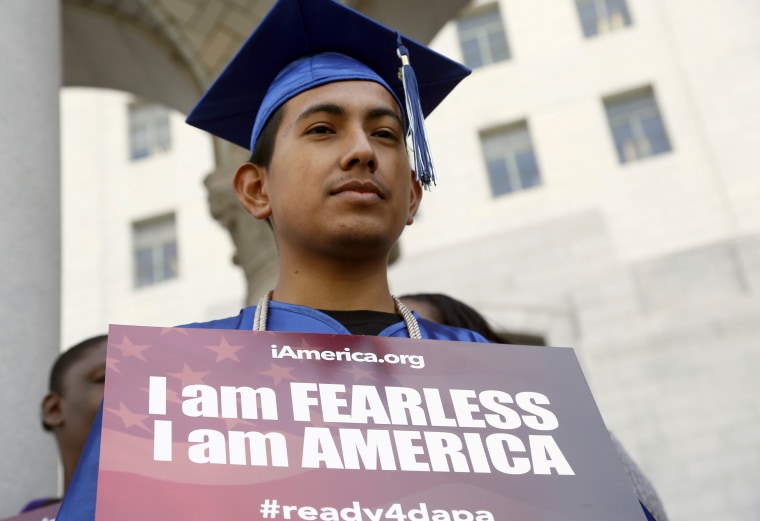 Rep. Michelle Lujan Grisham, D-N.M., called the actions "deceitful" and "another effort to keep immigrant families feeling uncomfortable about their place in America." She said while leaving the DACA program in place, the administration's enforcement actions and policy decisions "continue to create fear and anxiety in immigrant communities."
Trump had said during his campaign that he would repeal what he said were unconstitutional executive actions taken by President Barack Obama, including DACA and Deferred Action for Parents of Americans, or DAPA, the program protecting undocumented parents.
However, in the course of the campaign Trump had shown some ambiguity on what action he would take toward so-called 'Dreamers,' immigrants who arrived or stayed in the U.S. as young children and without legal permission. Trump had once said he wanted to treat Dreamers with heart.
Homeland Security Secretary John Kelly had said recently in congressional testimony that Immigration and Customs Enforcement was not targeting DACA recipients for deportation. But some high-profile cases of DACA holders being detained — and in at least one case deported — combined with the deportations of families of DACA recipients and others, had made the administration's position on DACA murky.
The administration's decision to keep DACA for now does not preclude Trump from deciding later to terminate DACA.
The immigrant rights group America's Voice criticized the Trump decisions, saying it "simply reiterates the status quo."
"DACA remains in place — for now — but it's clear that they are using it as cover to deport everyone else," Lynn Tramonte, deputy director of America's Voice, in a statement. "What's more, this administration has been cynically wielding its enforcement authorities over certain DACA recipients. This is a classic move used by abusers to keep their targets — in this case DACA recipients –—feeling vulnerable and 'in check.'"
The administration did "end" DAPA. That Obama administration program unveiled in 2014 would have protected undocumented parents of citizen children and legal residents. It was never implemented because 25 states led by Texas sued the federal government to block it.
The change of administrations meant the states were suing an administration that did not support DAPA and essentially made the lawsuit moot. The Trump administration, after numerous court extensions, had finally run up against a deadline to decide whether to continue defending DAPA.
Kelly said in a department statement Thursday night that the administration was rescinding the program, because there was "no credible path forward to litigate the currently enjoined policy."
Thomas Saenz, president and general counsel of the Mexican American Legal Defense and Educational Fund, noted the decision to rescind Obama's executive order on DAPA came on the 35th anniversary of the Supreme Court ruling in Plyler v. Doe, a landmark case regarding the rights of immigrants. Saenz said making the announcement on the anniversary of the case demonstrated "its characteristic obtuseness with respect to civil rights history."
While DAPA did not have the chance to be implemented, by many accounts, DACA has been very successful in boosting the lives of those who received the two-year renewable authorization, helping many to get better jobs, earn better wages, afford tuition for college and in some cases, create their own businesses.
Jaime Rangel, a Georgia college student and DACA recipient, was able to expand his college course load and afford costlier out-of-state tuition because DACA allowed him to get a better paying job.
"The fact that Trump is going to keep DACA does make me feel safe, comfortable. But at the end, its going to have to come down to bipartisan immigration reform," Rangel said. "They need to help people who have been in country a long time and are paying taxes to earn some kind of immigration status. We have a lot of people here who are just trying live the American Dream and who are not criminals and are just fleeing their countries that have turned their backs on them and are fleeing violence and corruption."
RELATED: 'Dreamers' Fear Trump Immigration Crackdown As DACA Hits 5th Anniversary
The National UnDACAmented Project, a study of the effects of DACA on young immigrants, showed DACA opened educational and employment opportunities for recipients, improved their lives and helped local economies, according to the study's authors Roberto Gonzales and Kristina Brant, who wrote about the study for NBC Latino.
In its tweet, the Congressional Asian Pacific American Caucus praised the DHS decision.
"1 in 7 Asian immigrants are undocumented. #DACA gives our communities an opportunity to pursue the American Dream," the Caucus stated. "Our immigrant youth are here to stay."
But the decision to leave DACA in place is likely to anger individuals who want to see even tougher immigration enforcement. Mark Krikorian who heads the Center for Immigration Studies, a group that advocates for less immigration and tough penalties for illegal immigration, told NBC Latino this week that the administration's continued acceptance of new DACA applications was a "sign of betrayal."
Rep. Luis Gutiérrez, D-Ill., told NBC Latino that "it is curious that ICE made the announcement about formally killing DAPA on the anniversary of DACA. I think they wanted to flavor the day with a little bitterness and spice it up by reminding immigrants they should live in fear."
"That is pretty much the way the Department of Homeland Security operates under Trump and his anti-immigration lieutenants," Gutierrez said. "Clearly the way forward for the country is to incorporate long-term, law-abiding immigrants with deep roots and families in the U.S. into our communities so that they fully integrate and can live and work with permanent status. That is the best way to protect U.S. families, communities and our economy, but clearly not the direction that Trump and the Republicans are headed."
This story includes reporting by NBC News Chief White House Correspondent Hallie Jackson and NBC Latino reporter Suzanne Gamboa.