WASHINGTON — President Donald Trump's crackdown on immigrants may not look on paper like a mass deportation, but for many people it feels like one.
Statistically Trump's sweep of immigrants, while up from last year, doesn't compare to the deportations done in the early years of President Barack Obama's first term.
But the administration's attempt to return to the peak deportation levels under Obama or surpass them, combined with Trump's rhetoric and his drive to slash legal immigration, have whipped up enough fear to make some feel a mass roundup is underway.
"At any moment I feel I could just be taken away," said Luis, a 16-year-old Wisconsin resident who is undocumented and did not want his last name used.
The fear is not unfounded. Immigration officers are picking up people in places where they once thought they were safe and taking into custody people who had not previously been targets.
On Tuesday, Ohio businessman Amer Othman was arrested at his check-in in the presence of Rep. Tim Ryan, D-Ohio, who had accompanied him, Ryan said in a statement.
On Monday, Jorge Garcia, a Detroit father of two, who came to the U.S. when he was 10, was deported to Mexico. He had been in the U.S. 30 years.
"Under the Obama administration, we were safe," his wife, Cindy Garcia, told MSNBC.
So while the president hasn't fulfilled his campaign declaration to kick out all 11 million people here illegally, he has made many fear that, and more, is happening.
Maria Bilbao, a Florida-based community organizer with United We Dream advocacy group, makes weekly visits to the Miramar Immigration and Customs Enforcement facility where she gives water, coffee and guidance to people waiting in line for regular ICE check-ins or to apply for asylum, although recently ICE prohibited her and others from being on the property.
People who used to go annually to check-ins are now being told to check in again in three months, and now the center has become a place where people are detained and arrested, Bilbao said.
"In this administration, this has become a way to find people that had not been priorities in the past," she said.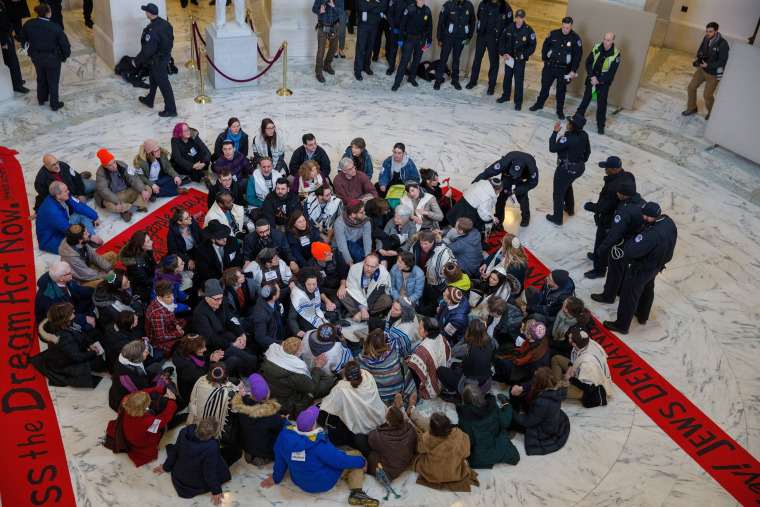 Even people here with some form of legal status are on the clock. Trump has stripped Temporary Protected Status, TPS, and Deferred Action for Childhood Arrivals, DACA, from hundreds of thousands of people.
If their legal status ends, they will slip into the ranks of the millions of people considered to be here illegally and potentially subject to arrest and deportation.
Carlos Acosta of Virginia is on that precipice. Originally from El Salvador, he has Temporary Protected Status and has worked in the U.S. as a tire mechanic for the same company for 17 years. This has allowed him to send money to his family back home and build a house that he planned to finish in five years.
But since the Trump administration announced it would end TPS for Salvadorans, he may have to return to El Salvador before the home is completed.
"I'm really mad," Acosta said. "I have been in the U.S. 17 years and never been in trouble. No DWI, no alcohol. I try to follow all the laws of this country, this state."
By targeting legal immigration and refugees, the president has helped sear in the minds of some the image of an ongoing mass deportation, said Randy Capps, senior researcher for the Migration Policy Institute, a Washington-based think tank.
More family visas are being denied and the processing of them has slowed with longer approval periods. There are fewer students arriving on visas and Trump has proposed ending visas for spouses of H1-B holders, provided for certain specialized workers.
Add to that the insistence that in exchange for allowing DACA recipients to stay in the U.S., Trump is insisting Democrats agree to an end to the diversity visa lottery and limits on immigrants sponsoring family members to come to the U.S. on visas, what the president has been calling "chain" migration but what some see as a derogatory term.
"There hasn't been this kind of broad base effort to restrict legal immigration in a long time," Capps said. "That is something new."
While Congress has stalemated over immigration legislation, Trump's administration has been using mechanisms already in place to ramp up enforcement. His administration has put back to use some tactics that were stopped in the Obama administration.
In California, ICE officers showed up at hearings held for workers, including immigrants, making complaints against employers over wage disputes, said Shannon Gleeson, associate professor of labor relations, law and history at Cornell University. Reports from workers that employers are threatening to call immigration in wage or work disputes are becoming more common, she said.
It's not limited to employers. A lawsuit filed by Washington State accuses Motel 6 of turning over names and personal information of guests to immigration officers.
"Places considered safe places or off limits are no longer necessarily so. People willing to come in and exercise their rights are now in jeopardy," Gleeson said.
Recently published ICE data shows that deportations of people arrested in the U.S. interior rose to 61,094 from Jan. 20 to Sept. 30 last year, compared to 44,512 in the same period in 2016.
But in 2015, when the Obama administration emphasized deporting criminals and people caught entering the country illegally, 69,478 people arrested in the interior U.S. were removed. Early in Obama's tenure, removals of people arrested in the interior were at more than 200,000 for several years, according to ICE data.
"They've got a ways to go to get back to the (early) deportation levels of Obama," said Capps.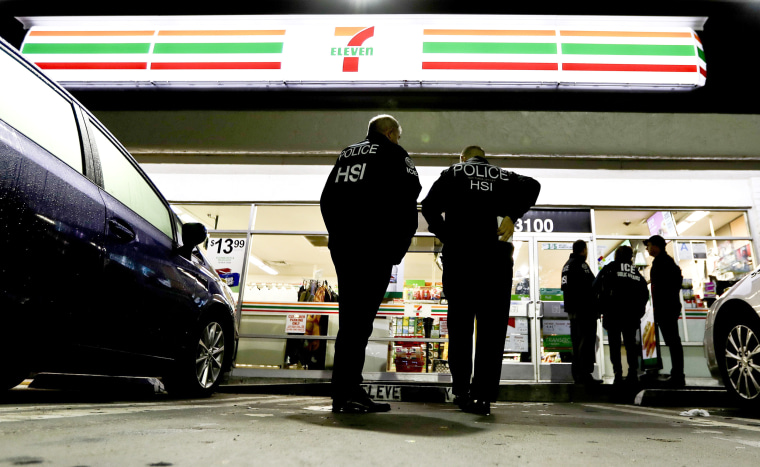 ICE arrests also have risen, about 42 percent over last year, but they, too, are below the highest levels of the Obama administration.
Capps said the administration is certain to have trouble matching Obama's highest levels because many communities are limiting their work with immigration authorities.
In California, a new law that went into effect at the start of the year creates safe zones for immigrants and limits police departments' detention of immigrants for federal authorities. Although the federal government still can conduct raids and arrests in California, limiting the interaction of local police with federal immigration authorities reduces ICE's resources.
Capps said about 40,000 of the arrests by ICE were made by its own agents going out and arresting people, matching the highest historical levels in the Obama and Bush years.
The rest are picked up through programs such as Secure Communities, through which local authorities share fingerprints of people they arrest and book with the Department of Homeland Security, or 287(g) which gives local authorities power to enforce immigration laws. Former Arizona Sheriff Joe Arpaio used 287(g) for many of his immigration arrests and stops.
"What's happened is California ... is now offline to them and so is Chicago, New York City, Philadelphia, Boston — several large cities don't cooperate with them anymore so they can't get the same numbers of people," Capps said. That is one reason the administration is pushing back so hard on what it calls "sanctuary cities" and California, Capps said.
David Inserra, a policy analyst at the conservative Heritage Foundation, nixed calling the Trump enforcement effort a mass deportation or the unleashing of a "deportation force." But he said the Trump administration has returned "robust enforcement" to the nation's immigration system.
"It's almost like we've returned to the beginning of the Obama administration," Inserra said.
There's room for more, such as expanding use of expedited removal — a speedier way of removing someone from the country by denying them legal proceedings, he said.
Inserra said Trump should use some of the political capital he's spent on building a border wall on getting more enforcement resources at the border "so we don't have to ship people back that are in the U.S. two and three years down the road."
Trump drew outrage during the 2016 campaign when he alluded to the Eisenhower mass deportation of Mexicans and Mexican-Americans, which the Eisenhower administration called "Operation Wetback."
"Moved a million and a half of illegal immigrants out of this country," Trump said of the program.
In truth, the operation was not exceptionally effective. Data show it was credited with deportations that happened prior to the operation, said Natasha Iskander, an associate professor of public policy at New York University.
It was successful in creating a climate of fear, Iskander said. Media coverage featured agents in crisp uniforms and Mexican immigrants in holding pens in parking lots.
"It was a public campaign to show Mexican-Americans they were not welcome," she said.