WASHINGTON — President Donald Trump's fight-picking with Mexico may be indirectly involving him in the presidential ambitions of that country's own anti-establishment presidential candidate.
Andres Manuel López Obrador is the early leading contender in Mexico's presidential contest and his left-wing, buck the status quo politics have some in the U.S. on guard, particularly those in the business world.
"There's a deep concern that the potential rift between the United States and Mexico can only strengthen the candidacy of Andres Manuel López Obrador in the next year and a half," Peter Schechter, director of the Adrienne Arsht Latin America Center of the Atlantic Council, a Washington think tank, said in a recent conference call.
Mexico's presidential elections aren't until 2018 and the opening day for official candidate declarations and campaign launches isn't until June.
But López Obrador — often referred to by the combination of his initials Amlo — came within a razor-thin margin of the presidency in 2006. While votes were being counted, he declared himself the "legitimate president." Uproar over the election and his eventual loss after a protracted vote count sent supporters into Mexico City's streets shutting down roads and businesses. He lost again in 2012 by about 6 percentage points.
On top of those close wins, the country has been unhappy with sitting President Enrique Peña Nieto. His low approval ratings with a year to go on his six-year term reflect the country's weariness with him and his centrist party, the Institutional Revolutionary Party, or PRI.
Peña Nieto, who returned his once dominant party to power in 2012, can't run for re-election. Voters fed up with corruption, high gasoline prices and Mexico's slowing economy may not want to see his party back in the presidency or returned to the seats its members now hold in Congress.
Related: Mexicans March to Protest 20 Percent Gasoline Hike
Just how much the Trump feud is influencing the elections was seen when Peña Nieto got a bit of a public opinion boost after canceling his late January meeting with Trump. It was a sorely needed bounce for him after being roundly criticized for inviting Trump to Mexico and meeting with him during the U.S. presidential campaign.
Smartly, López Obrador stood by Peña Nieto and his refusal to be bullied by Trump, helping make a show of unity for the country regarding its sovereignty and keeping his presidential ambitions on track.
However, López Obrador may ignite a new round of U.S.-Mexico tension. He plans to visit Los Angeles on Feb. 12 where is scheduled to rally with Mexican immigrants. He may do the same in other U.S. cities.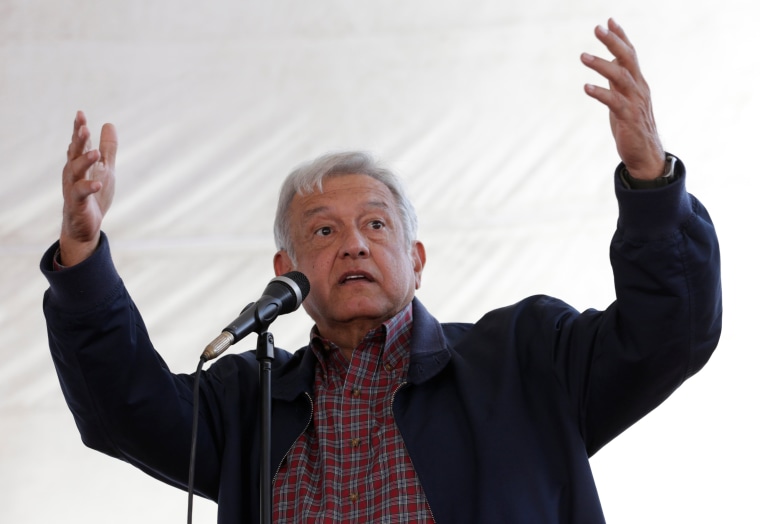 Trump's feud with Peña Nieto — slightly smoothed during an hour-long phone call between the two — has laid the groundwork for López Obrador's visit.
"The nationalism has been unleashed, the anti-American sentiment is growing at a rapid pace, giving rise to a candidate who wants to completely buck the system," said Jason Marczak, director of the Latino America Economic Growth Initiative at the Atlantic Council.
Juan José Gutiérrez, a López Obrador supporter acting as his coordinator of Mexicans abroad, said Obrador's visit is meant not as a campaign visit, but to extend moral support to all immigrants.
"He's concerned about the threats that have been leveled by President Donald Trump's administration against Mexican immigrants, legal or otherwise, so he wants to come and extend his support and call on U.S. authorities to respect the constitutional and legal rights of all immigrants," Gutierrez said.
The visit is billed as non-partisan, because Mexico's presidential election has not officially begun and it would be illegal for López Obrador to be campaigning. But Mexico allows its citizens living abroad to vote in its elections and the meeting with immigrants could, nonetheless, shore up his support in the U.S.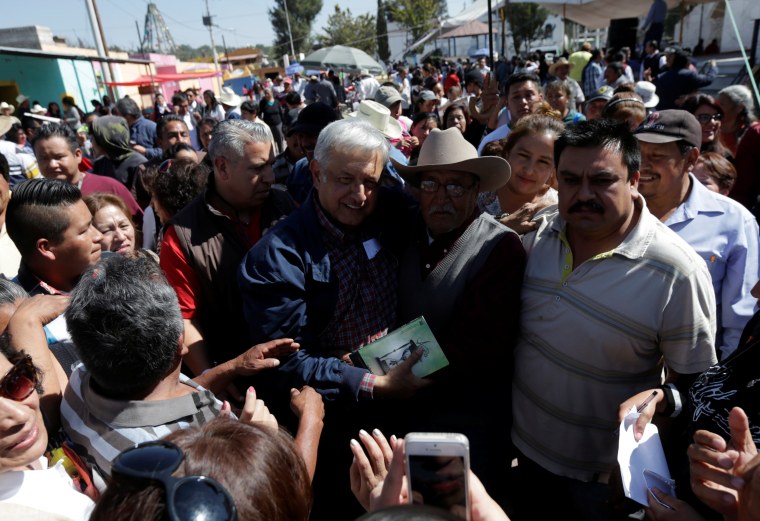 "The images of him rallying with immigrants in the U.S. otherwise wouldn't be very politically relevant, but today become very attractive and keep strengthening him in Mexican politics," said Julio Madrazo, a political strategist at De la Calle, Madrazo Mancera SC, who served in two former Mexican presidents' administration.
Peña Nieto has taken his own steps regarding Mexicans in the U.S., fortifying consulates with additional funding and promising to protect the rights of Mexican immigrants in the U.S.
But that won't have the visibility of López Obrador coming to the U.S. to call out Trump on his territory.
Schechter noted in the conference call that the excellent ties between the U.S. and Mexico are not a given and Trump's border wall plans and his promise to "get a better deal" with North American Free Trade Agreement could lead some Mexicans to wonder whether Mexico made a mistake 25 years ago in placing its future in North America. NAFTA was signed in 1993 and is an agreement between the U.S., Canada and Mexico.
In a recent article, the Dallas Morning News noted that an entire generation of Mexican professionals grew up with NAFTA and the idea of the United States as a partner. The rift, though, has some rethinking that as they toy with potential boycotts of American companies, including Starbucks, McDonald's and Wal-Mart.
López Obrador is less inclined to cooperate with the U.S. and has more of a Mexico First outlook.
"AMLO is a populist, nationalist, anti-globalization, anti-NAFTA candidate, not unlike Trump himself. Regardless of his economic or other leanings (which veer toward leftist populism), the two personalities would make bilateral compromises all the harder," said Shannon O'Neil, author of "Two Nations Indivisible: Mexico, the United States and the Road Ahead."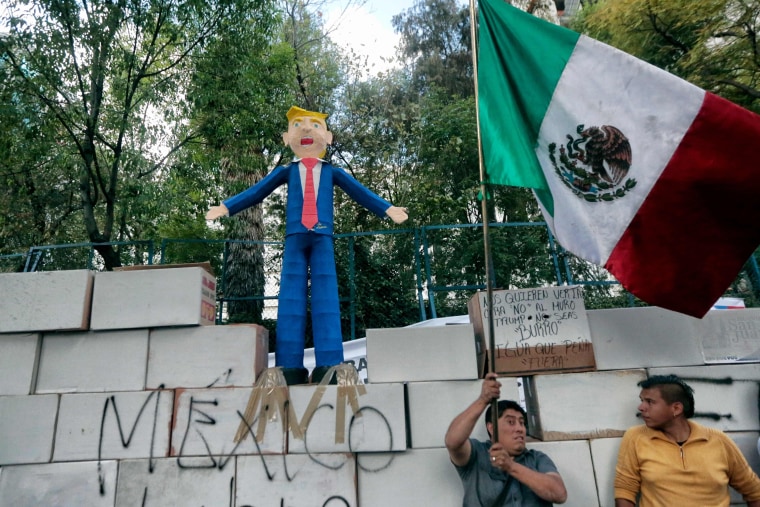 ,
According to the Financial Times, López Obrador's opposition to reforms Peña Nieto has put in place, in particular opening up the energy sector to private investment, make him a "terrifying prospect" for Mexico's business and political establishment.
Gutiérrez said the terror is misplaced.
"We all know in Mexico today there is a great problem where people violate the law, enrich themselves and work with impunity," Gutierrez said. "I don't think calling for an immediate end to widespread abuse is anything we should be afraid about."
His supporters are more apt to draw a likeness to the populism of Bernie Sanders with a focus on the working class and poor.
When López Obrador was leading the 2006 presidential race, the campaign of Felipe Calderón switched its message from one of security for Mexico to making comparisons between López Obrador and Hugo Chávez, the late former president of Venezuela. A large business chamber group joined in the portrayal.
A socialist, Chávez also took on the oil industry in his country, but is now blamed for the economic crisis in Venezuela that has left the country wracked with shortages of food and basic goods, inflation and unpaid debt.
Juan Hernández, who worked on Calderon's campaign, said today in Mexico people are looking for something different than the continued corruption and other problems.
López Obrador's support, which a recent poll showed would make him the winner if a vote were held today, "is very much a picture of the moment," Hernández said. Following close after López Obrador is Magarita Zavala, wife of the former president Calderón.
Related: Why Is Mexican President Enrique Peña Nieto So Unpopular?
With the countries' economic issues, as well as Trump and other events "people are looking for someone different," Hernández said. "Unfortunately, we are saying which (of the leaders) is the worse of two evils, like the U.S. in its election."
There are others who are still seen as potential candidates. Hernández pointed out Juan Carlos Romero Hicks, a Mexican senator and former governor of Guanajato, as someone to watch. He'll be visiting Arizona, speaking to its state Legislature and meeting with Sen. John McCain, R-Ariz., who like Romero has been outspoken against Trump, Hernández said.
Romero issued an online video in which he said to Trump that he could intimidate a Mexican who soon will no longer be president but not the rest of the Mexicans, showing Trump is a factor in the election.