WASHINGTON — To immigration advocates, the Trump administration laid out nothing short of a mass deportation plan on Tuesday when it detailed how it will enforce U.S. immigration laws.
"We are bracing ourselves for increased raids, increased detention of our family members, of our community members," said Marielena Hincapié, executive director of National Immigration Law Center.
The administration rejected that description of the pair of memos issued by the Department of Homeland Security. The memos serve as guidance to immigration and border agents and officers on how to implement the immigration executive orders that President Donald Trump issued soon after his election.
When asked at a the White House briefing if this amounts to mass deportation, White House Press Secretary Sean Spicer said "no."
"The message from this White House and from the DHS is that those people who are in this country and pose a threat to public safety or have committed a crime will be the first to go and we will be aggressively making sure they are the first to go," Spicer said, adding that about 1 million people fit that criteria.
The memos are a clear departure from the priority system that President Barack Obama had in place, which left many immigrants feeling more secure than they have been since Trump's election.
There is one exception. The administration left in place the Deferred Action for Childhood Arrivals, or DACA, a program that has shielded about 730,000 young immigrants from deportation and allowed them to work and study in the United States. Obama authorized that program in 2012.
Related: ICE Arrests Stir Fear in Immigrants Wary of Trump's Orders
DACA recipient Elvis Saldias, a 24-year-old property insurance adjuster originally from Bolivia, expressed relief and anxiety over Tuesday's news.
But Saldias is concerned for the many family members and people in the Northwest Ohio community he grew up in who won't get a similar reprieve.
"I grew up around a lot of people with undocumented status who are fearful. I know people are cutting back on everyday things like driving, going to the grocery store and going to a bigger city to go shopping," said Saldias.
Advocates said that parts of the memos still have to go through a federal regulation process and won't be implemented right away.
But, "the administration is now saying that anybody can be detained so any ICE agent can decide who they're going to go after with no restraints on that," Hincapié said. That means more of what was seen two weeks ago when ICE arrested nearly 700 people from around the country, she said.
"Over the past week, we were shocked to see individuals who have come forward in good faith for their ICE check-ins detained, as well as six men coming from a hypothermia recovery center targeted," said Jen Smyers, a director with Church World Service Immigration and Refugee Program.
In addition, the memos continue to promote plans for the federal government to deputize local law enforcement officers to enforce immigration laws, which can mean being stopped on a traffic violation and asked for identification.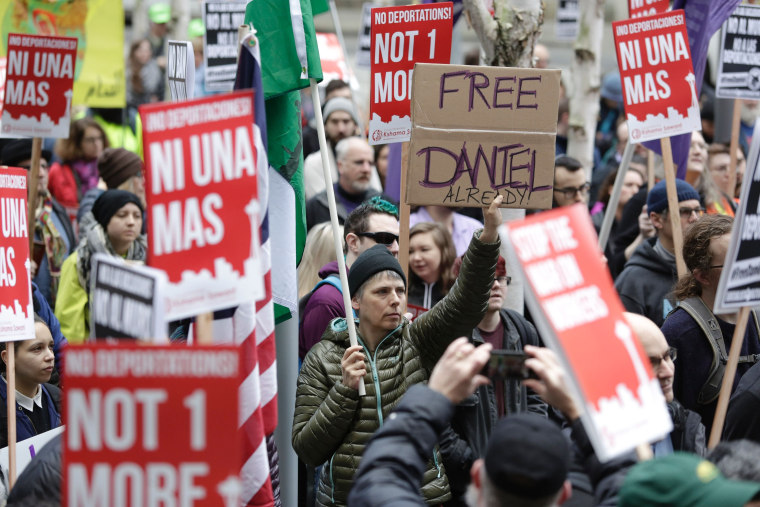 Greisa Martinez, advocacy director for United We Dream, who also has DACA, said the group does not take any solace in the exception that was made for the DACA program.
"On one day he says that he loves us and he has compassion for us but at the same time he's allowing his administration to move forward in an unleashed fashion," Martinez said. That, she said, sends conflicting guidance to agents.
She said if DACA recipients are safe, Trump should order the release of Daniel Ramirez Medina, a DACA recipient arrested by ICE in Washington state.
Since Trump's election, and to a degree before it, immigrants have been anticipating ratcheted up enforcement that would mean a family member or person they know could be yanked from the country.
As NBC News reported last Thursday, Democratic members of Congress said they had been told by Immigration and Customs Enforcement in a meeting that all 11 million immigrants here were at risk.
Versions of the DHS memos had circulated earlier and the memos released Tuesday are not drastically different from the executive order, except the carve-out for the DACA program.
Saldias said that like a lot of other Americans, his family is a mix. His mother is about to take her citizenship test. His stepfather is a citizen. He and his sister have DACA. He has relatives who are undocumented.
"I'm more concerned for them," he said. "I think they are otherwise law abiding people and the new administration is broadening the scope so much, they are under threat and they are afraid of coming out (into public areas) even a little bit," he said.