WASHINGTON — Donald Trump's surprise trip to Mexico to meet its president was swiftly condemned by many U.S. Latinos and Mexicans across the border as little more than a publicity stunt that would not wash away how he has spoken about America's southern neighbor and its people.
Herlinda Calderon, an undocumented mother of four who came to the U.S. from Mexico more than a decade ago and lives in Arizona, questioned the meeting's purpose.
"I honestly don't see anything productive coming out of that meeting in Mexico," she said. "I think Donald Trump is just putting on a show."
The Latino community has complained of the back seat Mexico often takes in U.S. foreign policy, but for several Latinos the attention Trump gave to the country on Wednesday couldn't supplant the way he has trashed Mexico and Mexicans since the first day of his presidential bid.
"This is so stupid. It's not going to accomplish anything. It's just for show. If Trump is doing this to try to get Latino votes he can fuggedabouit, cause it's too late for that," said Yesenia Contreras-Frazier, a paralegal in Washington D.C. who is originally from El Salvador.
"He insulted all of us and now he is trying to make up for it, but it's not going to work at this point," she said.
In New York city, a group of mostly Latino young people blocked the entrance to Trump Towers amid counter-protesters shouting, "Build a wall, send them back!" The protesters, who identify as the Cosecha, or Harvest Movement, answered back, "Built By Us."
"I want to remind this country that it has been built by us and it has been built by immigrants," said Cosecha member Renata Mauriz. "Without us, this country would be nothing."
The protesters were arrested after blocking the building.
Juan Hernandez, a former adviser to George W. Bush and a Mexican American, said what Trump is doing is "drawing the sort of media attention that Trump knows how to draw."
"I think that once again the master at reality shows has the entire United States and now Mexico looking at him," Hernandez said. "But he will not get our votes, of the Latinos," said Hernandez, who is one of the more prominent Republicans who has refused to endorse Trump. "He has insulted our family members, called us criminals, spoken some of the most shameful things about the disabled, women ..." he said.
The views in Mexico were also critical and not welcoming.
Many Mexicans took to Twitter and slammed the visit. "Mr. Trump, you might have been invited, but know that you're not welcome," said one woman. "We Mexicans have dignity and we repudiate your hateful rhetoric."
In Mexico, "La Jornada" newspaper's headline was "Mexico and Mexicans, the Enemy in Trump's Speeches."
The newspaper outlined Trump's controversial comments when he first announced his presidential bid: "When Mexico sends its people, they're not sending their best...they're rapists, criminals, and some, I assume, are good people..."
The cover article said it was "worth noting" that Trump's most "fervent allies" were Americans known for their anti-immigration stance like Arizona Sheriff Joe Arpaio, Alabama Republican Sen. Jeff Sessions and Iowa Republican congressman Steve King, who has been a leader in blocking deportation relief for immigrants in the U.S. illegally.
One of the biggest critics of the visit has been former Mexican president Vicente Fox, who had a strong relationship with former President George W. Bush. Fox is a member of the National Action Party, or PAN, the opposition party. Peña Nieto is a member of the Institutional Revolutionary Party, PRI, the party that ruled for 70 years until Fox was elected and then won the presidency back from him.
Mexicans are not just criticizing Trump, but questioning why Peña Nieto rolled out the welcome mat after making references to "Hitler" and "Mussolini" when discussing Trump. Mexico's president suffers from low popularity and there are even calls for impeachment amid his wife's purchase of a luxurious home for $7 million from a contractor and the disappearance and presumed death of 43 university students at the hands of local authorities.
The majority of Latinos in the U.S. are of Mexican descent and they are the larger share of eligible voters. There are strong times in some families that cross borders and strong, at times almost symbiotic business ties between Mexico and the U.S.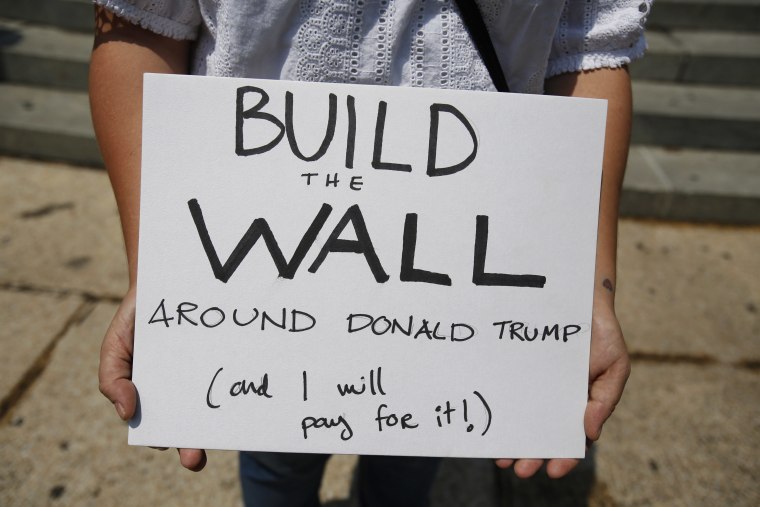 Larry Gonzalez, a principal with the Raben Group lobbying firm in Washington, D.C. who is also Mexican American, said he expects many in the community are shaking their heads and looking at the visit as "part of an elaborate scheme to do something desperate."
"I think people know where he stands," he said, adding that the reason for a meeting with Peña Nieto 60 days out from the election is pretty transparent.
Among Trump's Latino supporters, the belief is the meeting makes Trump presidential and he said it was irresponsible for leaders like former Mexican president Fox to criticize the meeting.
"The problem is the people that hate Donald Trump, they criticize his strident rhetoric in the primary and now that he is explaining it and revealing his compassionate side they are accusing him of being a flip flopper. He doesn't seem to be able to please the pundits and a lot of the press," said Jacob Monty, an immigration attorney and Trump supporter.
Republican operative Mike Madrid, a principal at GrassRoots Lab in California, called the move a "genius" political move in which he has little to lose. A confrontational attitude by Trump and any protests following his visit allows him to rally his base and re-enforce his view of Mexicans. An amicable meeting helps legtitimize him.
"It only hurts if he makes it a disastrous event of his own accord," said Madrid.
Lorella Praelli, an immigrant from Peru and Clinton's Latino outreach director, said on MSNBC that Donald Trump "was looking for an opportunity to distract from what's really happening — we know who he is and we're not afraid to take him head on."