President Donald Trump said "nobody loves Hispanics more" at a rally Monday in New Mexico, but his overtures to Latinos didn't get much of this electorate to swipe right in 2016 and polls suggest they won't again in 2020.
While the president assured the crowd that "we love our Hispanics," Latinos appear to be rejecting the "amor," according to polls taken in the last few months.
Seventy-three percent of Latinos nationwide plan to vote or are leaning toward voting for a Democrat in the 2020 presidential election, according to Univision poll released last week.
A Washington Post-ABC News poll, from this month indicates his approval rating among Hispanics is at 25 percent.
And 79 percent of Hispanics across the United States disapprove of the way Trump is handling his job as president, according to a Pew Research Center poll in August.
Will New Mexico Latinos love him back?
New Mexico is 49 percent Latino — the largest concentration of any state.
Trump would need about 40 percent of the Latino vote in New Mexico to win the state, said University of New Mexico political scientist Gabriel Sanchez, a principal at the polling firm Latino Decisions.
This is what Republican Susana Martínez received when she was elected the first Latina governor of the state in 2010.
Repeating that history in 2020 looks doubtful, Sanchez said.
"It would be a great showing for him if he got 25 percent of Hispanics," he said.
Trump's "most effective arguments for Latino voters are around the economy," said Sanchez, and Trump touted that on Monday night, saying unemployment was at a record low.
But he cautioned the president from getting too excited about New Mexico's Latino Trump supporters, who are very vocal and aggressive in their support, though they're still a minority, Sanchez said.
New Mexico has a swath of conservative voters, including Latinos, according to Lonna Rae Atkeson, director for the Study of Voting, Elections, and Democracy at the University of New Mexico.
Hispanic voters are more conservative in the state, she said, but she found it hard to imagine the president picking up many "committed" Democratic partisans.
"You would have to pick up all the independent vote and some of the Democratic vote, and it's just hard to imagine that happening," she said. Trump has the most support in the southern part of the state, but "I can't imagine him picking up Hispanic Democrats in northern New Mexico where they dominate."
Drugs, walls, Cubans and Venezuelans
Trump told Hispanics at the rally they should support him and his efforts to build a border wall — which he thinks Latinos will love — because when it comes to the drug crisis, "Hispanics know it better than anybody."
Trump also bragged during his speech about his Latino support in Florida. "The Venezuelans and the Cubans, they're all for Trump."
Cuban American voters have been more reliably Republican than other groups, but that has been changing in recent elections. During the 2018 midterms, two predominantly Latino congressional districts in South Florida went from Republican to Democrat. Former Rep. Carlos Curbelo, a Republican Cuban American, lost his seat in Congress and voters ushered in an Ecuadorian American Democrat, Debbie Mucarsel-Powell, sending the first South American to Congress.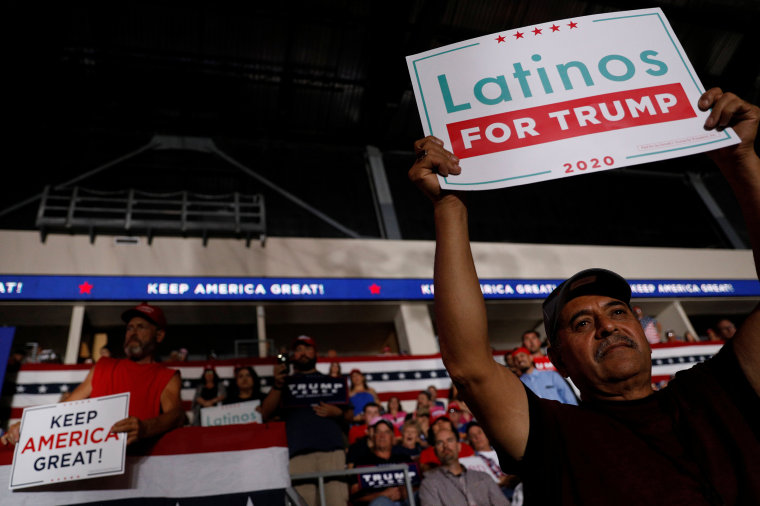 According to a recent poll by Equis Labs, a newly formed progressive group, about half of Florida Latinos support a Democrat, a third would re-elect Trump and about 14 percent would back another party candidate or are undecided.
The president and his administration have garnered support from Venezuelans over his stepped-up measures and sanctions against Venezuelan President Nicolás Maduro. In response, Democrats have stepped up their hard-line rhetoric against Maduro and are criticizing the Trump administration for not granting Temporary Protected Status to Venezuelans in the U.S.
But Trump has garnered strong criticism over his rhetoric and policies around immigration — most notably his separation of children from parents and his restrictive migration and asylum policies — as well as his comments about Puerto Rico in the aftermath of Hurricane Maria.
In national polls such as Pew Research, a majority of Latinos said they felt less secure with Trump as president. In the recent Univision poll, almost 7-in-10 Latino registered voters agreed with the statement that the El Paso shooter was influenced by Trump's anti-immigrant rhetoric.
"Trump asks, 'Who do you like more, the country or the Hispanics?'" This is meant to make people see Latinos are different from them," said comedian Cristela Alonzo on Twitter. "We are not."
Follow NBC Latino on Facebook, Twitter and Instagram.