WASHINGTON – Seizing on President-elect Donald Trump's "encouraging" comments in a Time interview, two U.S. senators are pushing for a stopgap protection from deportation for young immigrants who arrived or stayed in the country illegally as children.
Senate Minority Leader Dick Durbin, D-Ill., and Sen. Lindsey Graham, R-S.C., partnered to introduce legislation Friday that would protect the young immigrants should Trump repeal the executive action before Congress takes up immigration reform. The protection would be temporary to keep them from being deported while Congress decides what it wants to do on immigration
Since this congressional session is winding down, with the House gone for the year and the Senate staying to wrangle over a spending bill, not much is likely to happen this year.
Durbin said the bill, dubbed the BRIDGE Act, will be re-introduced when Congress convenes next year. Sens. Lisa Murkowski, R-Alaska, and Dianne Feinstein, D-Calif., are the cosponsors on the bill so far.
Some 744,000 young immigrants are working and and are protected from deportation through the Deferred Action for Childhood Arrivals program, or DACA. President Barack Obama created the program in 2012 through executive action. But during the campaign Trump said it was one of the actions he'd repeal.
Many young immigrants with DACA have been fearful of what that would mean for them since they turned over their identity information to the government for the DACA protection.
But Durbin said Friday he's encouraged by Trump's recent comments to Time magazine, which named him Person of the Year, that "we are going to work something out" for DREAMers.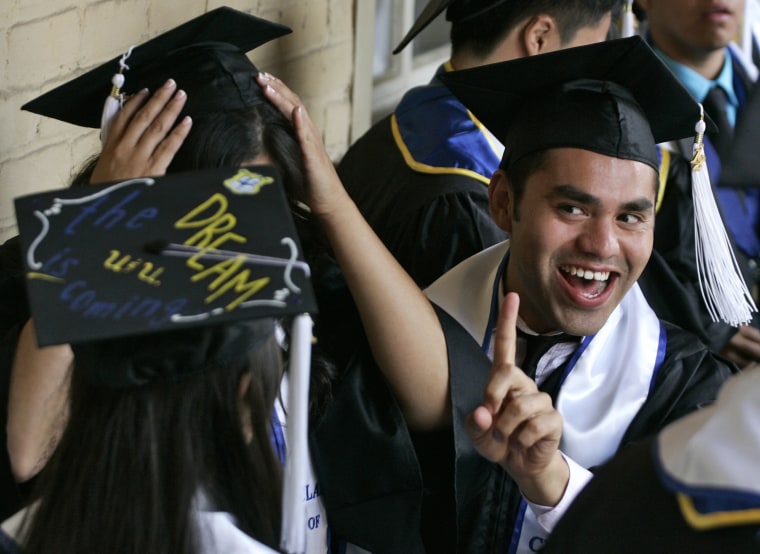 "We want to reach out to the incoming administration and urge them if they take any action on DACA try to do it with this BRIDGE, to join us in passing this BRIDGE so we don't have the disruption," Durbin said. BRIDGE is the abbreviation of the bill title Bar Removal of Individuals who Dream And Grow Our Economy.
Essentially, the legislation would create a three-year program from enactment to give temporary protection from deportation for people eligible for DACA and let them keep working. Eligibility for the "provisional protected presence" would be the same as the criteria for eligibility for DACA. Those who already have DACA would be grandfathered in and when their DACA lapses would be able to apply for the temporary protection.
People who don't have DACA status but would be eligible also can apply. Applicants would be protected from deportation until their application is processed. Those who are under 15 and in deportation proceedings also could apply.
The bill prohibits using identity information that DACA recipients turned over to the government and from applicants for the temporary protection for immigration enforcement purposes, except for national security reasons and investigation or prosecution of felonies unrelated to immigration status.
Applicants would pay a fee commensurate with the cost of processing the application. The DACA application fee is $465.
"I can't go anywhere that someone that I'm not approached by someone that raises this issue either personally or religious, people who have children in their congregations. We want to move on it quickly," Durbin said.
Just last week, Graham had said he did not want to be a part of a Republican Party "that will take 700,000-plus young people that have done nothing on their own, they came here as small kids … and just ruin their lives," he said.
During the campaign when Trump tried to soften his stand on immigration, he was met with backlash from supporters. Right wing political commentator Ann Coulter said then that he could roll back on anything except immigration.
Recently, Rep. Steve King, R-Iowa, said DREAMERS had made up stories that they were brought here by children and said he didn't want to let the issue go "because somebody's heart got a little softer than it was before the election."
Related: Rep. Steve King: Dreamers Made Up Being Brought To U.S. By Parents
But on Thursday, House Speaker Paul Ryan said Republicans "would not pull the rug out from under" immigrants brought to the U.S. as children, the Hill reported.
Republicans aren't the only ones needing to be persuaded to back the stopgap legislation. Durbin said he had to assure other lawmakers that he had not traded anything for the Republican support of the legislation and that this was not the end of the debate on immigration.
Menendez raised some of those concerns in a floor speech in the Senate Thursday.
"I do not intend to sacrifice one set of immigrants for another," Menendez said. "It is not enough to just stay DREAMers are terrific people … the reality is DREAMers do no exist in a vacuum; they have parents and loved ones who have instilled values, work ethic and supported them to pursue an education and reach their full potential to benefit their country."
Durbin said there still needs to be a debate on agriculture workers, border security, the 11 million people here illegally and other issues.
"This is just a starting point, a bridge to that debate," he said.
Durbin was the original sponsor of the DREAM Act 16 years ago, the first legislation to recognize that many young immigrants had lived their entire lives in the U.S. without legal status and were unable to attend college, work, drive or become citizens because of decisions made by their parents. The young immigrants called themselves DREAMers based on the legislation that Durbin and others have tried to pass year after year.
Despite the continual opposition to DREAMer legislation and Trump's pledges to deport immigrants here illegally, Durbin said he sees a chance for the bill, "but just a chance."
"If President-elect Trump makes it clear he supports this or something like this, it will really help with Republican support," he said.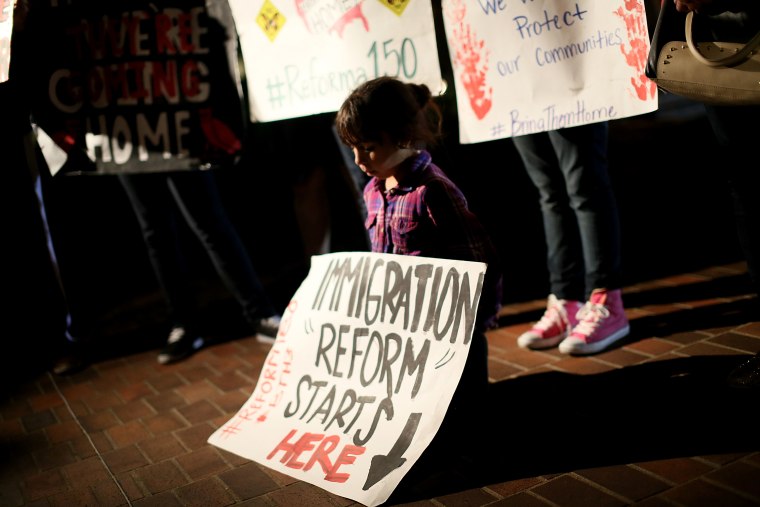 RELATED: Undocumented Immigrants Tell Trump They're #HeretoStay
United We Dream, a group that advocates for DREAMers, gave tepid support for the bill in a news release. Adam Luna, a spokesman for the group, said the group is "happy about the positive momentum that's happening and that includes this bill." But he said the group wants to see DACA continue.
Other groups such as America's Voice applauded the measure, though added the caveat that they consider it a starting point.