NEW YORK – In historically conservative Staten Island, where President Donald Trump won 57 percent of the vote, residents are readying their homes to keep immigrants protected from being deported.
People like Ruth, a local educator who didn't want her full name used so Immigration and Customs Enforcement could not identify her, are becoming part of a network to offer refuge to families at risk of deportation and do so in areas where Trump enjoyed strong political support.
"It's immoral to take children away from their parents," Ruth said. "People came here illegally because there was no decent pathway to come here any other way."
The effort to build an "underground railroad" for undocumented immigrants in Trump country was begun by Cesar Vargas, New York's first undocumented lawyer. Vargas is currently able to work under former President Barack Obama's Deferred Action for Childhood Arrival, or DACA, program. The program shields immigrants from deportation and allows them to work.
"This has been growing organically throughout the whole country," Vargas told NBC News, "especially places where Trump won big."
The effort is not intended to be political. It all started at local community meetings where Vargas began to notice a need for safe havens for some immigrant families in the Trump supportive communities. Immigrants in those areas will have somewhere to go to feel safe, he told NBC News.
Despite their overriding conservatism in places like Staten Island, Vargas noticed that some residents in the areas had heightened motivation after the elections to protect and work on behalf of immigrants "especially to show that Trump does not represent their values, to show Trump didn't win because of his tough-on-immigrants rhetoric," Vargas said.
The effort has given some comfort to Saul Dominguez, an undocumented immigrant who fled Arizona to the New York City borough of Staten Island in 2010 after the state passed its controversial SB 1070 immigration enforcement bill.
Dominguez is preparing for the worst. "I already have certain documents ready and I had money saved up that is now with family in Mexico," he said.
Dominguez works as a laborer for a local construction company in Staten Island that mainly builds pools. He has lived in the U.S. for 22 years and has no violent criminal history. He acknowledges he has been turned back at the border multiple times when he has tried to return to the U.S. after visiting family in Mexico.
"I'm not afraid. I'm not a killer or a burglar," he said. "I came here to work."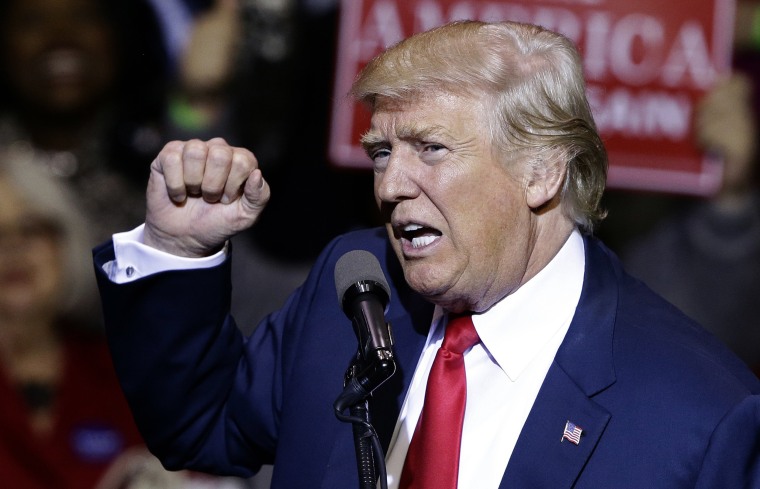 Ruth, the Staten Island resident, said if someone like Dominguez and his family were to face deportation, she would take them in and give them a safe haven from immigration authorities.
Michael Decillis lives in a two-bedroom apartment with his wife and 4-year-old son. Decillis is a former New York Police Department officer who also is willing to open his home.
"I'm a fourth generation Staten Islander. I think that (Staten Island is) not just Trump world … It's way more diverse. There are numerous families who would take people in," he said.
Although he grew up on the island, he now lives in Brooklyn, New York.
"I am, along with many other Americans, disgusted with the administration's attitude towards immigrants." Decillis said, "It goes against the history of this nation."
RELATED: Immigrant Activist Cesar Vargas Gets OK to Practice Law in New York
The Department of Homeland Security has exempted DACA recipients from the stepped-up enforcement policies that have been guiding immigration enforcement agents under Trump. But Vargas feels at risk of deportation as well and fears for his undocumented family members.
"My DACA could be taken away. Law license could be taken away. I have to protect my mother who is undocumented and 73 years old," Vargas said.
According to him, there has been an overwhelming response among many communities across the nation to provide safe havens.
In deep red Alabama, where Trump won with 62 percent of the vote, Vargas began working with Yazmin Contreras. Together they have organized about a dozen homes for immigrants to take refuge.
Contreras is a young community organizer in Birmingham for Adelante Alabama Worker Center, an advocacy group for immigrant workers and their families.
"They're also committed to taking care of children if things don't go as planned," she said.
Contreras said the effort in Alabama started building years ago after controversial HB 56 was implemented in 2011.
The law barred landlords from renting homes to undocumented immigrants, schools had to check for student's legal status and local authorities could arrest people under the suspicion that they were in the country illegally.
"It was chaos," Contreras said, "a lot of people left the state and later returned and built this network."
RELATED: Alabama Hispanics halt work to protest tough, new immigration law
According to Contreras, after Trump was elected, more community members began to get involved.
"We realized we have strength in numbers," she said.
Under Vargas' effort, that has expanded to families, businesses and churches in Georgia and Illinois willing to open up their doors to immigrant families.
"For us, it was about really getting connected with the community," he said. "People saying, 'we will not let this happen in our neighborhood.'"