WASHINGTON -- Swirling in chaos and criticism, President Donald Trump is seeking refuge in Arizona and the politics of immigration and the border, the topics that have alienated him from much of the Latino community.
Trump was to visit the U.S. Mexico border at Yuma, Ariz. and then speak at a rally Tuesday evening in Phoenix. The visit follows a couple of weeks of blistering criticism for failing to condemn violence by white supremacist and neo-Nazi groups in Charlottesville, Virginia and the death of counter protester Heather Heyer.
That was quickly followed by the firing of Trump's chief strategist Steve Bannon and the president's announcement that he'd be adding more troop strength in Afghanistan, moves that prompted criticism from supporters.
Critics see the visit as a continuation of a pattern of tossing the "red meat" issue of immigration to his supporters when he is in trouble and needs to rouse his base.
"If you remember this is where we were nine months ago, when visited Mexico and flew to Phoenix and beat up on Mexicans," said Marco Lopez, former policy adviser at the Department of Homeland Security in the Obama administration.
"He's got to show a bit of muscle again because he's been getting pounded the last three weeks from his own party and his own base," Lopez said.
Having ousted Bannon, the far right's connection to the White House, Trump has to turn to his "true colors" of anti-immigrant, anti-Latino and anti-Mexican sentiment to rebuild support, even though there is widespread agreement that his showcase solution on immigration – a border wall – won't have much effect, Lopez said.
"When it's tough again in six months, he will return to the border and he will say the same things," Lopez said.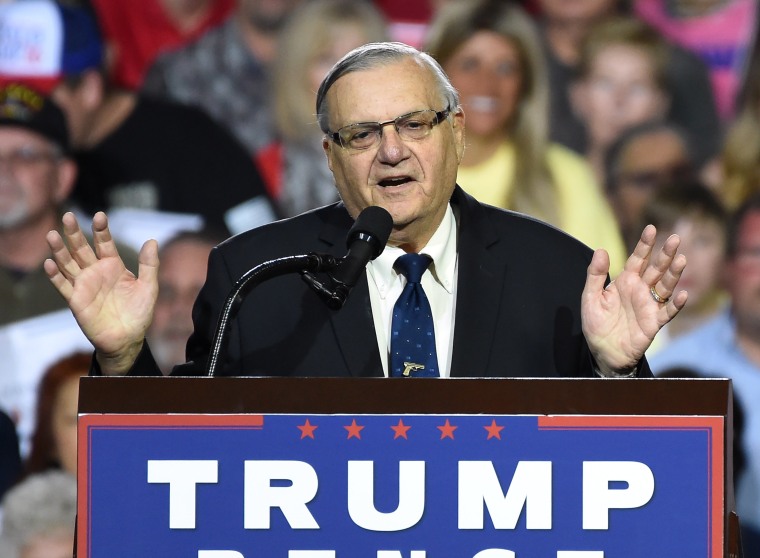 Democratic National Committee Chairman Tom Perez blasted Trump for the Arizona visit saying "instead of uniting the American people against hatred and bigotry," the president went to Arizona to "throw salt in the wounds he tore open with his response to Charlottesville."
He said Trump has "shattered" immigrant families and "attacked the rights of Latino citizens" during his first seven months in the Oval Office, "all while doing nothing to fix our broken immigration system."
The previous Arizona trip Lopez referred to came Sept. 1, 2016, during the campaign. It followed a meeting with members of Trump's Hispanic advisory council that had left some Republican Latinos believing Trump would back off harsh rhetoric against immigrants and would possibly back measures to give immigrants legal status.
Instead, several who had been serving on the council bolted, unable to ignore Trump doubling down on plans to crack down on immigrants and showing little of the compassion they hoped to hear.
Massey Villarreal, a Houston Republican businessman, was among those who left the council, although he later voted for Trump. Like others, Villarreal was bracing for the possibility that Trump might pardon Joe Arpaio, a former Arizona sheriff.
"He campaigned on this issue. It should not be anyone's surprise that immigration is something (he) will use to rally his base, just like Obama used liberal issues to rally his base," he said.
Backing up that point, the Republican Party previewed Trump's trip extolling his immigration enforcement achievements including his executive order that led to more sweeping immigration arrests and the deportations of people who had previously been considered low priorities for deportation.
The day after Heyer was killed by a driver who plowed his car into a crowd of counter-protesters in Charlottesville, Trump told Fox News that he was seriously considering pardoning former Arpaio. Arpaio racially profiled Latinos and immigrants in a campaign against illegal immigration and ignored court orders to reform the practices.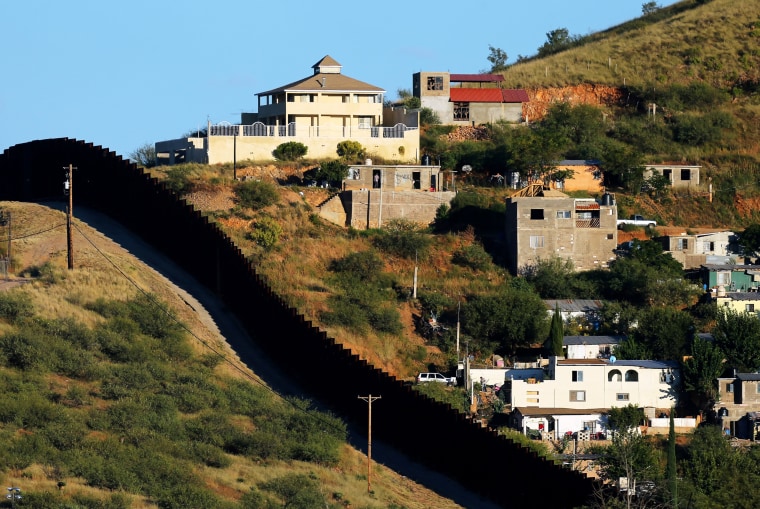 White House press secretary Sarah Huckabee told reporters Tuesday afternoon Trump would not be pardoning Arpaio while in Arizona, although a pardon remains a possibility.
Villarreal said he didn't feel "so out in the woods" since Trump has three years left on his presidency, has fired Bannon and has other Latinos advising him.
But others don't see those as enough.
"I don't know if he's serious about doing a pardon. If he does that's the biggest slap in the face to Latinos, to the rule of law," said Steve Gallardo, Maricopa County, Arizona District 5 supervisor, said.
"Arpaio is a figurehead when it comes to discrimination and racism and when you pardon someone like that who has admitted to violation of a court order, you pardon someone who has a long history of discrimination of bias toward Latinos, then he (Trump) has laid the foundation of his presidency under the flagship of racism," Gallardo said.
Alfonso Aguilar, executive director of the Latino Partnership for Conservative Principles, said it is Trump's prerogative to pardon Arpaio, or effectively grant him amnesty. "It's not going against the rule of law," to do so, he said.
But if he does so, "it shows the whole rule of law argument" against providing some form of legal status to immigrants "is an excuse, a weak excuse for not wanting to bring undocumented immigrants out of the shadows," he said.
"It's totally comparable, when Joe Arpaio is found in contempt of court, he's gone against the law. He could pardon him, and people would understand," Aguilar said. "In the same vein, he (Trump) should be open to bringing people out of the shadows."