President Donald Trump has asked Congress to stop providing relief and reconstruction money to Puerto Rico, provoking criticism from advocates for the island who say he doesn't understand how its government works.
The president told congressional leaders and appropriators that he doesn't want to include additional Puerto Rico funding in future spending bills, a congressional leadership aide confirmed to NBC News.
"He was unhappy with what he believed was mismanagement of money," said the aide, who asked not to be identified because the aide was not authorized to speak publicly.
Puerto Rico, a U.S. commonwealth, has been trying to rebuild from Hurricane Maria, which hit the island in September 2017. At the time, it was in the throes of a financial crisis, owing billions to creditors without the cash to pay off the debt.
Some 3,000 people are estimated to have died from the hurricane and its aftermath. The hurricane destroyed Puerto Rico's electrical grid and infrastructure and forced some businesses to close for months or shut down completely, wreaking more havoc on the island's already gasping economy.
Trump's request was first reported by Axios, which said he had apparently misread an article in The Wall Street Journal and believed the island's government would improperly use relief funds to pay down its debt.
The president had also claimed in an October tweet that the island was using restructuring and recovery money to pay its debt.
But neither Puerto Rican officials nor the fiscal board overseeing its financial recovery have ever publicly said they plan to use federal money to directly pay bondholders, and any such plan would have to be approved by Congress.
Trump's plan has drawn angry rebukes, with critics saying his charge about the debt is not based on any evidence, while others have scoffed at his understanding of the government process.
"This may be a constitutional lesson for the president, but it's Congress that allocates funding and through oversight power can make sure (Puerto Rico's) using it for disaster relief," said Rep. Darren Soto, D.-Fla.
Puerto Rico Gov. Ricardo Rosselló said he wasn't going to comment on "rumors," the Puerto Rico newspaper El Vocero reported Tuesday.
"If there is something concrete to say about Puerto Rico then he can say it," Rosselló told the newspaper. "If not, we keep working."
Rosselló's office did not respond to an NBC request for comment.
The White House, responding to NBC's request for comment, said it had allocated $91 billion in aid to Puerto Rico, according to the Federal Emergency Management Agency. There was no comment on whether the president requested an end to spending on Puerto Rico.
A congressional aide for the House Appropriations Committee said the committee had not received any "such instruction or information." The aide said the committee is working "to determine what may be needed for all disasters and emergencies, to determine if and when more funding is necessary."
Democrats on the House and Senate Appropriations committees said they had not been informed of such a request from Trump beyond what had been reported by Axios.
Trump has stumbled a few times when it comes to Puerto Rico. His administration has been criticized for its slow response to the island after the hurricane. Trump was ridiculed for throwing paper towels to Puerto Ricans during a visit to the island and for denying the death toll was 3,000.
Puerto Rico experts said the president appears to be confused about what is happening with Puerto Rico's attempt to restructure its debt and the role played by the federal investment in the island's reconstruction.
"I don't think he really understands what is going on. I think he is mixing two different things," said Federico de Jesús, a consultant at FDJ Solutions who has worked on Puerto Rico issues. "He's engaging in the same victim blaming. Either he doesn't know the need or doesn't care."
David Ferreira, a consultant at Ferreira Strategies, said that the money Congress appropriated for Puerto Rico's reconstruction could only be diverted by Puerto Rican officials for something else with the approval of the House and Senate Appropriations Committees.
Furthermore, Ferreira said, if Republicans decided to comply with Trump's request to withhold money from Puerto Rico, it would "come "at a great cost" because Democrats will control the House in January.
"Is hurting Puerto Rico really a priority for the Republicans in Congress? I don't think it is," Ferreira said.
To help Puerto Rico out of its financial crisis, Congress set up a fiscal control board in 2017 to deal with the island's debt, implement spending cuts and oversee its budget.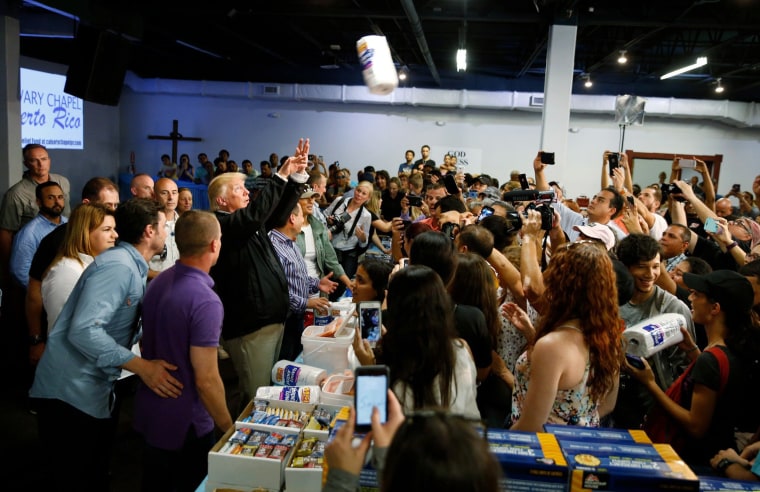 The board's fiscal plan, updated after Maria, assumes what some say is an overly rosy picture of how much money Puerto Rico will have to cover debt service and has made a deal with bondholders based on the assumptions.
The board's projection, which was lower before Hurricane Maria, takes into account the expected economic effect on Puerto Rico's economy of the investment of the federal restructuring and relief money, according to Hector Cordero-Guzmán, a professor at the Marxe School of Public and International Affairs at Baruch College, part of the City University of New York system.
"You take a dollar and use it to buy equipment and supplies and to hire personnel, that person has to pay payroll tax, that goes to the Puerto Rico treasury," Cordero-Guzman said. "It's not, take a dollar and give it to a bondholder. When it goes into the local economy, it makes it seem there will be more available resources for the government of Puerto Rico to pay its debt."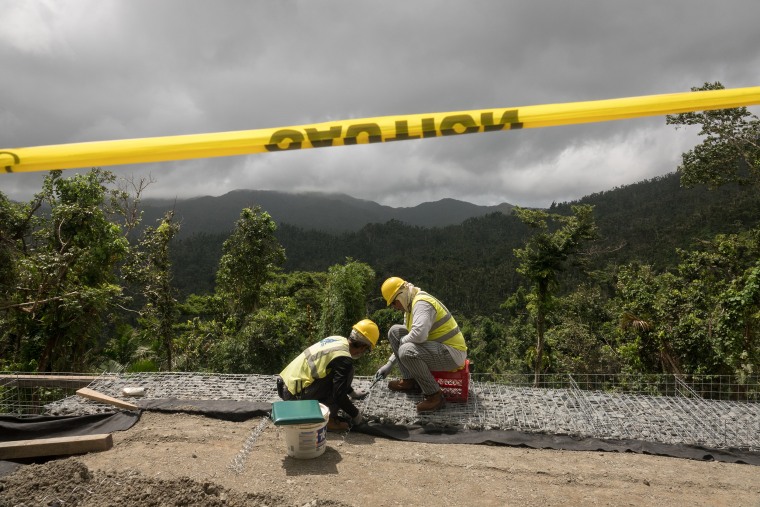 Some argue that while the reconstruction funding will drive the economy for the short term it won't for the long-term, and so initial economic returns should not be used for paying debt service but should go back into the economy.
"That's where the debate is and the misunderstanding," Cordero-Guzman said. "We know the president takes shortcuts to take political positions."
FOLLOW NBC LATINO ON FACEBOOK, TWITTER AND INSTAGRAM.