MEXICO CITY — Political relations may be cooling off between the U.S. and Mexico, but U.S. president Donald Trump was front and center at the country's most influential international art fairs.
The Mexican Contemporary Art Fair, known as Zona Maco, now in its 15th year, took place this past weekend at Mexico City's Centro Banamex. Started in 2002 to extend Mexico's art market beyond its border, the fair now attracts about 50,000 visitors and exhibitors from more than a dozen cities, from New York to Madrid and Berlin to Buenos Aires. The works displayed represent more than 120 international galleries and more than 1500 artists.
The border wall that Trump has said he plans to build between Mexico and the U.S. was the proverbial elephant in the room.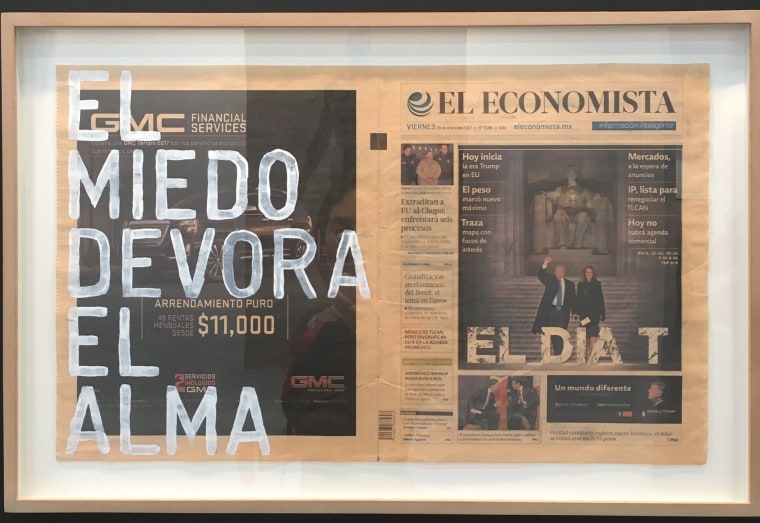 A black wall with the slogan "El miedo Devora El Alma" (Fear Devours The Soul) featuring newspaper clippings of the day of Donald Trump's inauguration by Thai artist Rirkrit Tiravanija drew a lot of attention.
"He [Tiravanija] chose Jan 20th, 2017 as a day that will define many things," said the artist's representative, Liza McClure, at the Kurimanzutto gallery, "He picks days that are just days until something happens and it has greater importance."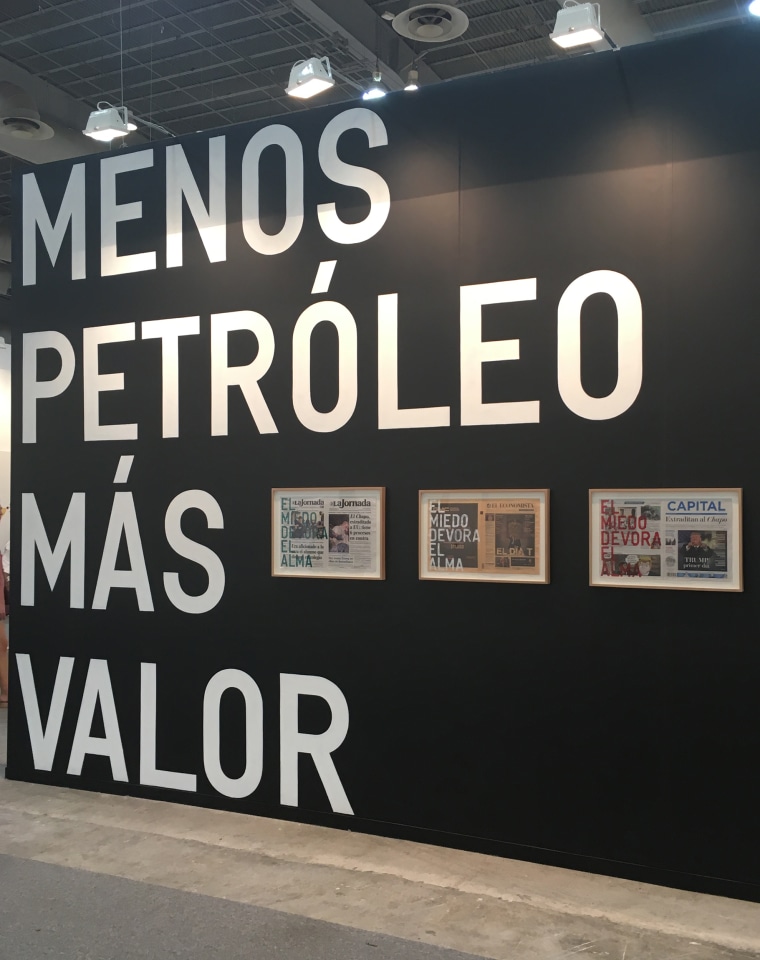 Spectators who were visiting the fair agreed with the need to dispel stereotypes about their country.
"This is the new Mexico, the Mexico we want everybody to understand and project. I don't think we need any wall to protect the US from this," said Mauricio Valdespino, 36, who works at the high-fashion retailer Dolce & Gabbana has been coming to the fair for 10 years.
Yet art can also be a strong unifier and can bridge the geographical and political divide, as international exhibitors — including Americans — stressed at the fair.
"We are proud to be here and introduce our artists to the Mexican public," said Aaron Baldinger from Gladstone Gallery, one of several New York galleries in attendance. "Art is emotional and powerful and art is important, especially in a time like this."