HIALEAH, Fla. — While Republican candidates are debating in Miami on Wednesday, former President Donald Trump will be holding a rally nearby in a city unknown to many in the country: Hialeah.
While the choice of city may come as a surprise to some, it's part of Trump's ongoing cultivation of the Latino vote in Florida.
Hialeah, a Republican bastion just outside Miami, is a blue-collar city that welcomes recent immigrants. Because the city is almost all Hispanic, it is considered one of the least diverse in the United States. More than 95% of its residents identify as Latino. Almost three-quarters were born in another country and Spanish is the dominant language.
Hialeah has grown rapidly since the 1960s when Cubans started settling in the area following the 1959 revolution and has seen subsequent waves of immigration from Cuba and other Latin American countries.
Hialeah resident Wendy Portilla, 44, says she would like to see Trump become president again. She said Trump chose the perfect place for his rally. "Es mi pueblo," she said in Spanish, "it's my town."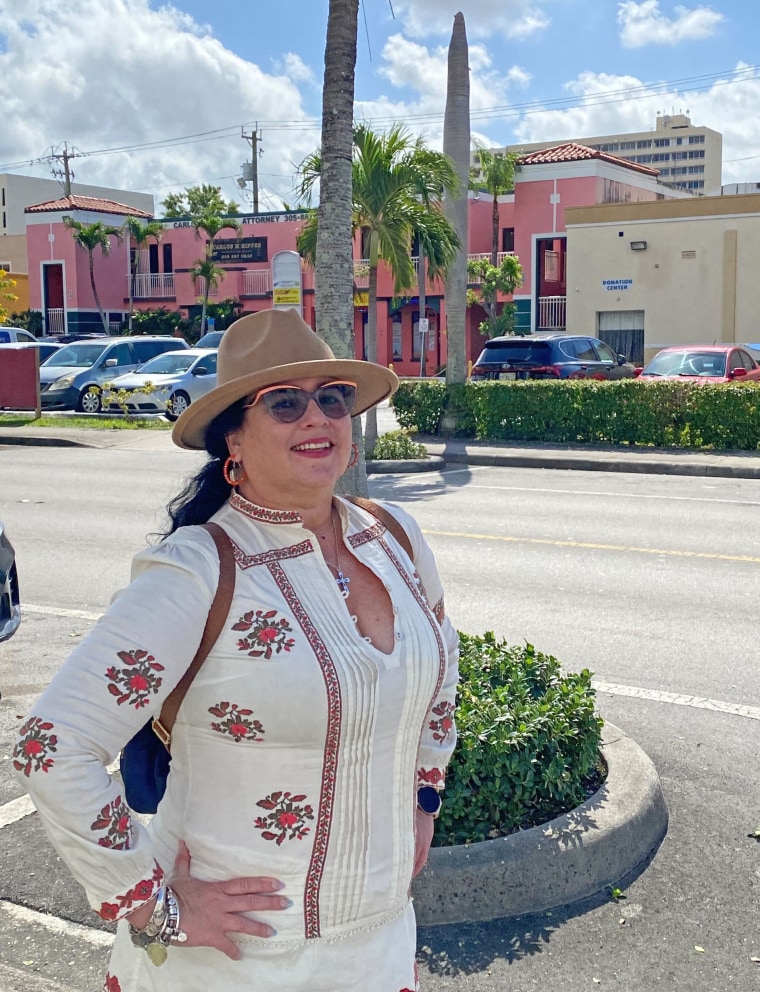 Portilla came from Cuba 20 years ago and works at a cafeteria while studying to become a massage therapist. She wasn't happy with Trump's increased sanctions on Cuba during his years as president, but for her the U.S. economy is more important.
"Things were better under Trump. People here are struggling now," she said. "The price of food and rent need to come down."
So why did Trump choose Hialeah for his rally?
"Trump likes to be loved," said a Republican strategist who is not backing Trump in the GOP primary. "That's where he had his best performance in Miami Dade County in 2020."
In Miami-Dade County, where Hialeah is located, voters have shifted to the right since the 2016 election: In the 2016 GOP presidential primaries, Sen. Marco Rubio heavily beat Trump in Miami-Dade, the only Florida county that Trump didn't win. In the 2016 presidential elections, Trump lost in Miami-Dade County to Democratic presidential candidate Hillary Clinton by about 30 points.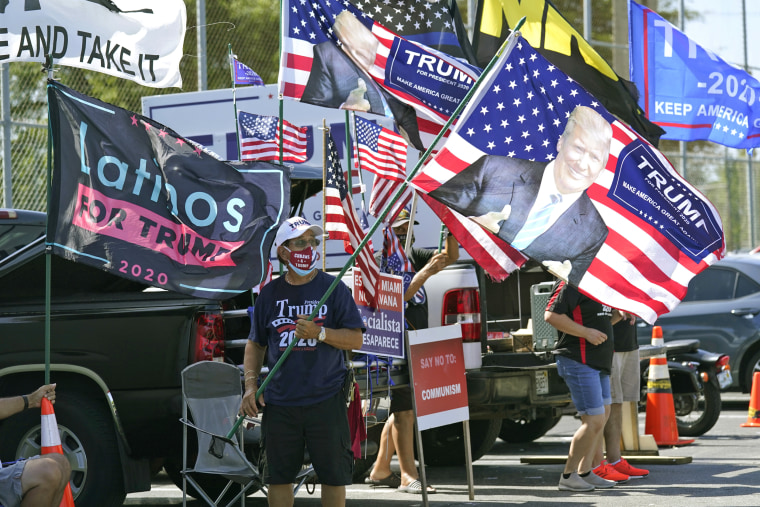 Four years later in 2020, Trump made significant gains among Latino voters, with Joe Biden winning the Hispanic county by only 7 percentage points.
The strategist also noted that, "a portion of the Republican electorate likes to hear that their candidates are popular with minorities."
About a dozen Latino voters in Miami-Dade County with whom NBC News spoke seemed indifferent to Trump's numerous indictments at the state and federal levels. These include charges he conspired to defraud the country and prevent the peaceful transfer of presidential power to Biden. In Georgia, former Trump attorneys pleaded guilty to aiding and abetting false statements in an effort to overturn the certified results of Biden's win in the state.
As president, Trump assiduously courted Latinos in Florida. When he became the first former president to face federal charges in a Miami courtroom in June, he stopped at the iconic Versailles Cuban restaurant after, where he was cheered by his supporters.
It's quite the turnaround from his 2016 campaign when Trump did not have strong support among Hispanics in Miami Dade County.
But once he became president, Trump and senior administration officials spent time in Miami-Dade County and focused heavily on appealing to Hispanic voter groups including Cuban Americans, Venezuelans, Nicaraguans and Colombians.
While Cuban Americans have tended to vote Republican and supported hard-line stances toward Cuba, about half of Florida's Cuban American voters supported President Barack Obama in 2012.
After Trump ended up dramatically improving his support among Latinos in Florida in the 2020 election, Republicans have made big gains among Hispanic groups in the state. Florida Gov. Ron DeSantis, who is a current presidential candidate, became the first Republican governor in 20 years to win traditionally blue Miami-Dade County. But Trump had already helped pave the way for him.
Yubisay Camero, 48, a Republican who came from Venezuela in 2012, says she likes DeSantis and his "family values," but for the presidency she prefers Trump because of his national and international "experience."
"I like that Trump always avoided wars," said Camero, who owns businesses, including an electronic store. "I don't like that the U.S. is involved in conflicts between Israel and Gaza, as well as Russia and Ukraine. Trump had a way of avoiding conflicts."
She also cited the economy as a reason why she favors Trump and said, "He quickly put the economy in order while he was president."
José Matos, 70, an electrical contractor who has lived in the United States since 1992, said the best option right now is Trump because he "has the qualification needed to stabilize the economy." Matos thinks DeSantis "has a good future," but said the recent GOP debate showed he "doesn't have enough experience."
Like Camero, he also said Trump avoided conflicts and said Biden is spending "billions of our taxpayer money on conflicts."
Most polls have Trump about 40 points ahead of his rivals on average and, for Latinos in Florida, he is also the favorite among the Republican candidates. Many of the Republican elected officials in the state have endorsed Trump for the Republican nomination. Florida Sen. Rick Scott recently announced he is backing Trump. Most of Florida's Republican congressional delegation have also endorsed Trump.
Even though the primary elections haven't taken place, the Biden campaign told NBC News it is going to "strategically place billboards" in Hialeah ahead of Trump's expected rally, attacking the "MAGA Republicans" on "higher costs, ripping away freedoms, banning abortion, and lining the pockets of special interests on the backs of middle class families," according to Biden-Harris campaign manager Julie Chávez Rodriguez.
The Biden administration is touting that its policies have benefited Hispanics, including "the lowest Latino unemployment rate on record," as well as the "fastest creation rate of Hispanic-owned businesses" in more than a decade, a 53% increase in health care coverage from 2020 to 2022 and a reduction in Latino child poverty rates.
But the Miami-Dade County voters backing Trump who spoke to NBC News echo voter sentiments in five battleground states where a New York Times and Siena College poll found Trump is leading Biden, and where Biden's "lead among Hispanic voters is down to single digits."
Bertica Cabrera Morris, a veteran Republican strategist based in Orlando who is not yet backing any of the GOP presidential candidates, thinks Latinos like Trump over the other Republican hopefuls because they are already familiar with him and feel secure with him.
"I think Hispanics feel secure with a guy that is not afraid to speak up. Right now, we feel very vulnerable with the wars that are going on," she said. The state of the economy is also deeply affecting Hispanics who recall better times under Trump's presidency, she said.
"Many Latinos in Florida come from countries plagued by violence and economic crises with extremely high inflation," Cabrera Morris said. "They are looking for stability in the U.S."
"Regardless, we have to wait for the primary because polls have been wrong in the past," she said.