MIAMI — Two Latino candidates are vying for a congressional seat in a competitive, Hispanic-heavy district that is being closely watched nationally.
The tight race has Cuban-American Republican congressman Carlos Curbelo in a virtual tie with his Democratic challenger, Ecuadorian-born Debbie Mucarsel-Powell, according to a recent poll commissioned by her campaign. Earlier polls had the moderate, two-term lawmaker winning by a wider margin.
Curbelo and Mucarsel Powell are campaigning to represent Florida's 26th district, which is 70 percent Latino. It stretches from southwest Miami-Dade, all the way down to Key West and includes parts of the Everglades and the Gulf Coast.
Hillary Clinton won the district by more than 16 percentage points over Donald Trump in the 2016 presidential elections. But Curbelo won by 12 points the same year, suggesting voters are willing to split their tickets between Democrats and Republicans.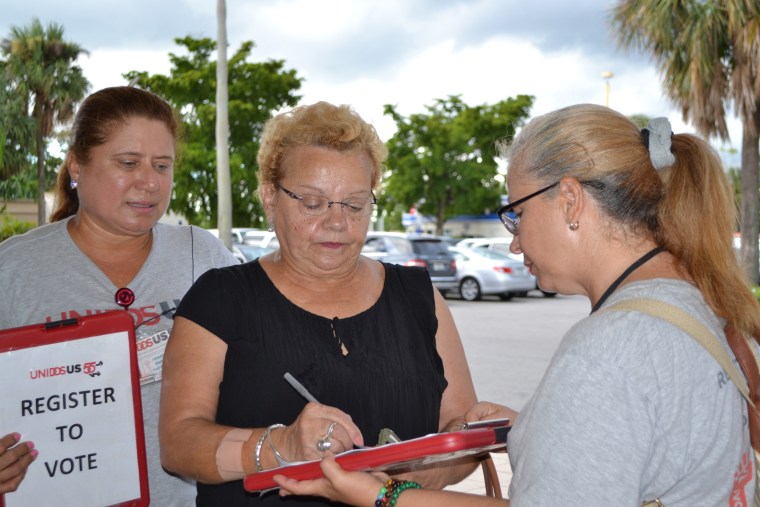 Rep. Curbelo, who was elected to the seat in 2014, is aware of this political diversity; in an interview with NBC News, he said people in his district choose the "best candidate." He said that he takes the same approach with his work in Congress.
"I don't weigh bills or consider them based on whether a Republican proposed it or a Democrat proposed it. If an idea is good, I'm going to get behind it," Curbelo said over breakfast at the Casa Cuba restaurant, after dropping off his kids in school.
Last year, Curbelo was ranked the fourth most bipartisan member of the House by The Lugar Center's bipartisan index, he described himself as "not scripted" and willing to work with anyone.
"I have flown on Air Force One with President Obama and with President Trump," said Curbelo.
Curbelo, is one of a few congressional Republicans who has distanced himself from Trump on several issues, often criticizing him.
He opposed Trump from the beginning of the 2016 campaign, even comparing him to the late Venezuelan strongman Hugo Chavez, and didn't vote for Trump.
Curbelo has taken a different position from Trump on issues such as the environment and immigration.
"The administration has been reckless in its environmental policies. I was the first Republican who called for the firing of Scott Pruitt," Curbelo said.
In January he broke from his party and proposed the U.S. introduce a tax on carbon dioxide emissions.
On immigration, he was vocally against the Trump administration's family separation policy; he has also voted with Democrats on legislation aimed at protecting DREAMers, undocumented young immigrants who were brought to the U.S. as children. He has also voted against unrelated spending bills in protest of Congress' inaction on the issue.
Curbelo is known for being independent on other issues as well. He introduced legislation to ban "bump stocks" after last year's mass shooting in Las Vegas. He is also a proponent of medical marijuana.
Some think that separating himself from Trump may not be enough for a Republican incumbent during such a politically polarized year.
"Just being tied to Trump is going to be a huge liability for him. Trump lost his district and since then has become even more unpopular," said Gregory Koger, a University of Miami political science professor.
Curbelo's challenger, Mucarsel-Powell, came to the U.S. as a young girl from Ecuador. She started her career working at non-profits and is a former associate dean at Florida International University. She's among a group of political newcomers who have been endorsed by former President Barack Obama.
One of Mucarsel Powell's main campaign themes is access to health care.
After a recent campaign event in front of the University of Miami's Jackson Memorial Hospital, Mucarsel-Powell told NBC News, "I started working at the [Florida Atlantic University] College of Health and I understood the issues that our community was facing here in South Florida, which is lack of access, a shortage of doctors, and nurses because they can't pay for their education."
She said she would propose increasing funding for community health care programs.
One topic that she is zeroing in on was Curbelo's 2017 vote to repeal and replace the Affordable Care Act. South Florida has had higher rates of new healthcare coverage under the ACA than other areas in the country.
Mucarsel-Powell has targeted Curbelo with ads in both Spanish and English since early September telling voters that Curbelo voted against the ACA.
Curbelo said his office receives calls "all the time" from people complaining they were paying for the ACA and when it came time to go to emergency room, they couldn't afford the deductible. "While a lot of people have health insurance, they don't necessarily have access to quality health care when they need it," he said.
On the environment, Mucarsel Powell says Florida is "ground zero" for climate change, and she touts her work with the Coral Restoration Foundation and her support for clean energy and infrastructure that can withstand the effect of sea level rise in her state.
Mucarsel-Powell told NBC News, "my opponent has accomplished little in Washington to fight climate change. He may talk a lot, but he has an embarrassing 23% score [in 2017] with the League of Conservation Voters."
But first, getting people to vote
UnidosUS, a national Latino advocacy organization has registered over 40,000 people to vote in Florida ahead of the November 6 elections. During a recent daily briefing, over a dozen volunteers — almost all women — sat around a long conference room table and expressed worry over the fact that many residents were unaware of the upcoming midterm elections.
This could potentially place Curbelo at an advantage, since he has considerable name recognition after serving two terms in Congress. In the heavy Latino areas they canvass, most of the people UnidosUS have registered to vote are Cuban-American. There are also Venezuelans, Colombians, and Puerto Ricans.
On a Friday afternoon, George Nuñez, 59, an airport security guard updated his registration outside the busy Sedano's supermarket, a Latin chain in Florida. He said health care and taxes are the most important issues for him. He said he is currently uninsured because he does not like the options available to him. He was previously enrolled through the Affordable Care Act.
"I went to the hospital and then started receiving bills and bills," Nuñez said, asking if he will still be penalized for not enrolling this year.
Nuñez still does not know who he will vote for and said he has not had time to look into the candidates because of his long work hours.
Issues matter beyond Florida's borders
The district's robust immigrant population means many are paying attention to U.S. foreign policy towards their native countries.
For, Maria Gonzalez, 58, a Cuban-American who is not working due to disability, her primary concern when voting is Cuba. She wants the U.S. trade embargo lifted.
"I am anti-communist, but politicians talk about Cuba just to gain a vote," she said.
Curbelo said, "I'm for conditional engagement. If the Cuban government starts showing that they're serious about engaging the Unites States in a meaningful way, I'm open to that," and used the return of American fugitives as an example.
In an emailed statement, Mucarsel-Powell said ending the embargo should only happen if the United States "can get concessions in return for the Cuban people," including a free press, elections and an exchange of ideas, as well the release of political prisoners.
With Venezuela in near collapse under its current president Nicolás Maduro, Mucarsel-Powell said she supports cutting all economic ties with the government and imposing oil sanctions.
Curbelo is more hawkish and doesn't believe a military option should be taken off the table,
"That doesn't mean an invasion of Venezuela," he said. "We have seen in Syria how the U.S. has held the regime accountable without invading."
Florida International University political science professor Eduardo Gamarra, thinks Curbelo has a good chance of keeping his seat.
Aside from having name recognition and being Cuban-American, Curbelo "has done very well in terms of trying to position himself on immigration issues [and] differentiating himself from Trump," said Gamarra.
But he conceded it's a tight race. Mucarsel-Powell has been spending a lot of money on bilingual advertising, and analysts see the race at a dead heat, with about a month to go before the midterms.
FOLLOW NBC LATINO ON FACEBOOK, TWITTER AND INSTAGRAM.