WASHINGTON, D.C. — Sonia Gutiérrez, a native of Colombia currently living in the nation's capital, on Monday was reeling from the news that voters had narrowly rejected the landmark peace deal between the Colombian government and Marxist rebels.
"It's really too bad. I am stunned, stupefied by the results," said Gutiérrez, who works in local government and moved to the U.S. as a child more than 30 years ago. She voted "yes" in the referendum.
"I understand how some people wanted justice and thought that that FARC was getting away without any punishment, but sometimes you have to see beyond your own personal justice and see what is best for your country. At some point you have to move forward," she said.
Related: Colombia Narrowly Rejects Historic Peace Deal With Rebels
Sunday's referendum results surprised many who thought that Colombian voters would support President Juan Manuel Santos's calls for formalizing the cease fire with the rebels after more than five decades of civil war.
In Colombia, the vote was very close. According to election officials, 49.78 percent (6,377,482) voted "yes," and 50.21 percent opted for "no," a margin of only 53,894 votes between them.
But the "no" vote among Colombians living in the U.S. prevailed by a much larger margin: 62.48 percent against 37.51 percent.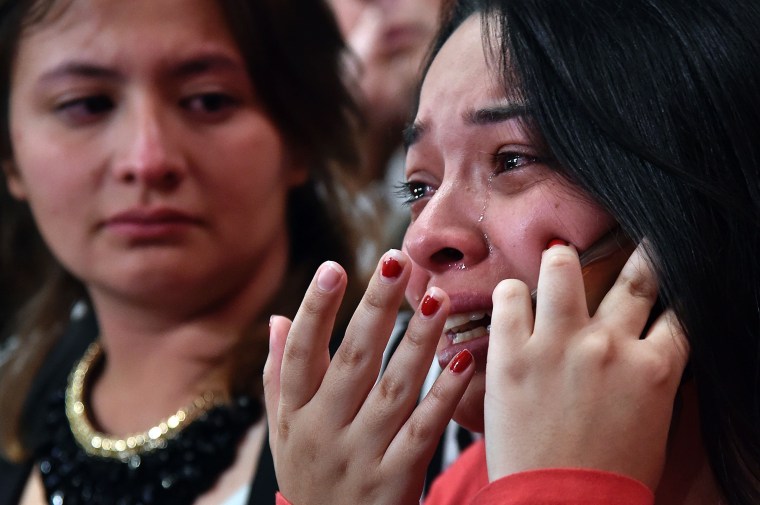 Voters who gave it a thumbs down said the agreement was too lenient on the rebel forces from the Revolutionary Armed Forces of Colombia (FARC, in Spanish).
"I am for peace. We all want peace, but not this way. I want justice. The 'no' vote just doesn't want to give the country away to delinquents and narcotraffickers with impunity, without punishment," said Juan Carlos Villalobos, a financial advisor living in Durham, North Carolina for the past 12 years.
"We are willing to forgive but you have to assume responsibility for your actions," added Villalobos. "They (the FARC) have to apologize and present themselves to the authorities to answer for what they did. This is as if after 9-11, the U.S. government gave Osama bin Laden a chance to have a seat in Congress and run for president like nothing happened. I want peace, but I want a just peace," he said.
Florida Rep. Ileana Ros-Lehtinen, a Florida Republican with a significant number of Colombians in her congressional district, went on the floor of the U.S. House of Representatives several days ago to slam the accord and urged Colombians to vote against it.
After the vote, Ros-Lehtinen sent a tweet in Spanish, saying, "Congratulations to all the people of Colombia for rejecting this plan that gives impunity to narcoterrorists with a guarantee of political power to the FARC."
The vote was divided, with most rural areas accepting the pact. More urban areas rejected it, with the exception of the capital city of Bogotá, which voted in favor. But an especially high percentage of voters stayed away from the polls. Of the 34,899,945 eligible voters, some 13 million voted, or just 37.4 percent.
Related: Colombia's Rebels Sign Historic Agreement Ending 50-Year War
Intense rain from Hurricane Matthew may have hurt turnout along the Caribbean coast of Colombia, where polls showed there was wide support for the deal. Many polling places were delayed or shuttered because of the weather, while others showed scant attendance.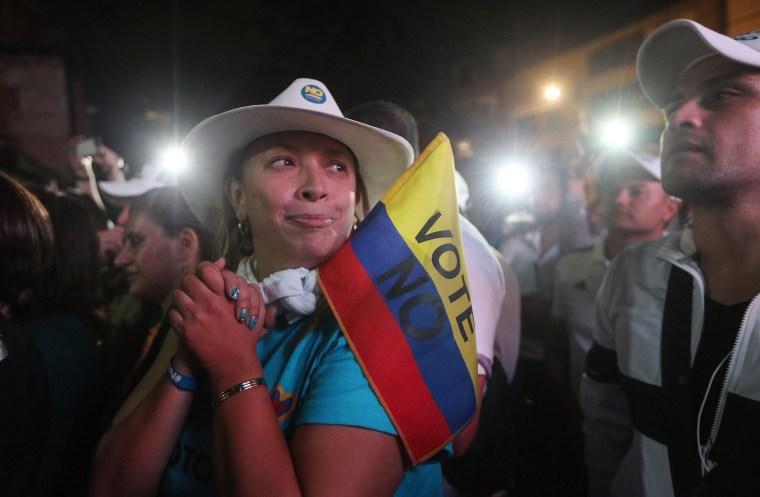 "This vote shows you that while Colombians may want peace, they are very divided as to how that peace should be achieved," said Gustavo Arnavat, a senior fellow at the Center for Strategic and International Studies in Washington, and a former Obama administration official.
"One of the clear winners is (former Colombian president Álvaro) Uribe who was against it and campaigned heavily for the NO side. I think this gives him more weight in terms of influencing policy between the U.S. and Colombia because of this result and the support he has in Colombia among those who voted against it."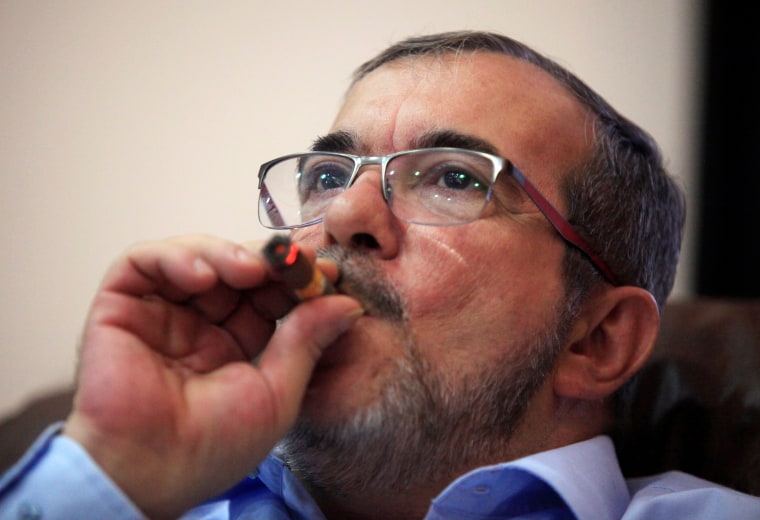 Juan Camilo Caicedo, a D.C.-based Colombian business consultant who voted in favor of the accord, said the government did not do a very good job of "selling" the agreement. He said the "no" vote was far better organized.
"They were well organized and energized," said Caicedo. "And they circulated a lot of disinformation, such as sending out a tweet saying that some of the pensions from retired persons were going to be taken away and given to the FARC, and that's simply not true.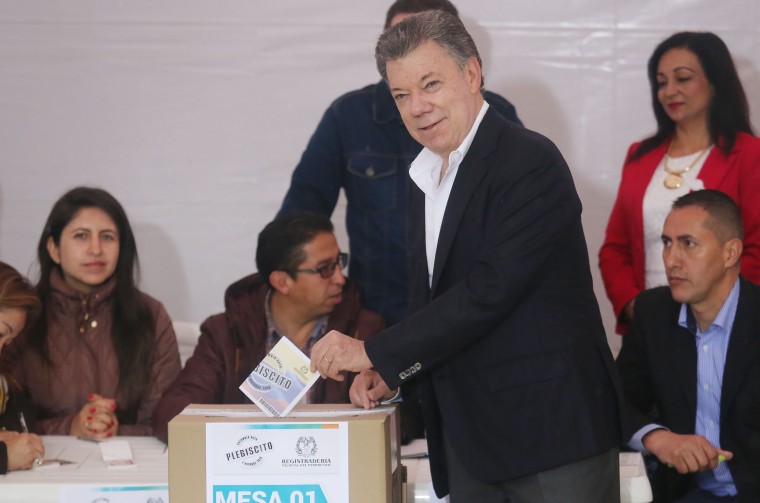 Caicedo, who has had family members kidnapped and threatened back home, said the Colombian mindset after so many years of violence needs to change. "Too many people don't have the concept of forgiveness and that's a big problem — who wants to invest in a place where you might be kidnapped? We need to change the paradigm."
After the vote, the Obama administration weighed in.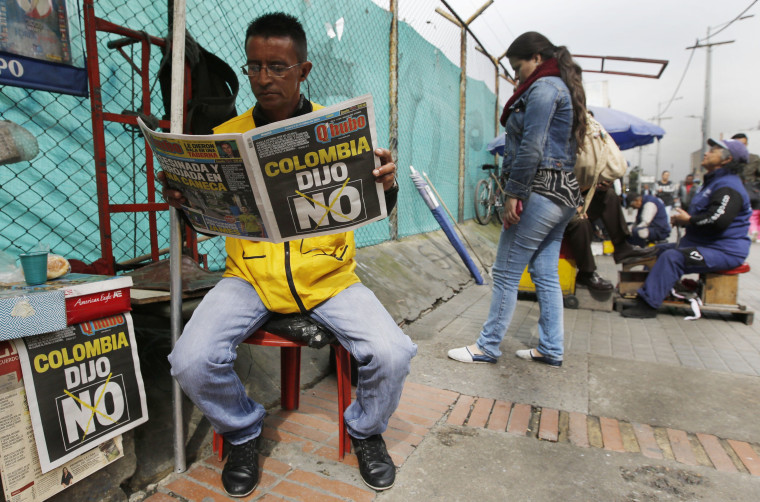 "Colombians have expressed their commitment to settle their differences through institutions and dialogue rather than violence," said U.S. State Department spokesperson John Kirby. "Colombia can count on the continued support of the United States as it continues to seek democratic peace and prosperity for all Colombians. We support President Santos' proposal for unity of effort in support of a broad dialogue as the next step towards achieving a just and lasting peace."
Cristian Santacoloma, a Colombian who is currently living in New York City, said he worries about what comes next.
"Both sides say they are committed to peace. But what exactly does that mean without an agreement to end the violence? It's all up in the air now," he said.
On Monday the Colombian president said he has asked to open up a new dialogue with the rebels as soon as possible.
Jason Marczak, Director, of the Atlantic Council's Latin America Economic Growth Initiative, said in a statement that "the next few days will undoubtedly draw light on the feasibility of a new agreement, but the lesson is that in today's world there never is certainty to plebiscite and referendum outcomes."