U.S. elected officials and presidential candidates joined the calls Friday for Puerto Rico Gov. Ricardo Rosselló to resign as activists planned another protest against the embattled leader.
Tens of thousands of Puerto Ricans have taken to the streets over the last several days, urging Rosselló to step down after corruption investigations and 889 pages of a private chat between him and some of his officials and close associates were leaked.
Puerto Rico's nonvoting member of Congress, Rep. Jenniffer González-Colon, posted an open letter demanding Rosselló's resignation and that he then aids a peaceful transition of power amid the growing unrest on the island.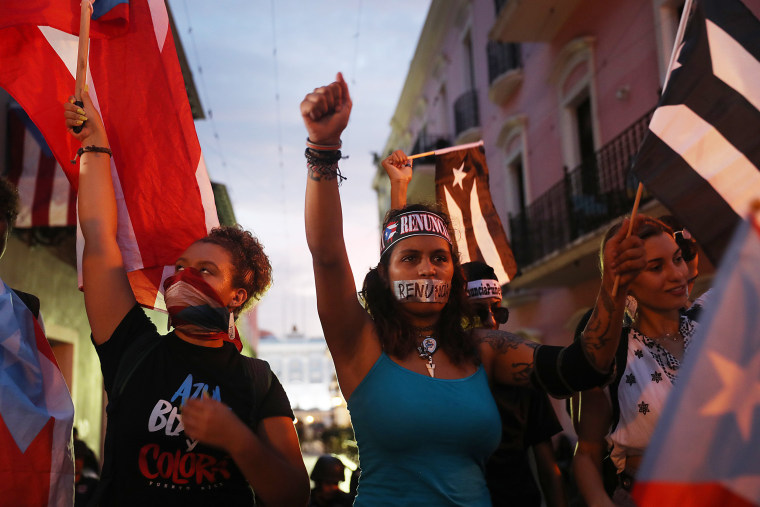 "His leadership has been questioned to direct the destinations of the island, as well as our recovery after the hurricane," González-Colon wrote on Facebook. "When that happens the government, the state, loses strength in its credibility and its legitimacy."
She said stability is needed as Puerto Rico tries to rebuild after Hurricane Maria devastated the island in 2017.
"We have to put Puerto Rico first over all other considerations," she wrote.
Sen. Rick Scott, a former governor of Florida, said Friday that he has "long advocated for the families of Puerto Rico." Scott, a Republican, said in a series of tweets in both English and Spanish that he agreed with González-Colon that the island deserves new leadership.
"While I've been hesitant to weigh in too heavily on the internal political affairs of the island, it's clear that the current leadership has lost the confidence of the people of PR," Scott said. "The island deserves new leadership. I agree with my friend Jenniffer Gonzalez; Governor Rossello should resign."
Democratic presidential candidate Rep. Tulsi Gabbard of Hawaii traveled to Puerto Rico on Friday to show her support for the people of Puerto Rico, she tweeted, and urged other candidates to do the same.
Massachusetts Sen. Elizabeth Warren, also running for the Democratic presidential nomination, joined the growing chorus Friday.
"I've been standing with the people of Puerto Rico in their protests against corruption and their governor's behavior," Warren said. "The people have spoken—loud and clear: @ricardorossello should resign."
Another Democratic presidential candidate, Julián Castro, weighed in during a campaign event in New Hampshire, saying Rosselló can no longer be an effective governor.
"We've seen comments he and others in his administration have made, we've seen them using force against the people of Puerto Rico," Castro said. "This governor can no longer be effective, and I believe that he should resign."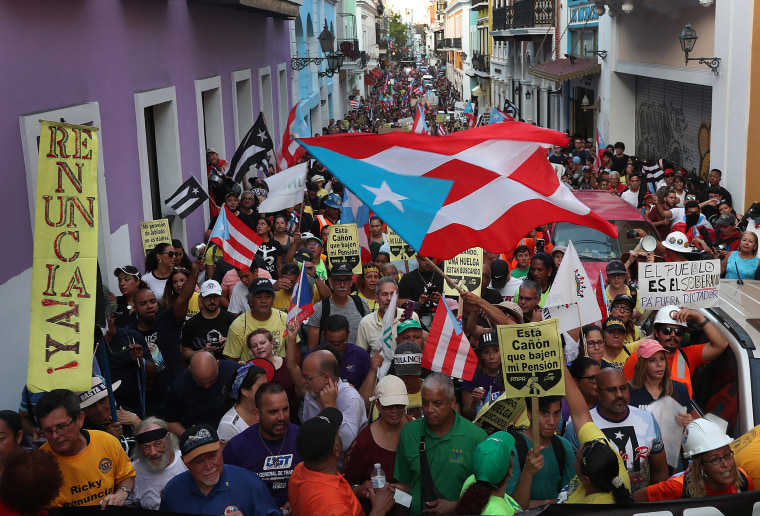 Protesters have demonstrated in the streets of Old San Juan for six days after the Rosselló chat leak that included profanity-laced, misogynistic and homophobic comments, as well as barbed and cynical remarks about a variety of topics, including the deaths following Hurricane Maria.
Other officials in the chat who were still in the administration have submitted their resignations.
Rosselló said the messages were private remarks made as a way to blow off steam after long days. But top island officials, including members of his own party, have been highly critical and gave the governor a deadline to "reflect" and prove he should stay in office
High-profile starts like Ricky Martin, Bad Bunny and Lin-Manuel Miranda have participated in protests and joined the chants of "Ricky, renuncia!" ("Ricky, resign!"). Martin tweeted a video Friday inviting people to join a protest Monday morning.