Venezuela's democracy was seen as quickly unraveling Thursday as President Nicholas Maduro's government took control of the Latin American country's congress.
The power grab came late Wednesday after loyalists on Venezuela's Supreme Court nullified the legislative branch in a ruling.
The takeover by Maduro's government, which shifts greater authority to him and his government, was blasted by members of both parties of the U.S. Congress Thursday and drew condemnation from the State Department and others.
In a statement, State Department spokesman Mark Toner said the U.S. considers the dissolution of Venezuela's National Assembly "a serious setback for democracy" in the country.
"The United States condemns the Venezuelan Supreme Court's March 29 decision to usurp the power of the democratically elected National Assembly," State Department spokesman Mark Toner stated.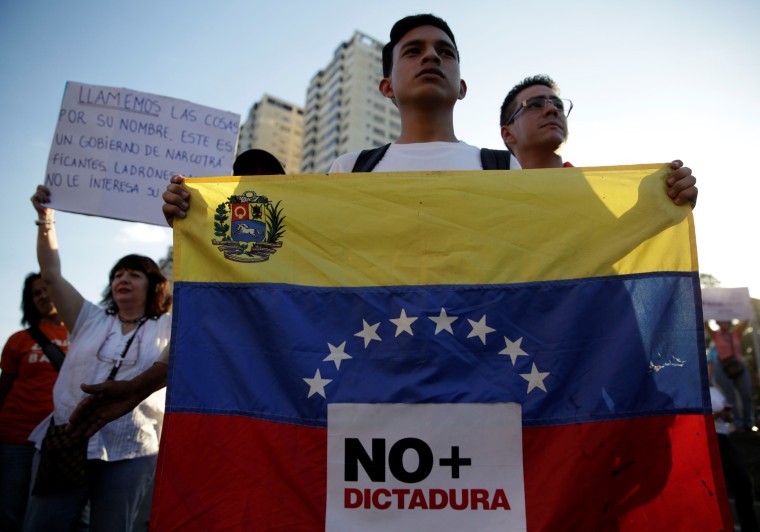 "We call for the government of Venezuela to permit the democratically-elected National Assembly to perform its constitutional functions, hold elections as soon as possible and to release all political prisoners," Toner stated.
U.S. Sens. Marco Rubio, R-Fla., and Bob Menendez, D-N.J. issued a joint statement Thursday evening calling the power grab "an attack on what remained of democratic institutions in Venezuela" and an affront to its people.
"Venezuela's democracy has been on life support for years now, but the decision to shut down the country's legislative body confirms our worst fears; Maduro is an unhinged dictator who has systematically dismantled democracy in this country," Menendez and Rubio said in their statement.
Rubio also met with Venezuelan legislators Wednesday concerning human rights, liberty and free elections in the country, according to tweets by him and one of Luis Florido, president of the Venezuela National Assembly's Commission on Foreign Policy, Sovereignty and Integration. In another tweet, he called Venezuela "officially a dictatorship."
Venezuela Assembly President Julio Borges joined opposition leaders in calling for more demonstrations, beginning with a march on Saturday, The Associated Press reported.
"Maduro is now the National Assembly," Borges told the AP.
Luis Almagro, Secretary General of the Organization of American States, issued a statement Thursday saying the body of 35 independent states of the Americas "denounces the self-inflicted coup d´état perpetrated by the Venezuelan regime against the National Assembly."
"Unfortunately what we had warned has come to pass," Almagro said in the statement.
The statement said Almargo is calling for a meeting of the Permanent Council of the OAS to consider the situation in Venezuela and respond. Earlier this week, Almargo had proposed to suspend Venezuela from the OAS, but that proposal was not adopted.
Venezuelans have been unable to get basic necessities and have had to deal with food shortages as Maduro's government has struggled with triple-digit inflation amid falling oil prices. Venezuela, home to vast oil reserves, has been in political turmoil. Opposition leaders who swept the 2015 congressional elections have clashed with Maduro. In return, Maduro has crack down on the opposition, jailing them and usurping their powers.
Just last month, the U.S., using the Kingpin Act, declared Venezuela's Vice President Tareck El Aissami a narcotics trafficker and imposed sanctions on a wealthy businessman considered to be El Aissami's front man.
Reuters reported that in response to the Venezuela court's actions, Peru was recalling its ambassador to Venezuela in response. The country's foreign affairs ministry also has begun consulting with members of the Organization of American States to discuss preserving Venezuela's democracy.
The court's ruling Wednesday stemmed from Venezuela's congress' refusal to authorize a joint venture with private companies by the state-run oil company, the AP reported.