A Latino couple found a racist covenant in their paperwork when attempting to buy their dream home, and though the clause is now unlawful, it is a reminder of the legacy of housing discrimination against racial minorities in the United States.
Yolanda Romero, 22, and Esai Manzo, 23, had been house hunting for months, when they stumbled upon a listing for a home in Stockton, California's Colonial Heights neighborhood. The home met everything on their checklist: it had multiple bedrooms, substantial surrounding property, was located in a safe area close to schools and most importantly, was near the couple's families.
"We submitted our offer and were thrilled to move forward with buying the house," Romero told NBC News. "The previous buyer had fallen through, so the listing agency was ready to draw up a contract pretty quickly."
Yet when Romero and Manzo saw the Declaration of Covenants, Conditions & Restrictions (CC&Rs), a document that outlines requirements to live in a property, they were struck by the language used to describe the people who could occupy the house. CC&Rs are not unique to California and in fact, numerous states have CC&Rs. The documents are officially recorded and filed with the state.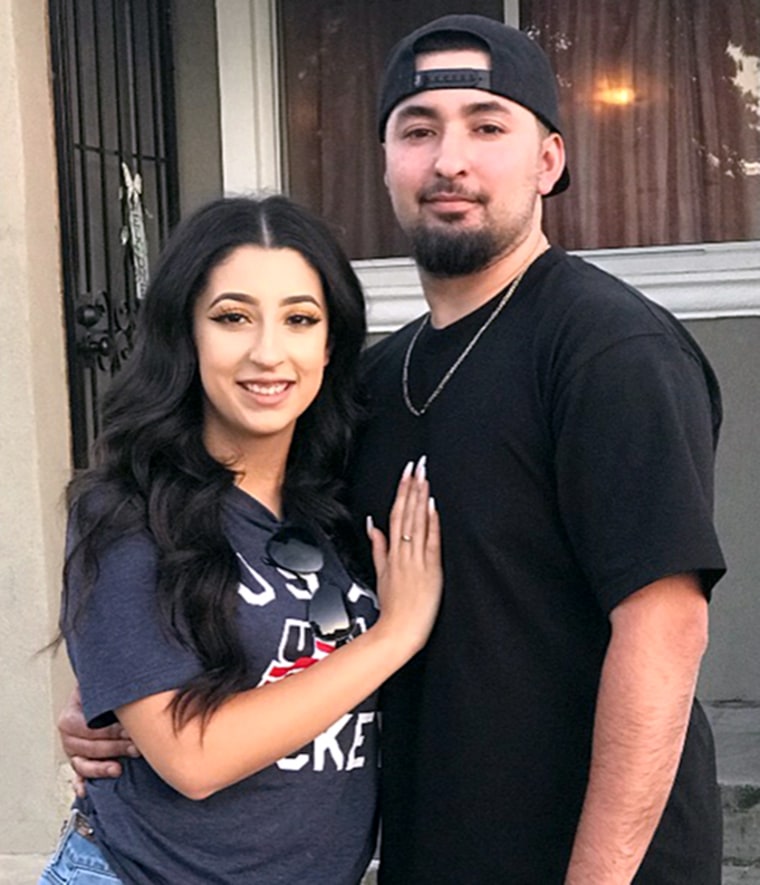 "No persons other than those wholly of the white Caucasian race shall use, occupy or reside upon any part of or within any building located on the above described real property, except servants or domestics of another race employed by or domiciled with a white Caucasian owner or tenant," the document, a picture of which Romero provided to NBC News, read.
Even more shocking was that the document also stipulated that those not "wholly of the white Caucasian" race could not purchase the house.
"My first question was, 'Is this a joke?' We were both shocked ," Romero said. "It made us second guess our offer. We were concerned that people living in the neighborhood might have signed documents with similar statements."
Romero said they did not sign the document, but rather, asked their agent to find out whether the clause, which dated back to 1947, was legal.
"People worry that it's still enforceable, and even though it's not, covenants like these hold symbolic meaning," Cornell University Law School Dean Eduardo Peñalver says.
Covenants with "racially restrictive language" in housing documents were outlawed by the landmark 1948 U.S. Supreme Court case Shelley v. Kraemer, according to Eduardo Peñalver, the Allan R. Tessler Dean at Cornell University Law School.
The Shelleys were an African-American couple who purchased a house in St. Louis, Missouri, with a covenant that prevented "people of the Negro or Mongolian race" from occupying the property. The couple was sued by a neighbor, Louis Kraemer, who wanted to prevent the Shellys from gaining ownership of the house. While the covenant was originally upheld by the Supreme Court of Missouri, it was struck down after being argued in the U.S. Supreme Court on appeal.
The Fair Housing Act, which was established in 1968, also prohibits housing discrimination based on race and effectively outlaws covenants like the one Romero and Manzo found in their paperwork.
While "racially restrictive" clauses were "fairly common" prior to Shelly v. Kraemer and the Fair Housing Act, the frequency of such clauses "doesn't eliminate the shock when someone finds language like that in their property's paperwork today," according to Peñalver.
"People worry that it's still enforceable, and even though it's not, covenants like these hold symbolic meaning," Peñalver said. "They can indicate whether someone feels like they're welcome in a community and serve as a reminder of how pervasive housing discrimination was."
Despite long-standing laws against housing discrimination, real estate agents show fewer available apartments and homes to minorities than equally qualified whites. According to a study titled "Housing Discrimination Against Racial and Ethnic Minorities 2012" from the U.S. Department of Housing and Urban Development, Latinos were told about 13 percent fewer homes, black people were told about 11 percent fewer homes and Asians were told about 10 percent fewer homes than their white peers when looking to rent homes. When looking to purchase property, there was no statistical difference between Latino and white buyers, but blacks and Asians were shown nearly 18 percent fewer homes than potential white buyers.
"We've inherited a segregated residential landscape that's the result of explicit racial discrimination," Peñalver said. "Though racial discrimination in housing has been outlawed, it manifests itself in more subtle forms and perpetuates the wealth gap and economic inequality as housing is a significant source of wealth."
Latino homeownership has grown in the last several years. According to the 2017 State of Hispanic Ownership report, more than 7 million Hispanics owned houses that year — more than 44 times the amount of Latinos who owned houses in the U.S. in 2016. This growth has been driven by the purchase of new properties in areas where Latino populations have been expanding rapidly, such as Iowa, Utah and Kansas. Yet, the report states that challenges to Latino homeownership — including lack of affordable housing, natural disasters and "increased uncertainty over immigration" — remain.
Peñalver said that "it would be tricky" to try to eliminate the covenant from the documents as it's part of property records, but those who come across such clauses in their paperwork could file a statement with the county recorder or homeowners association to remove it. According to Peñalver, there has not been "a systematic effort" either from individuals or among states to remove such covenants from paperwork because these clauses are not legal.
Manzo and Peñalver's property is not governed by a homeowners association, so in order to modify the language in the CC&R agreement, they would have to get "unanimous consent of homeowners in the community signing off on a new set of CC&Rs omitting the offensive language," Peñalver said. If the couple took this route, the "wholly of the white Caucasian race" clauses would still remain in their property records, but this language would be superseded by a new CC&R.
While the covenant certainly made Romero and Manzo uneasy, they decided to move forward with purchasing the house anyway now that they discovered the clause can't be enforced.
Still, the couple stresses the importance of reading all the paperwork before signing.
"Don't just sign and trust that everyone's working in your best interests," Romero said. "If anything, we've learned the importance of reviewing all the documents first."
Follow NBC Latino on Facebook, Twitter and Instagram.