Using Donald Trump's words, Latino leaders say "the wall" that will keep the Republican presidential nominee from getting elected, especially in swing states like Nevada and Arizona, will be the Latino vote.
"We are the wall between Trump's hate, disrespect, insults – and we are the wall that will keep Trump out of the White House," Rocio Saenz, executive vice president of the Service Employees International Union (SEIU,) in a call with reporters Friday.
Saenz and other Latino leaders announced large voter mobilization efforts starting Saturday and going through Election Day. Latino voters will play a key role in deciding the outcome of the presidential race in Nevada, said Saenz, where they make up 17 percent of eligible voters. SEIU and other groups have been investing time and resources to get Hispanics to turn out to vote for Democratic presidential nominee Hillary Clinton. The influential union endorsed Clinton in November of 2015.
While polls show Clinton enjoys strong support among Hispanic voters, a recent Pew Research survey found fewer Hispanics said they were certain to vote in 2016 than when compared to 2012. The poll also found less support for Clinton among Latino millennials, though the group makes up over 40 percent of eligible Hispanic voters.
RELATED: A 'Wall' of Taco, Food Trucks Line Up Against Trump in Las Vegas
Before the last presidential debate on Wednesday, SEIU had brought more than 150 members from California to knock on thousands of doors in Las Vegas. Saenz said among those who traveled from California was a mother who has two daughters who are disabled.
"They are her pride and joy," Saenz said. "She told me that when Donald Trump makes fun of disabled people, he's making fun of her daughters."
Other Latino groups are among the broad coalition in Nevada that has canvassed over 180,000 homes this year. Starting on Saturday through Nov. 8, the coalition hopes to knock on more than 900,000 doors in Nevada to encourage Latinos and others to vote.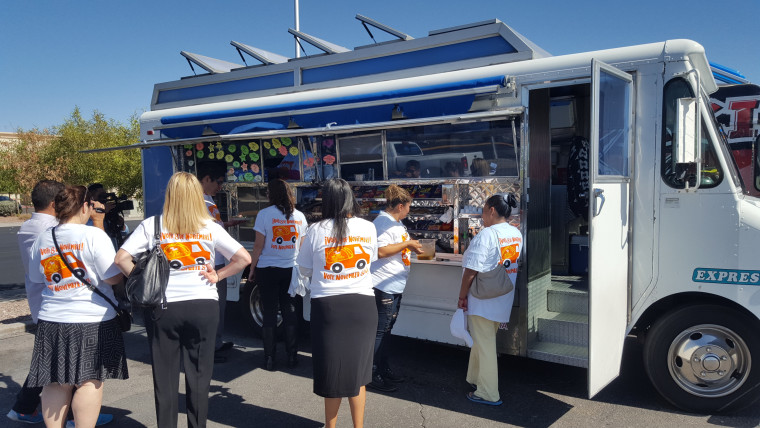 Arizona is another state where the race between Clinton and Trump is close, and where Latino voters will be key. Latinos make up 22 percent of eligible voters there.
Alejandra Gomez, executive director of the Arizona Center for Empowerment, noted that a coalition of 14 advocacy groups helped register more than 150,000 new voters in Arizona this year, the vast majority of them Latinos. She said voter registration is part of the coalition's mission to increase Latino's political power.
RELATED: Arizona: Group Urges Get Out the Vote Against Sheriff Arpaio
"This fight is very personal for us," she said. "Changing the state to drive the community's agenda is essential to the mission of our work."
Besides the presidential race, Gomez said many Latinos in Arizona are mobilizing to vote for a ballot initiative that would raise the state's minimum wage to $12 an hour by 2020 as well as to prevent controversial Maricopa County Sheriff Joe Arpaio from getting elected for a seventh term.
The self-proclaimed America's toughest sheriff is facing a criminal-contempt charge for disobeying court orders in a racial profiling case involving Latinos. On Saturday, members of the Bazta Arpaio campaign will be joined by people traveling to Arizona from other states to knock on doors and encourage people to vote against Arpaio.
"Our racist sheriff will likely end up in jail, but first we will vote him out," Gomez said.