One of the nation's largest public university systems announced a set of sweeping measures to protect undocumented students.
The University of California school system and its police departments stated it will not assist law enforcement in immigration efforts against students who lack legal status.
After President-elect Donald Trump's nomination of Sen. Jeff Sessions (R-AL) for U.S. Attorney General — both of whom have called for stricter immigration policies and stronger deportation efforts — the fate of undocumented students and DREAMers is uncertain. UC President Janet Napolitano said in a statement that the UC system will take precautionary measures to protect the roughly 2,500 undocumented students across its 10 campuses.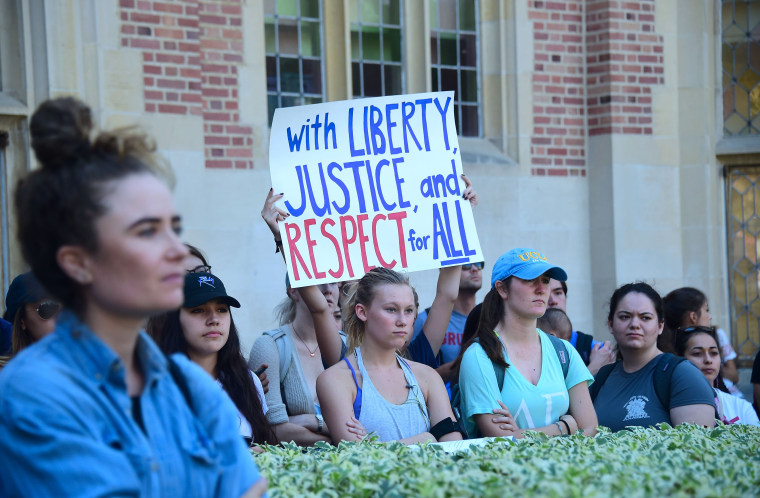 "While we still do not know what policies and practices the incoming federal administration may adopt, given the many public pronouncements made during the presidential campaign and its aftermath, we felt it necessary to reaffirm that UC will act upon its deeply held conviction that all members of our community have the right to work, study, and live safely and without fear at all UC locations," Napolitano said.
RELATED: Professors, Students 'Uncertain' About Futures of Undocumented Peers
The UC Police Department will not assist local or federal law enforcement cooperating with Immigration and Customs Enforcement strictly on immigration-related suspicions, according to a statement by UC administrators. That means the UCPD will not "contact, detain, question or arrest students" solely on their suspected or known immigration status.
Marcelo Suárez-Orozco, the dean of UCLA's Graduate School of Education & Information Studies, told NBC Latino that undocumented students "swam against an impossibly strong undertow" to get into one of the UC schools. He said DREAMers and other undocumented students earned their way into a highly competitive educational environment, and should be given the chance to graduate.
RELATED: Advocates Call on California to Declare Schools 'Sanctuary Campuses'
"The broader point here is that the UC system should protect all of its students, not just simply the ones with immigration papers," Suárez-Orozco said. "Once you get into the greatest public research university system in the world, all students need the same opportunities and protections to move forward."
Suárez-Orozco said undocumented students and families contribute to California's economy as taxpayers. DREAMers, the young immigrants brought to the U.S. as children, spent a majority of their lives in cities like Los Angeles, Fresno and San Diego, and they have earned the opportunity to study in one of California's state schools, he added.
Undocumented students are a small fraction of UC's student body; more than 257,400 students attended one of the 10 UC schools in 2015, and the school's demographics mirror California's. More than 22 percent of undergraduate students were Hispanic, Chicano or Latino, and over 35 percent of students are Asian American or Pacific Islander. Almost 42 percent of all UC students are first-generation college students.
The state of California has the largest immigrant population in the United States; almost one-in-five are immigrants. There are an estimated 2,350,000 undocumented immigrants, the highest number of any U.S. state, according to the Pew Research Center.
RELATED: 'Sanctuary Cities' Vow to Protect Immigrants From Trump Plan
Betty Hung, policy director at the Asian American Advancing Justice branch in Los Angeles, said undocumented students and their families pay taxes that help pay for social security, as well as California's public schools.
Hung said the new UC policy would protect any student demographic — regardless of their race, gender, sexuality, religion or ethnic background — from being put on a national registry, such as Trump's proposed Muslim registry.
"This new policy reflects the notion that a university should be a bastion of democracy, which is what the U.S. was founded on," Hung said to NBC Latino. "If schools and universities stop becoming institutions open to everyone, that erodes our democracy itself. In California, with the number of immigrants here, it is crucial to continue that and offer social mobility to and opportunities to all students."