WASHINGTON — Advocates for young immigrants have been holding a round-the-clock vigil in front of the White House to pressure President Donald Trump to continue the Deferred Action for Childhood Arrivals program. Known as DACA, it has shielded nearly 800,000 young undocumented immigrants from deportation and has allowed them to work and study legally in the U.S.
"We want to tell the administration please support our DACA youth because to us our youth is our future," said Sumi Yi, a member of the National Korean American Service and Education Consortium, NAKASEC, on a recent afternoon of the vigil. "The immigrant community needs the support from the president now more than ever."
Several government officials said Trump is likely to end the program, possibly by letting it expire over time, NBC News reported Friday.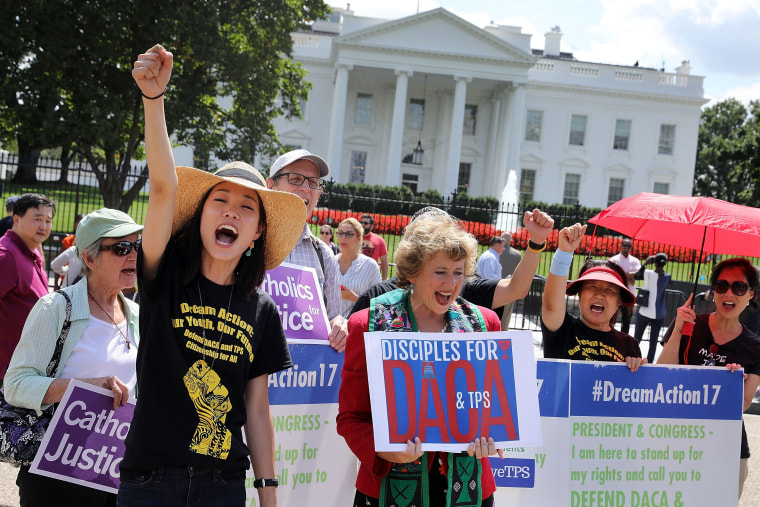 The vigil is one part of the surging pressure that advocates, clergy, community and government officials and leaders, and those from the business, education and even psychology sectors are heaping on Trump to maintain DACA. The pressure is coming largely from liberal groups, but conservatives also have joined in.
The DACA advocates have been at the White House rain or shine since Aug. 15 — the fifth anniversary of DACA's implementation — and they say they plan on keeping a vigil until Sept. 5, the deadline that Texas Attorney General Ken Paxton and attorney generals from nine other Republican-led states gave Trump to announce he's ending the program before they will sue him.
Hyunwoo Ward, also a 19-year-old college student, said he is participating in the vigil to raise awareness of DACA.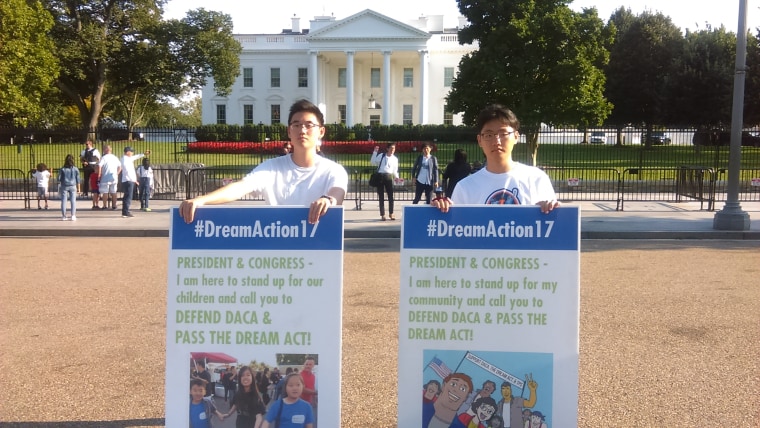 "I've noticed while I've been here in front of the White House that a lot of people don't know about DACA and it feels powerful to be able to raise awareness on the issue," he said.
"DACA is young immigrants that were brought here when they were children and some of them don't even speak the language of the country to where they would be deported," Ward added.
Results from an NBC News/Survey Monkey poll released Thursday show that 64 percent of Americans support DACA.
In New York this week, hundreds marched from Trump Hotel to Trump Tower chanting in favor of DACA. In New Jersey, a pro-DACA rally was held at New Jersey City University. Other groups have planned a march and rally on Sept. 5 in Washington. More events have been staged or are scheduled in various places around the country.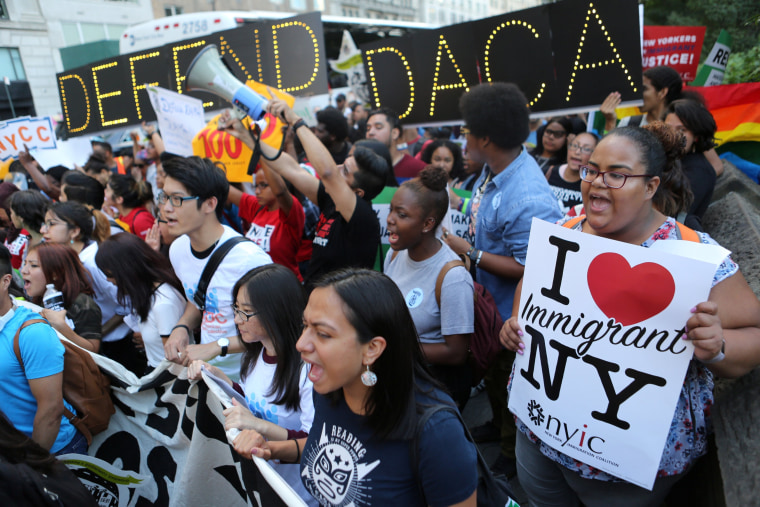 A study out this week by the University of California, San Diego and the groups United We Dream, the National Immigration Law Center, and the Center for American Progress reported that DACA recipients make "significant and positive" contributions to the U.S. economy, with 91 percent currently employed.
After receiving DACA, 69 percent move on to a better-paying job, and DACA recipients are starting businesses at a higher rate than native-born residents of the U.S., according to the report.
Lizette Arias, 28, is a DACA recipient who was born in Bolivia and brought to the states at the age of four month. Arias says DACA allowed her to go to college and pursue her career as an education policy analyst in Washington.
"With DACA I was able to apply for a job and do it the right way and be able to work like my friends do it," Arias said.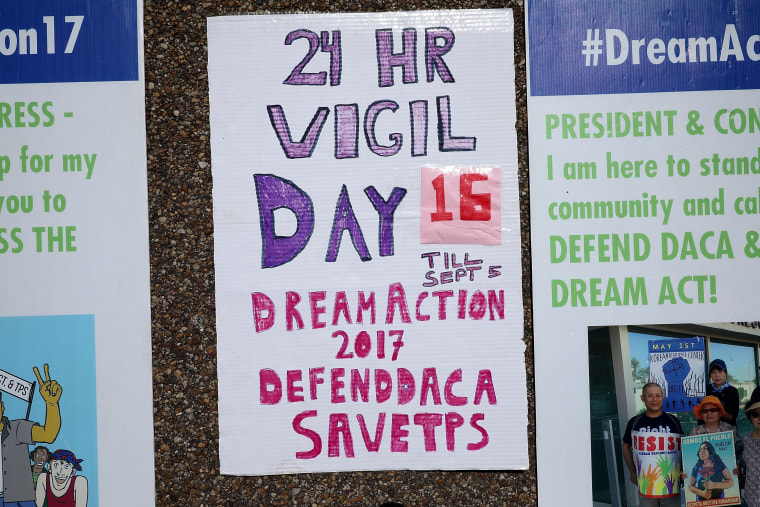 She also volunteers with immigrant rights groups and said she hopes to attend graduate school in the near future and continue working as an activist.
More than 1,800 leaders from across the country on Wednesday signed on to a letter calling on Trump to keep the program.
"We, the undersigned governors, statewide constitutional officers, mayors, state legislators, local elected officials, businesses, law enforcement professionals, and faith and civic leaders are united in declaring that we are with Dreamers and DACA recipients. We recognize their enormous role in our communities and families and their contributions to our schools, workplaces, and shared prosperity as a nation," the letter read.
On Thursday, the American Psychological Association issued a statement supporting DACA, highlighting the impact on families should it be ended.
"As psychologists, we are committed to policies that keep families together," APA President Antonio E. Puente said in the statement. "We do not believe it is safe or ethical to send young immigrants back to dangerous conditions that they or their parents fled."
A group of evangelical leaders and organizations also sent letters to Trump and congressional leaders urging protection for DACA recipients while Congress works on new immigration policy. The members of the Evangelical Immigration Table urged Trump to "develop and pass legislation to protect these young immigrants."
Related: Trump Likely to End DACA Immigrant Program
Separately, Roman Catholic educators called on John Kelly, Trump's chief of staff, to use his position as one of the top Roman Catholics in the administration to protect DACA youth. The U.S. Conference of Catholic Bishops' Committee on Migration said in a statement with the Catholic Legal Immigration Network Inc., that ending the program would "turn our nation's back on immigrant youth who are seeking to reach their full God-given potential ..."
Several Latino conservatives, including some who voted for Trump, also joined the chorus of DACA supporters. Their statement was signed by the Rev. Sam Rodríguez, president of the National Hispanic Christian Leadership Conference, who delivered a prayer at Trump's inauguration, among others.
California Attorney General Xavier Becerra and 19 other attorneys general have pressed Trump not to abandon the program.
While the president has said that he wants to help DACA recipients, Trump has not been specific.
Advocacy groups have pressed Trump to ignore the "arbitrary" deadline set by the attorneys general, and several have already said they will consider litigation if the program is terminated.
"This really is a crisis that was created by the administration itself and by the bullying and threats that have come from the Texas attorney general Paxton and the other attorneys general," Vanita Gupta, president and CEO of the Leadership Conference on Civil and Human Rights, told reporters last week.
"Shame on the president for being bullied himself into threatening the DREAMers who have given so much to this country and are continuing to give so much," Gupta said.
White House Press Secretary Sarah Huckabee Sanders declined to give more detail to reporters asking Thursday when the president's decision would be announced and whether it would end DACA.
Yesenia Contreras-Frazier, a Washington paralegal with DACA clients, said the many rumors about what is going to happen are creating anxiety. "We get calls all the time from people who swear they've heard something is happening right away," Contreras-Frazier said. "I tell people we are going to continue as is until we get official word, and I stress, official word."