Harvard University's denial of tenure to a scholar who is widely believed to be the only Latina professor on track for the status has sparked student protests and calls from academic communities for the decision to be reversed, putting a national focus on the dearth of Latina faculty in academia.
The issue, which has reverberated nationally, has also led to calls that the Ivy League school make its selection process transparent and establish an ethnic studies department, which supporters have advocated for decades.
Lorgia García-Peña, the Roy G. Clouse Associate Professor of Romance Languages who also serves on the committee on degrees in history and literature, has been working at Harvard since 2013.
An internationally renowned scholar who is Dominican American, García-Peña is the recipient of a number of high-profile awards at Harvard, including Professor of the Year 2015, the Roslyn Abramson Award for Excellence in Undergraduate Teaching and Harvard Professor of the Year by Graduating Class of 2017.
Her first book, "The Borders of Dominicanidad: Race, Nation and Archives of Contradiction," was published by Duke University Press — one of the premiere academic presses — and garnered international recognition.
While working on her upcoming second book "Translating Blackness: Gender, Migration and Detours of Latinx Colonialities," she published eight articles and four chapters and established Latinx studies as a secondary field for graduate students.
According to the National Center for Educational Statistics, 2 percent of full-time professors at degree granting postsecondary institutions in fall 2017 were Latina. Even fewer full-time and tenured professors identify as Afro-Latina, as García-Peña does.
Now students and others in the academic community are seeking answers from Harvard's administration on why she was denied tenure last Wednesday, arguing that the denial not only wasn't justified, but also perpetuates the low numbers of Latinas in academia.
Neither Harvard nor García-Peña responded to NBC News' requests for comment, however a Harvard spokesperson said that despite what statements from students say, García-Peña was not the sole Latina professor on Harvard's tenure track. Regardless, students are adamant that "no one deserved tenure more" than García-Peña.
Ruben Reyes, who graduated from Harvard in 2019, said he would not have developed as a scholar nor would he be earning his master's degree at the prestigious University of Iowa's creative writing program had he not been encouraged by García-Peña.
"She made me think about who is silenced by historical archives and which stories matter, which winded up being foundational to my thesis about the Salvadoran diaspora," Reyes told NBC News. "When I was a freshman, I wasn't sure what I wanted to do academically or with my life. I had no sense of direction and I struggled to find classes that were a good fit. After I took my first class with Professor García-Peña, though, I felt like there was a place for me academically."
Rosa Vazquez, a senior at Harvard studying government and ethnicity, migration and rights, said of García-Peña that "she consistently elevates our voices on campus and in the classroom. Her classes feel like a welcoming space. When I was sick, she came to visit me, which is a reflection of how deeply she cares about her students, even beyond the classroom."
Silvana Gomez, a junior at Harvard studying psychology, told NBC News that she had jumped at the chance of taking a course with García Peña when she came back from sabbatical last year. "Everyone would rave about her, about how she advocates for our communities and stands up for what she believes in. She's a monument on this campus."
An open letter and a call for changes
A group of more than 250 students and nearly 50 student groups signed an open letter to university officials asking administrators to reverse their decision on García-Peña's tenure case. The letter also condemned the university for seeking to hire professors to teach ethnic studies courses while bypassing García-Peña, who has established herself as an authority on race scholarship and is in fact on the search committee for hiring new faculty to teach this subject matter.
"As we write this statement, the University is in the midst of a search for Ethnic Studies professors," the letter states. "It is hypocritical for University administrators to claim that they are invested in furthering Ethnic Studies scholarship at Harvard while simultaneously denying tenure to a leading Latinx and Ethnic Studies scholar."
Students at Harvard have been fighting for an official department of ethnic studies for at least 48 years. In recent years, the university has established an ethnic studies concentration in the history and literature major as well as a minor in ethnicity, migration and rights, but there is still no consolidated department.
Students fighting García-Peña's tenure denial claim that this latest incident is indicative of Harvard's long tradition of not providing professors of color with the resources and support they need.
According to the letter, multiple ethnic studies professors have left in recent years; most of them were denied tenure. "We don't have a lot of professors who look like us, which is why this decision is so devastating," Gomez told NBC News. "And it's not the first time the administration let us down."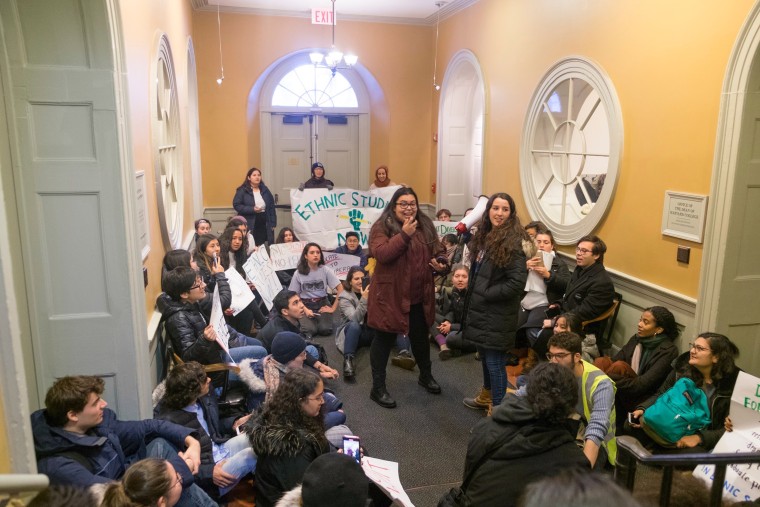 The student letter also calls for the "immediate public release" of a document with the final decision and the creation of an investigative committee to review García-Peña's case "for procedural errors, prejudice and discrimination" as it claims that García-Peña has been subject to two racist incidents in the past year.
In the first, someone left a note at the professor's office insulting her ethnicity and questioning her presence at Harvard. Harvard University police opened an investigation into the incident, according to The Harvard Crimson. In the second, García-Peña's students were approached by Harvard University police and asked to see their IDs while they were installing an art exhibit in Harvard Yard. Though Dean Gay called the incident "painful" and said action would be taken to address the situation, the students protesting García-Peña's tenure decision say that the university did not sufficiently address the situation.
On Monday and Tuesday, groups of Harvard students, including both Gomez and Vazquez, have led actions protesting the denial of García-Peña's tenure. The students have given the Harvard administration until 5 p.m. Wednesday to meet their demands, but are not expecting the university to do so. They are planning a series of other rallies and say they're prepared to keep fighting until the decision is reversed and their demands are met.
"We're trying to build a movement," Vazquez said. "We are tired, outraged and demand to be heard."
Solidarity beyond the campus
In a separate letter, a growing list of over 3,500 graduate students and scholars echoed and supported the students' demands.
For many, García-Peña's tenure case exemplifies the lack of representation of Latinos in elite academic spaces.
Daniel Colón-Ramos, an associate professor of neuroscience at the Yale University School of Medicine, said that he was affected by the lack of diverse faculty when he attended Harvard from 1994-1998. Colón-Ramos is from Puerto Rico and when he met with a faculty member about his research involving the use of medicinal plants in Latin America, the faculty member instructed him that his topic was "irrelevant and uninteresting."
"I was wrestling with the question of whether I could be a scientist, whether my research and academic interests were valid," Colón-Ramos told NBC News. "He compared me to another black female student who wanted to study how certain diseases affected black women, saying that he thought her proposal was irrelevant. Meanwhile, he studied shells."
Though Colón-Ramos found mentorship from other Harvard professors, he said that it is "a failure of Harvard as an institution that scholars of color are not represented."
According to data from Harvard, there were 85 Hispanic faculty members working in academic and other research positions at the university during the 2018-2019 school year, compared to 1,086 white faculty.
Julio Ricardo Varela, digital media director for Futuro Media and the founder of the website Latino Rebels—which reported on García-Peña, thinks these numbers are not only low but also potentially misleading.
"What's the breakdown of U.S. born Latino professors versus Latin American professors at Harvard?" Varela, who is a Harvard alumnus, said. "Harvard's campus has always been more Latin American-facing and less U.S. Latino-facing. Not only is it not an accurate reflection of communities of color in America, but it communicates that as a Latino student, you're not good enough."
The lack of support and pathways for Latino professors is an issue that extends beyond Harvard's campus. A recent study from scholars at the University of Texas found the institution pays its Latino professors tens of thousands of dollars less than white professors and rarely hires them as deans or for other leadership jobs. In January, the university had 130 deans, vice deans, associate deans and assistant deans. Of those, 10 are Latino and none are Latina.
"Professor García-Peña, a powerful, brilliant black Latina being denied tenure is a slap in my face," Gomez said. "All it does is send a message to young students of color that our dreams and aspirations don't matter. We need answers and action."
Follow NBC Latino on Facebook, Twitter and Instagram.