Tabare Vazquez's victory in Uruguay's presidential runoff election will ensure the continuation of the center-left governing coalition's plan to create the world's first state-run marijuana marketplace.
Vazquez, an oncologist who was president from 2005 to 2010, beat center-right rival Luis Lacalle Pou of the National Party 53 percent to 40 percent in Sunday's vote.
Lacalle Pou had vowed to undo Uruguay's much-publicized plan to put the government in charge of regulating the production, distribution and sale of marijuana, a plan started under President Jose Mujica, a former guerilla leader known for his very humble lifestyle. Vazquez had promised to continue the plan unless it produced negative results.
As results came in, Lacalle Pou called Vazquez to concede and wish him "great success," while supporters of Vazquez's Broad Front coalition poured into the streets to celebrate.
Vazquez had previously governed as a very cautious moderate, but the country changed under Mujica's presidency. The Broad Front coalition, in power for a decade, has passed more progressive laws on same-sex marriage, abortion and marijuana. Mujica's popularity and a stronger economy helped propel Vazquez into office.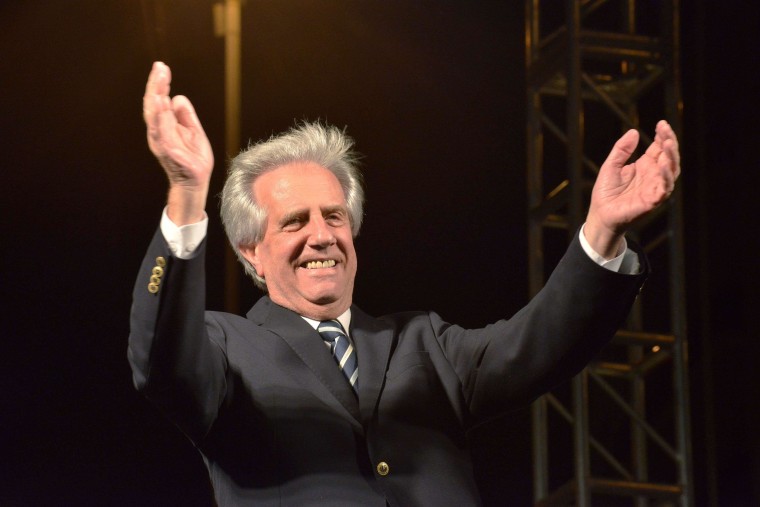 IN-DEPTH:
Uruguay: Vazquez Favored In Presidential Election
Uruguay's Mujica Gets $1M Offer For His Volkwagen Beetle
Aerosmith Praises Uruguay President's Marijuana Legalization Efforts, Work With Poor
--The Associated Press