UVALDE, Texas — Torres. Garcia. Lopez. Garza. Flores. Ramirez. Rodriguez. Mireles. Rubio. Cazares. Salazar. Bravo. Mata. Luevano.
Uvalde is a quiet, predominantly Hispanic city with deep Mexican American roots in an area known for agriculture, forestry and open land. On Thursday, a profound sense of mourning sunk in as an all-black front page graced the local newspaper, the Uvalde Leader-News.
The cover did not mention the victims' names, just "May 24, 2022" in white letters over black ink, marking the shooting that killed at least 19 children and 2 teachers at Robb Elementary School.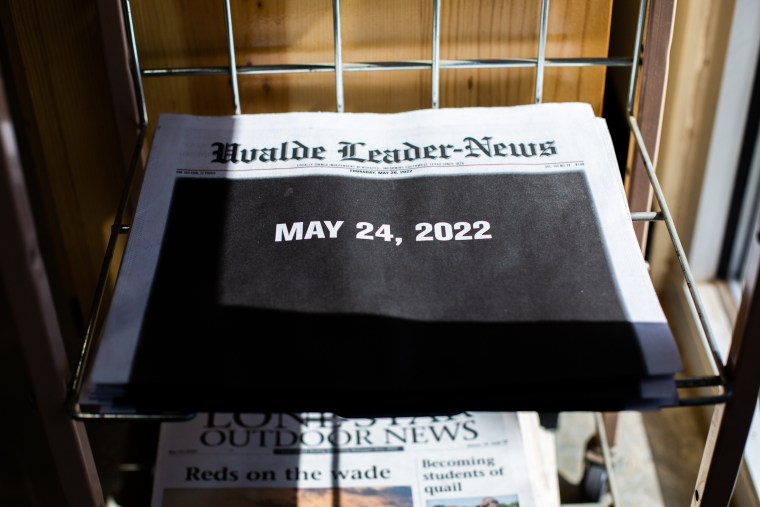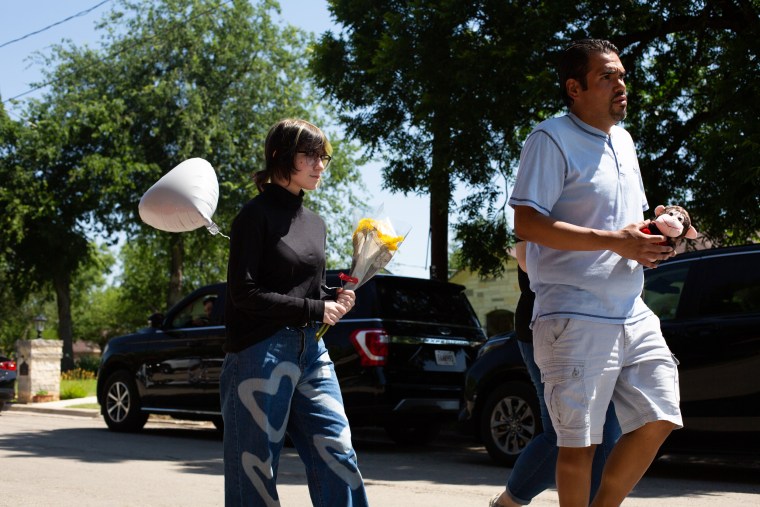 The date will forever be a demarcation line for the town of approximately 16,000 people, where everybody essentially knows one another and many are extended family.
"I can't remember anything this big, this awful," Adrian Alonzo, a relative of Eliahna "Ellie" Garcia, one of the children killed, said as family and friends gathered at the home of Eliahna's grandparents.
The town's openness and countryside as well as new jobs have contributed to its recent population growth, said Alonzo, 37, a native of Uvalde who works in the Texas Department of Health and Human Services.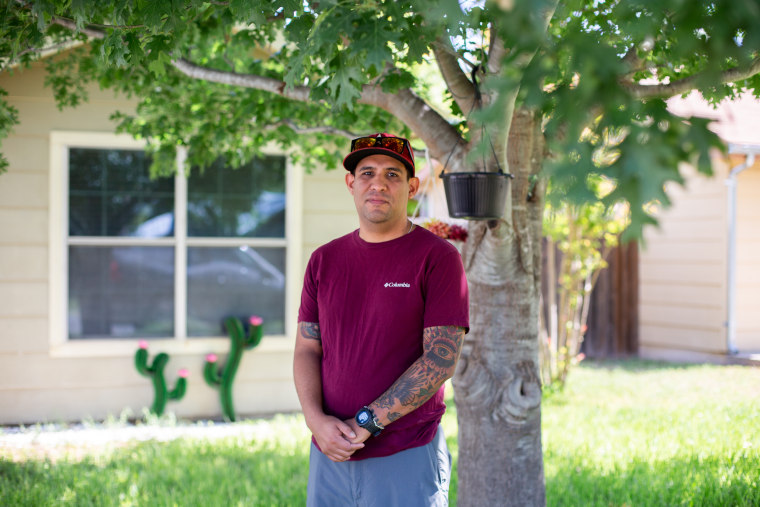 Uvalde has long been home to ranchers and farmers, a legacy that remains palpable in a region that often hosts rodeos. But it also has transitioned with that growth, with retail chains such as Starbucks alongside some still-operating Main Street businesses.
Uvalde's Hispanic heritage and Mexican American history goes back to the 1800s. Uvalde is an hour drive northeast of the Mexican border, but its deep Mexican American roots are not attributable to immigration — only 11 percent of those who live in Uvalde are foreign born.
Its heritage is a reminder that Texas was once part of Mexico, and there are families here who can trace ancestors in Texas since before it became a state in 1845.
Perhaps the most emblematic indication of Uvalde's bicultural community values is the bilingual welcoming sign at Robb Elementary School. The words "Welcome" and "Bienvenidos" frame the school's name in a community that's roughly 80 percent Latino.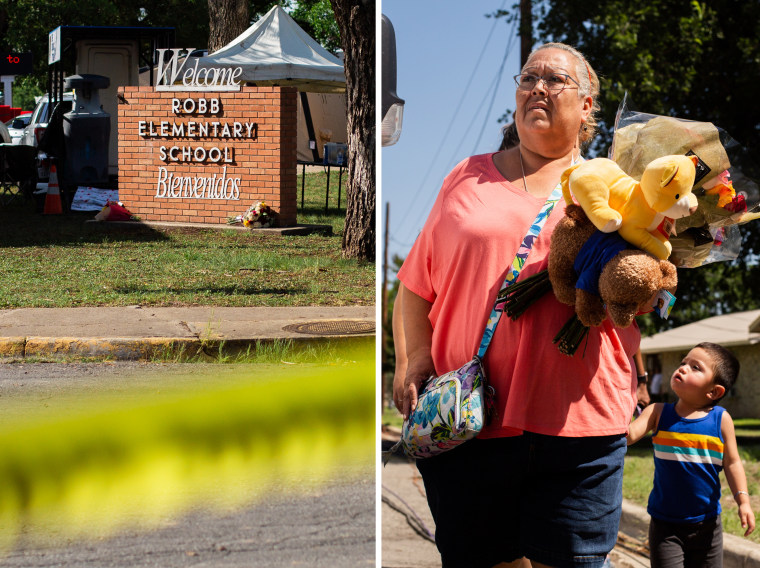 Eva Mireles, one of the two teachers killed in the shooting, took pride in teaching students of Latino heritage, her aunt Lydia Martinez Delgado told The New York Times this week.
For Alonzo, new retail and the construction of a grocery have been indicative of emerging opportunities in the mostly working-class community.
The sense of aspiration and hope — and mostly community — is reflected in a yearly tradition that took place Monday and several Uvalde residents described — the event when departed high school seniors visit younger students at the elementary school.
Uvalde High School principal Randy Harris posted a video on Twitter Monday showing her students wearing burgundy graduation caps and gowns high-fiving the elementary school students, not imagining that the lives of many of those children would be cut short the following day in one of the nation's worst school shootings.
Albert Martínez, a father of three, said his 8-year-old daughter was at the school and hid in her classroom while gunshots went off. He had attended Robb Elementary, which has a student body that's nearly 90 percent Latino, and so did siblings and other relatives. It's a family school, he said.
Before calamity struck Uvalde, the city had long taken pride in being the "honey capital of the world," as well as the hometown of several celebrities and high-profile political figures.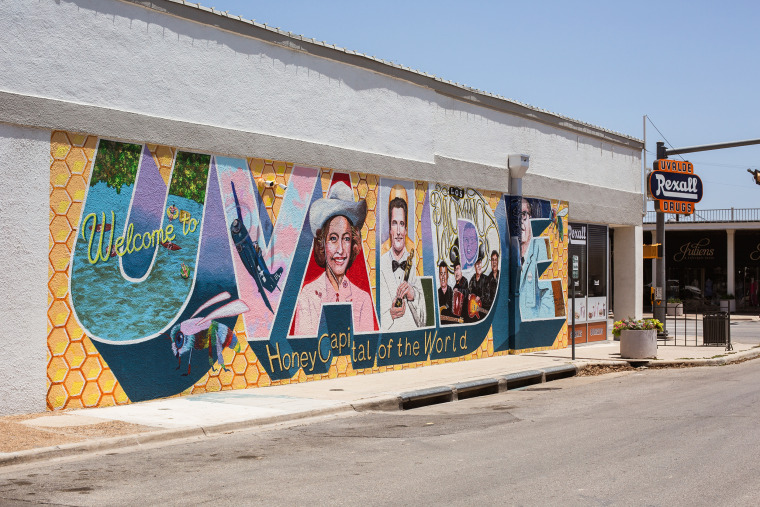 Some Uvalde natives include Hollywood actor Matthew McConaughey as well as former Texas Gov. Dolph Briscoe and Vice President Jack Garner (who served under Roosevelt). A museum in the city showcases Briscoe's and Garner's legacy.
A 40-foot mural in Uvalde pays tribute to Los Palominos, the Grammy-winning Tejano music group.
Now, that sense of pride and community has given away to shared grief.
"Our hearts our broken. We pray for the families and the people of our beloved hometown of Uvalde, TX," the band said in a Facebook post Tuesday.
In 1930, Mexican Americans made up 40 percent of Uvalde County's 12,445 residents. By 1960, Mexican Americans made up half of the population; it's now 80 percent.
Like many parts of the Southwest, Uvalde's Hispanic and Mexican history is intertwined in the city's fabric through its long and turbulent history.
In the early 20th century, the region saw government-sanctioned violence against people of Mexican descent; in Uvalde, at least 11 Mexicans were lynched in the period following the Mexican War of 1848, according to the Texas State Historical Association.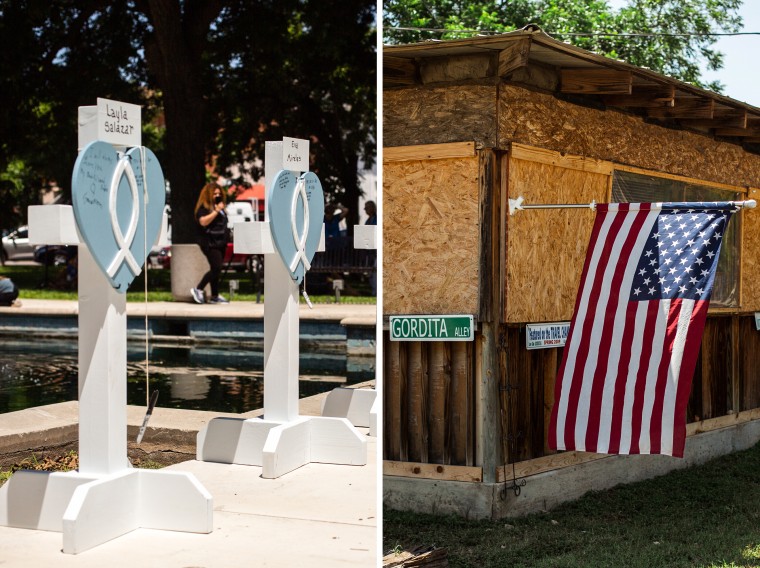 Monica Muñoz Martinez, who has documented violence against Mexican Americans and Mexicans in Texas and is a Uvalde native, told Texas Monthly last year that she grew up hearing stories from family about Uvalde's history of segregated schools, student walkouts that her parents participated in, and Texas Rangers' attempted crackdowns on the walkouts.
Morales Junior High in Uvalde is named for Genoveva Morales, a mother of 11 who sued the school district for discrimination in 1970.
Today, many Latino locals work in law enforcement, with the Texas Department of Public Safety, which includes the Texas Rangers, and with Customs and Border Protection, as well as local police and sheriff's officers.
Support 'in this very tough time'
The death toll from the Uvalde shooting feels heavy in a nation where mass shootings are on the rise.
Residents here feel like the "city's soul" has been crushed, the Leader-News reported in their cover story.
Thursday would have been the last day of school, and graduation events scheduled for this weekend have been canceled.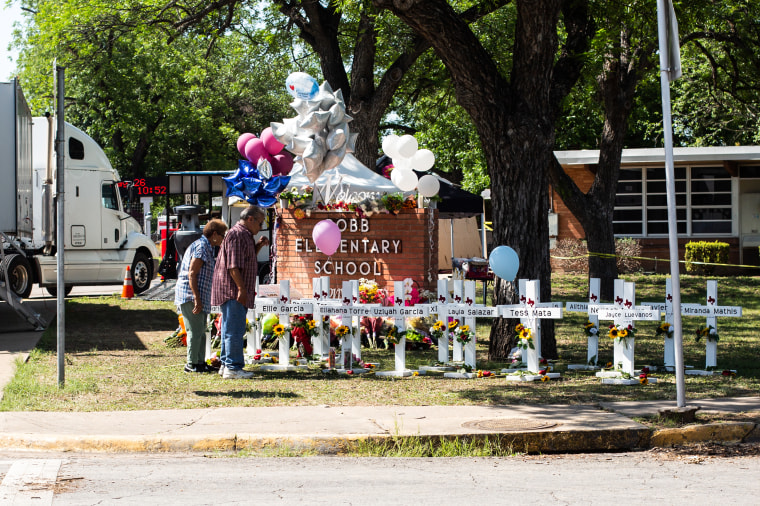 Ybarra, the father of three who attended the elementary school now known across the globe, expressed a feeling that many have similarly voiced.
"I hope that we could support each other in this very tough time and see what we can do to rise up as a community," he said, "and be there for each other, because these families need it."
Suzanne Gamboa reported from Uvalde and Nicole Acevedo from San Juan, Puerto Rico.
Follow NBC Latino on Facebook, Twitter and Instagram.