UVALDE, Texas — Families walked through streets in the center of town on Wednesday and stood in front of different buildings, each with a giant mural of one of the 19 children and two teachers gunned down exactly a year ago at Robb Elementary School.
"Her name is Maite and her name means love," said Ana Rodriguez in front of the image of her daughter, who was 10 when she was killed on May 24, 2022. "Never would she dream she would be on TV for all the wrong reasons."
"Remember her name!" could be heard at the gathering in front of the mural of Eliahna "Ellie" Garcia, who was 9 when she was killed.
At about the same time last year, some families were still waiting to hear whether their loved ones were among the dead or injured.
Though city officials had asked the public to leave residents to mourn privately, several victims' families invited others to come and honor their loved ones and remember the goodness of their shortened lives.
Activities throughout the day marked the tragedy but also celebrated the lives of the victims.
Julián Moreno stopped at Robb Elementary School earlier in the day to see the memorial of 21 crosses, including one for his great granddaughter, Alexandra "Lexi" Rubio.
A year ago, Moreno, 81, had been watering his plants and chatting with his neighbor, dismissing the loud bangs they heard as a roofing gun and the metal clatter as a car accident. Then two men came running down, screaming "somebody is shooting at us at Robb!"
"From the moment I woke up this morning, I knew, it was a grim and painful reminder, that it was a year ago that we lost her," Moreno said.
A musical 'embrace'
At the town square, a group of mariachis dressed in their customary black trajes, or suits, performed three songs in the town square, including "Amazing Grace" and "Amor Eterno," a classic Spanish-language ballad often performed at funerals. The music from their instruments soon combined with sniffles and tears from the onlookers. 
"If we could play every day to help and it would help, we would do that," said Anthony Medrano, who had organized a larger group to play at the plaza soon after the tragedy last year and had put out the call for others to join him Wednesday. He told NBC News the intent was to give the families musical embraces.
After the marachis played the songs, Medrano stopped and reflected at each cross surrounding the fountain and the pond it sits in, becoming emotional at points.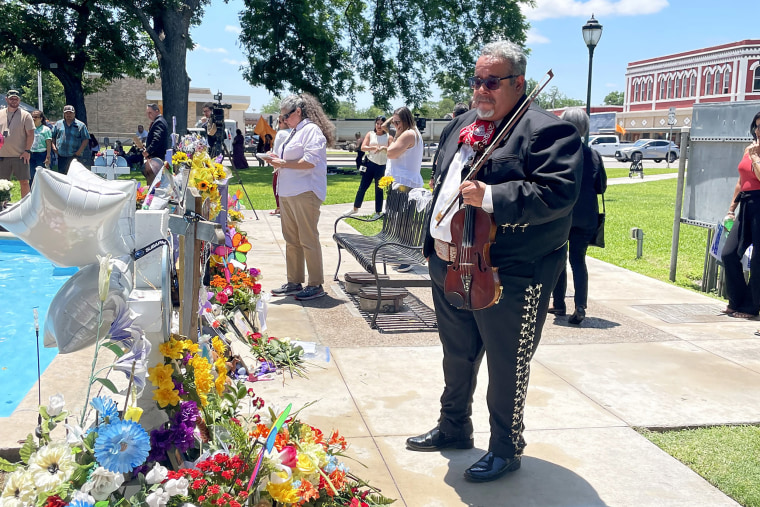 Some who came to Uvalde made quick stops at the town square, where the crosses became the anchor for the sorrows of visitors expressed in white roses, stuffed toys and scribblings on homemade cards. Several cameras and media canopies also were on the square, but reporters largely kept a distance. 
Families of the victims continue to demand accountability from law enforcement agencies for waiting more than an hour to confront the gunman while their children were inside the school and at a child and a teacher called for help.
Arnulfo Reyes, a teacher who survived the shooting but lost 11 of the children he taught at Robb, still deals with injuries from the massacre. He led an anti-gun violence protest at the plaza at about midday, standing on the sidewalk with others holding large orange flags, with shirts and signs urging an end to gun violence.
He was joined by Uvalde's only pediatrician Dr. Roy Guerrero, who has described the horror of treating several of the children after the massacre; five children he treated after the shooting died that day, including four of his regular patients.  
A year later, Guerrero said he's angrier and disgusted "that nothing has been done yet." He said he's also angry to see the school still standing.
The HEB grocery store in Uvalde handed out tiny, stuffed teddy bears wearing t-shirts that said Uvalde Strong above the HEB logo on them.
Joe Garcia, husband of Irma Garcia, died of a heart attack two days after the shooting and is often referred to as the 22nd victim. Some say he died of a broken heart. He was an HEB employee.
President Joe Biden stood before 21 candles at the base of the White House Grand Staircase Wednesday afternoon to mark the anniversary. He said the Uvalde families pleaded with him to "do something."
"Too many everyday places have become killing fields in communities across America," Biden said.
Moreno, a retired pastor of Primer Iglesia Bautista, said that since his granddaughter Lexi was killed, prayer and his reading of the Bible help him get through each day. His faith teaches him that he will be with her again someday, he said.