Venezuela's opposition stepped up its push to remove leftist President Nicolas Maduro with rallies Wednesday that drew hundreds of thousands of protesters and turned violent with at least three students shot and other people beaten.
Enraged by last week's suspension of their push for a referendum to remove Maduro, and determined to end 17 years of socialism in the South American OPEC nation, Venezuela's opposition has sharply ramped up its tactics in recent days.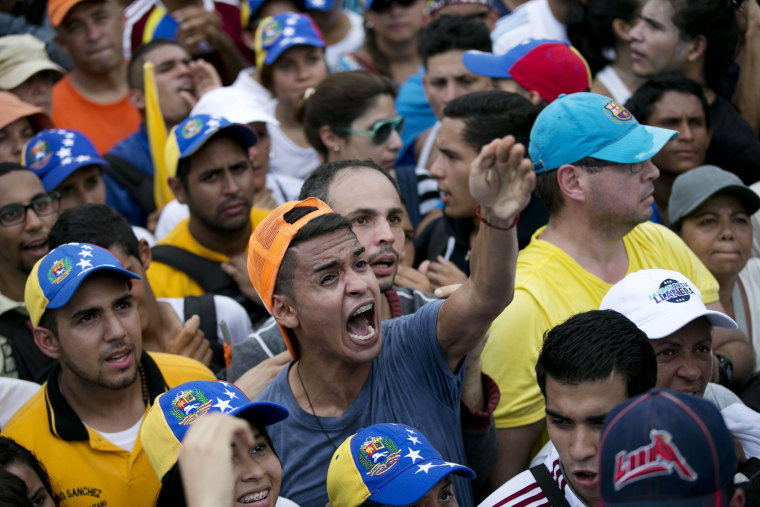 Three university students ages 19 to 24 were shot and two other people were beaten in Maracaibo, Venezuela's second-largest city, a city council member and a local radio reporter both told NBC News. The shot students were expected to live, the sources said.
Among those who were beaten was Catholic priest José Palmar, a prominent opposition activist. The extent of his injuries wasn't immediately known.
In the restive city of San Cristobal, masked protesters threw rocks and gasoline bombs in clashes with security forces and attacked the local headquarters of the electoral council.
Photos: Massive Demonstrations Demand President's Ouster in Venezuela
Maduro, the unpopular 53-year-old successor to Hugo Chavez who has presided over an unprecedented economic crisis in Venezuela, accuses the opposition of seeking a coup with U.S. help.
"They are desperate. They have received the order from the north to destroy the Venezuelan revolution," Maduro said at a counter-march of red-shirted government loyalists.
After launching a political trial against Maduro in the National Assembly on Tuesday, the opposition coalition held nationwide marches Wednesday dubbed "Takeover of Venezuela."
Related: Venezuelan Congress Accuses President Nicolas Maduro of Staging 'Coup'
"This government is going to fall!" protesters chanted, many wearing white and waving national flags as they filled one of Caracas' main highways.
Protesters clashed with security forces in various places, including San Cristobal, which was a center of violence during failed 2014 anti-Maduro protests.
Coalition leaders called a national strike for Friday and a march Nov. 3 to Miraflores, the presidential palace in Caracas, unless the election board allows the referendum.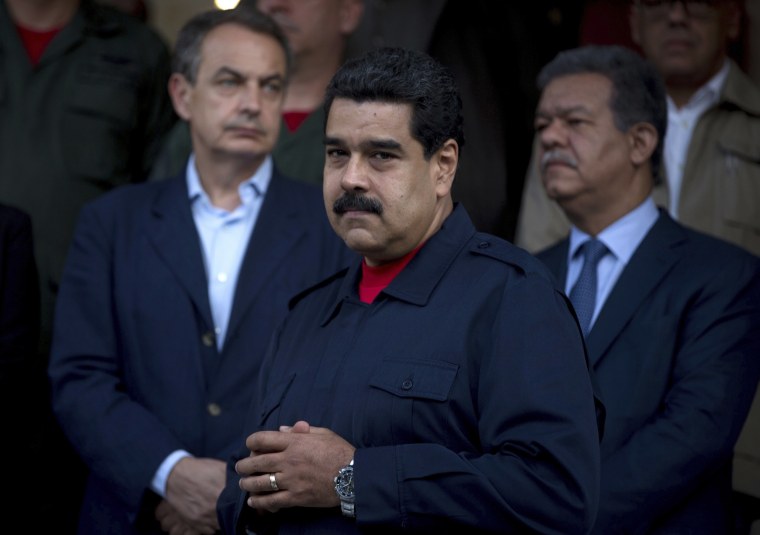 "This has gone too far. I do not like confrontation, but we have been too compromising and soft with the government," said carpenter Grimaldi Lopez, 50, who was carrying a large Venezuelan flag covered with the signatures of well-known opposition leaders.
"The referendum was our constitutional right, and they have denied it. What are they scared of?" he asked at the Caracas rally, echoing accusations that Maduro leaned on compliant electoral and judicial authorities to block the plebiscite.
Related: Venezuelan Congress Opens Political Trial Against Maduro
Despite sitting on the world's biggest oil reserves, Venezuela is in the throes of a punishing recession that has many poor families skipping meals amid scarce food and triple-digit inflation.
Opponents say Maduro, a former bus driver and union leader who narrowly won election after Chavez died in 2013, is an incompetent autocrat who is to blame for the economic mess.
Maduro says low oil prices and a U.S.-led "economic war" are responsible for the recession, and he has vowed to stand firm.
"Maduro is not leaving!" several thousand supporters chanted at the government rally.
Related: Venezuela: Pres. Maduro Opponents Fan Flames of Birther Debate
Authorities set up roadblocks and closed some underground metro stations in Caracas. Reuters journalists in several cities reported big crowds at the rallies, especially in the capital, collectively numbering hundreds of thousands.
Wary of trouble, many businesses stayed shut and some parents kept children away from school.