CARACAS, Venezuela — Dueling demonstrations ramped up Wednesday as thousands of Venezuelans took to the streets of Caracas after opposition leader Juan Guaidó called for the "largest march" in the country's history.
Several thousand protesters supporting the opposition marched in a peaceful demonstration around Altamira square, with the four major avenues around the square surrounded by people.
Demonstrators expressed frustration with the worsening economic conditions and hoped a government led by the opposition could bring change.
Hiter Nieves, 46, said he was marching "for the future of my country."
"For my children and for my family," he said. "We have been oppressed for so many years."
Elizabeth Fernandez, 58, said she wanted to give a new government a chance and more economic opportunities for Venezuela's youth.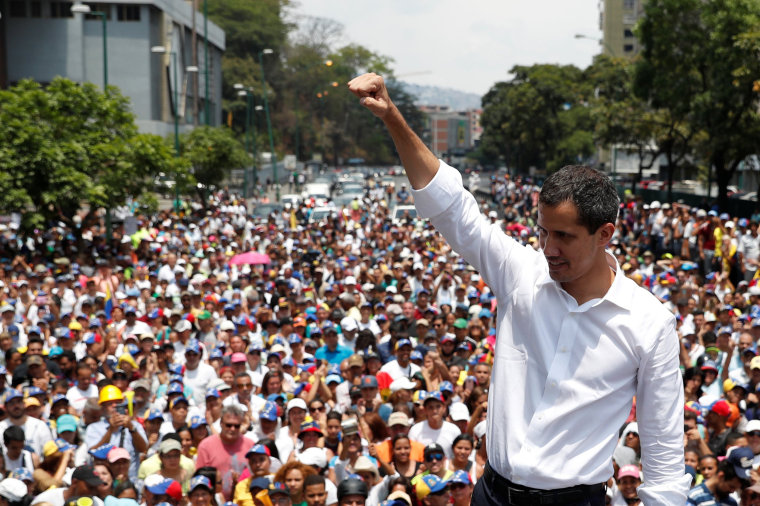 "We will have a more peaceful life," she said.
Oriana Andrade, a 22-year-old college nursing student, said she was marching because "we have people dying because we lack" medical supplies.
"My family emigrated, but I don't want to leave," said Diego Rodriguez, 27. "My fundamental motivation is change. Being in the streets represents a way for us to express our point of view."
Opposition protesters were gathering on the east side of Caracas, while those loyal to President Nicolás Maduro gathered in the center, with a police presence in between to prevent both sides from clashing.
"We consider that in the socialism of the 21st century there is hope," said Robert Cedeno, a professor who was just outside the Miraflores presidential Palace to support the Maduro government.
Earlier Wednesday, busloads of supporters from different states in the center of Venezuela also gathered peacefully and started marching towards the center of the city.
Leonel Ruiz, a 53-year-old musician, was one of them.
"I am present in this demonstration for several reasons," said Ruiz. "To say no to American imperialism, to say no to oil corporations… And say yes to life, say yes to the people, love and poetry. They are not going to take our oil."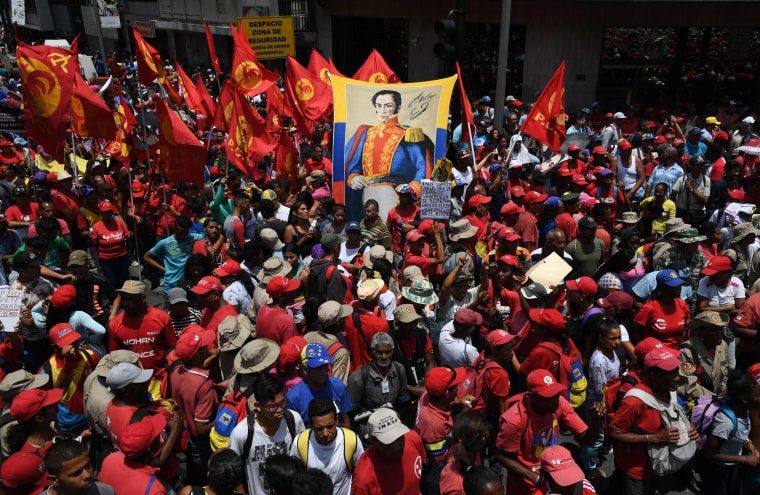 On Tuesday, thousands took to the streets as demonstrators clashed with pro-government forces, resulting in dozens of injuries, after Guaidó announced what he called the "definitive phase" of an operation to oust President Nicolás Maduro.
The opposition leader, who has declared himself interim president, appeared Tuesday in a dramatic video alongside formerly detained activist Leopoldo López and a small group of armed military personnel.
On Wednesday morning, Guaidó again urged Venezuelans to show their support in public protests.
"We go on with more strength than ever, Venezuela," he said in another post on Twitter.
Following the protests Tuesday, Guaidó released a statement calling for the "largest march" in Venezuela's history.
"Maduro does not have the backing, nor the respect of the armed forces, much less of the Venezuelan people," he said in the statement.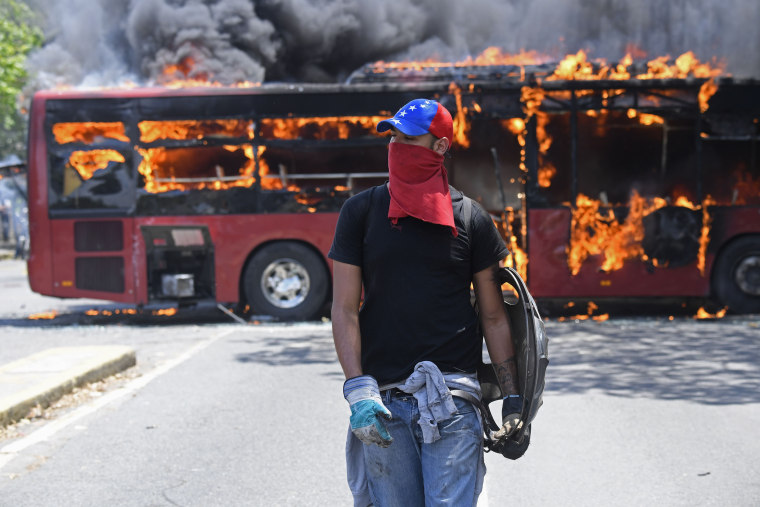 Meanwhile, a defiant Maduro in a television address Tuesday evening called the opposition puppets of the United States and downplayed the demonstrations as a "failed" coup attempt, calling for his supporters to also rally on Wednesday.
"Tomorrow, the first of May, we will have a large, millions-strong march of the working class," Maduro said. "We have been confronting different types of aggression and attempted coups never before seen in our history."
Guaidó has urged the military to turn against Maduro in support of the opposition's claim to the presidency. Despite the show of support for Guaidó from a few dozen groups of military personnel Tuesday morning, it remained unclear how much support he has. The military has largely remained loyal to Maduro throughout the political upheaval, and top security leaders appeared alongside Maduro during his address Tuesday.
National security adviser John Bolton said on MSNBC Wednesday that President Donald Trump wants to see "a peaceful transfer of power from Maduro to Guaidó and claimed foreign influence from Cuban forces and Russia "make it very difficult for the people to express their will."
"I believe if the Cubans went home today, Maduro would fall by midnight," he said.
When asked what action the U.S. would take if Guaidó were arrested or harmed, Bolton said Trump has made clear that "all options are open."
"We want a peaceful transfer of power, but we're not going to see Guaidó mistreated by this regime,' he said.
Some of the clashes Tuesday were violent, with tear gas and rubber bullets used on protesters and local media showing video of what appeared to be a military vehicle running over demonstrators.
By Tuesday afternoon, 57 people had been injured by rubber bullets, and one woman was shot with a firearm twice in the stomach, according to a Venezuelan health official.
The Venezuelan defense minister said a pro-government colonel had been shot in the neck, although his condition was unclear. Venezuelan officials also said eight members of security forces were injured by "violent groups" involved in the "failed coup."
Guaidó, as leader of Venezuela's National Assembly, invoked part of the country's constitution in asserting a claim as interim president in late January following Maduro's re-election. More than 50 countries, including the United States recognize him as the country's interim leader.
Since then, Venezuela has seen a series of clashes between pro and anti-Maduro forces in the ongoing attempts to topple Maduro's regime. The country has also been beset by black outs as well as shortages of food and medical supplies.
Ernesto J. Navarro reported from Caracas, Venezuela, and Daniella Silva reported from New York.