MIAMI -- The kidnapping and slaying of the nephew of renowned fashion designer Carolina Herrera sent shock waves throughout the world last week, focusing attention on the escalating crime that has become part of daily life in Venezuela.
After the bodies of 34 year-old businessman Reinaldo Jose Herrera and his colleague Fabrizio Mendoza, 31, were found inside an abandoned vehicle, the famed Venezuelan-born designer took to Instagram. Herrera, who rarely makes political statements, lashed out at the government of Venezuela President Nicolás Maduro, saying "the communist dictatorship must go."
In Venezuela, those who oppose the socialist government of Maduro and his predecessor, the late Hugo Chavez, blame them for the raging violence and economic collapse that have driven the country into more than six weeks of deadly protests.
For years, Venezuela has grappled with one of the highest murder rates in the world. But the deep economic and political crisis the country is embroiled in now has exacerbated the problem.
Once one of the wealthiest nations in Latin America, with the largest oil reserve in the world, Venezuela now leads in inflation. It is facing extreme shortages of food and medical supplies. Prices of goods have skyrocketed. Salaries have been wiped out with hyperinflation and millions have been left hungry, malnourished and scouring through the garbage for food. The daunting hardships the country of 30 million has been facing, have pushed many to crime as a means of survival.
"The day is slow and we need to eat," was how Ana Mercedes Alexandre's abductors explained her kidnapping. The journalist and resident of Caracas, Venezuela's capital, was abducted on a Sunday afternoon in 2011 while driving through a middle-upper class neighborhood in an "old, beat up car."
She was on her way to visit a friend who had just announced her pregnancy when she was suddenly surrounded by a group on motorcycles. With a gun, they motioned her to pull over.
Then they called her 21-year-old brother and demanded a ransom. Alexandre was held blindfolded inside her car for five hours, while relatives pooled their jewelry, silver trays, and dollars to reach the amount the abductors demanded.
"I'm much more nervous when I go out now," Alexandre said.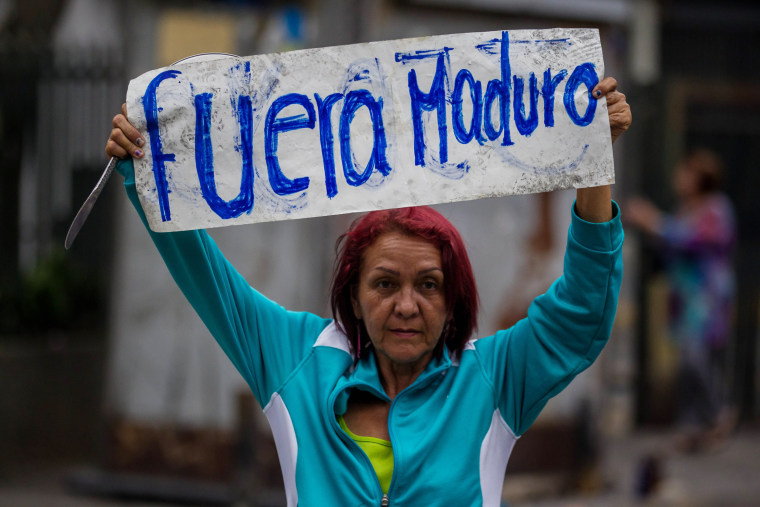 Such express kidnappings, or secuestros express, have plagued Venezuela for years. Usually, an immediate ransom is demanded from relatives. In most cases, the victim is released. But for some, the ending is deadly.
Alexandre, who was an acquaintance of Herrera, was shocked he was murdered after his family paid the kidnappers. She described Herrera as an extremely good person, who always had a smile on his face, and had something nice to say to everyone.
"Why is it that in Venezuela, life is not worth anything?" she asked.
Herrera's sister described him as an honest person who was not involved in "dirty" business. "With his tragedy, our family has become one more statistic," Corina Herrera told NBC News.
According to government data, the homicide rate in Venezuela rose to 60 per day last year, up from about 45 per day in 2015. That is 70.1 per 100,000 inhabitants. The Venezuelan Violence Observatory in Caracas puts that number even higher at 91.8 deaths.
The jump in homicides coincides with the downward spiral of the country. By comparison, the homicide rate in the U.S. for 2015 was 4.9 per 100,000 inhabitants.
When it comes to kidnappings, there are no reliable numbers because the crime is rarely reported to authorities. Families often negotiate directly with kidnappers, who usually threaten to kill the hostage if authorities are alerted.
One year ago, 22 year-old university student Carmela Penfold, was abducted by four men on a Wednesday night, while driving through a Caracas suburb to drop off a friend after they had studied together.
The abductors told her she had been targeted because of the car she was driving: a 2008 Toyota Yaris.
Penfold and her friend were held inside the kidnappers' car for two and a half hours, with their faces covered with hats, while their families gathered enough money to pay the ransom.
The men explained "the situation in the country" drove them to this point. Penfold said they appeared to be professional kidnappers. After hearing them mention stopping at the police station, she wondered whether hey were police officers or whether they had police connections
"I'm scared to go out, especially at night. But, you have to live your life and move on," Penfold said.
As Maduro struggles to hold on to power, armed militant groups known as collectives are exacerbating the violence, according to some. These groups emerged during the rule of Chavez as pro-government community organizations that defended Venezuela's leftist policies.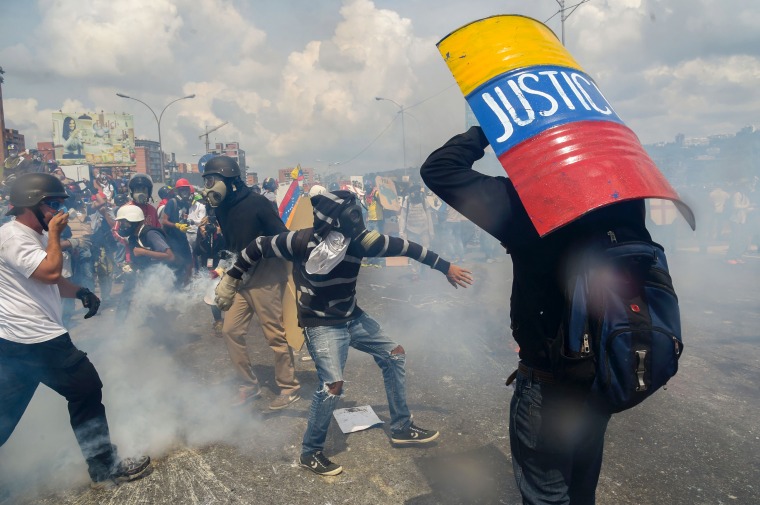 But experts say the government has armed these groups and uses them as militias. The armed groups are accused of killing indiscriminately to intimidate and crush opposition. In some cases, they control large territories, financed through extortion and the drug trade.
Maria Teresa Parra, a resident of Caracas, was forced to quickly raise money for two nephews who were abducted and that experience showed her that the kidnappers were highly organized. As family and friends chipped in with cash, jewelry, a MacBook, a Rolex watch and other goods, an appraiser working for the abductors determined their value.
Venezuela's new reality has forced people to adjust their habits.
To avoid becoming a victim, Parra tries not to go out at night. If she does, there are usually friends in two or three cars behind her. If no one is around, she blows through traffic lights. But if she has to wait at a red light, she prays.
"It's not that we've become used to the situation, but we have learned not to go crazy," she said.
Parra, who was mugged once at 6:30 a.m., said a lot of people carry around two cell phones. One of them is to hand over to a potential robber.
NBC's Mariana Atencio contributed to this report.