After Venezuela's surprising results for gubernatorial races, the attention is starting to focus on the even more impactful presidential elections slated for late 2018. In a country roiled in economic crisis, much will hinge on whether President Nicolás Maduro runs for another term.
Amid some growing discontent within Maduro's government, some are looking beyond the current president as the next candidate for the United Socialist Party of Venezuela (PSUV).
One key figure being considered is Socialist Party leader Diosdado Cabello, according to a pro-government source close to party officials who asked to not be identified. Cabello is one of the country's most powerful politicians.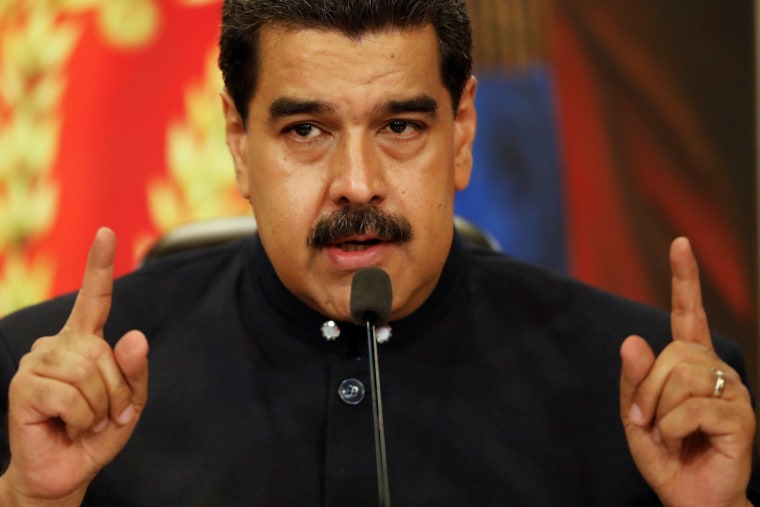 "There are groups that feel the reelection of Nicolás Maduro is guaranteed...But there are many inside the party that are projecting Diosdado Cabello for the internal elections," the source said, referring to the primary elections to select a party candidate.
The person added there are other names that are being considered, including Delcy Rodríguez, the National Constituent Assembly president, who is also the former foreign minister. Another possible successor is Vice President Tareck el Aissami, who the U.S. has sanctioned and accused of drug trafficking, which he has rejected and called "imperialist aggression."
The source vehemently denied there is any friction within the party and thinks there is an inclination within the governing body to elect Cabello, unless Maduro runs again, a move that some think is unlikely.
RELATED: Experts: U.S. Needs Latin America for Pressure on Venezuela to Work
After Maduro was narrowly elected to replace the late leader Hugo Chavez in 2013, the country has been in an economic downward spiral that has caused extreme shortages in food and medicine. There is disillusionment with Maduro among some Chavistas, those who are loyal to the legacy of the late socialist leader. While Chavez was in power, he embarked on an ambitious social spending plan when oil prices soared to $145 per barrel. This greatly boosted the lives of the country's poor. But the country's deteriorating financial situation amid a collapse in oil prices and other factors has left many in the oil-rich nation hungry, and violence is rampant.
Four months of protests led by the opposition earlier this year left 125 dead and thousands of injured.
But the creation of the all-powerful and pro-government National Constituent Assembly in July, which has wide powers to write and pass legislation, may have been the last straw for some who already viewed the country's future with unease.
Maduro now has a small but growing group of critics including current and former officials in Venezuela. Disenchanted with the current state of the country, they are not necessarily siding with the opposition, but they are looking past Maduro for a new Venezuelan leader.
Eva Golinger, an American lawyer who was a close confidante of Chávez, has been increasingly criticizing Maduro's policies. She was dubbed the "sweetheart" of Venezuela by Chávez a decade ago. Comparing Maduro to Chávez, Golinger told NBC News, "Maduro does not possess any similar leadership skills or charisma. The economic situation is dire. Chávez was pragmatic, whereas Maduro is not."
"The way the current government makes decisions is irrational and impulsive. It doesn't have a long term vision or strategic planning," she said.
Gollinger considers the constituent assembly a "radical measure" that was "fraudulent." She said Maduro is ready to part from the presidency. "He wants out. I know he wants out." She said he wants to ensure his successor doesn't persecute him or his family.
Joining the discontent toward Maduro is Gabriela Ramírez, Venezuela's former public ombudsman and a longtime Chávez supporter. In June, Ramírez stepped down from her position as adviser to the supreme court because of her concerns about the constituent assembly. She still believes in the Chávez ideology of social programs. She said any discussion of a possible successor to Maduro would take place among the party the leadership.
RELATED: Venezuela Could Go the Way of Cuba, Members of Congress Say
"The PSUV is not a democratic party … that decision would come from a small group that makes all the decisions for the party," she said. She agrees Cabello would be a good fit.
Perhaps the most well known critic of the former government allies, is ex chief prosecutor, Luisa Ortega Diaz, who fled Venezuela in August after being removed from office by the constituent assembly. Ortega broke from the government in late March, declaring unconstitutional the Supreme Court ruling that stripped the opposition-controlled congress of its last powers. Her husband, German Ferrer, a lawmaker that was aligned with Maduro, has stood by Ortega's side and denounced the creation of the assembly.
Others like Miguel Rodríguez Torres, a former spy chief under Chavez, has alienated government loyalists with his sharp criticism of the socialist party.
Meanwhile, some in the opposition see an opportunity to win over voters who are disillusioned with Maduro.
"One strategy of the opposition is to conquer the discontented Chavista," said Alfredo Cols, of Súmate, a Venezuelan electoral monitoring group that helped organize a failed 2004 recall vote against Chávez.
Cols doesn't see last week's regional elections where the socialist party won the vast majority of seats as an indication of what would happen in the presidential elections. He's counting on the voters who did not turn out in the regional elections as a form of protest, and the Venezuelans who live outside the country who are eligible to vote in presidential elections.
"We have those who refused to vote in the regional elections that we estimate are around two million and another two million that are outside the country that would vote," he said.