LIMA, Peru — Imagine filling your car tank with gas for less than it costs to fill your tires with air.
Welcome to the craziest economy in the Western Hemisphere, Venezuela, where a huge fossil fuel windfall — and, critics claim, populist politics — has led to the cheapest gas on Earth.
At the official exchange rate of 6.30 bolivars to the dollar, a gallon of gas in the troubled South American nation costs around a nickel.
But the bolivar's street value is only about one-tenth of the government rate, meaning that a gallon really costs Venezuelans less than a penny.
No wonder they drive so many 1950s jalopies and outsize SUVs, which all have one thing in common — catastrophic gas mileage.
Now, with inflation topping 60 percent, widespread shortages of basic goods, a shrinking economy, and the country burning through its foreign currency reserves, the great gas giveaway appears to be coming to an end. President Nicolas Maduro's administration has begun talking about raising prices at the pump for the first time since 1996.
"There has to be a discussion [about raising gas prices]. It is cheaper to fill a tank than to buy a cigarette," Oil Minister Rafael Ramirez said recently of Venezuelan politics' third rail.
There are other indications the government needs cash, too: The Maduro administration is also trying to sell Citgo, the country's chain of 5,600 service stations in the United States, including its three refineries in Illinois, Louisiana, and Texas. Separately, it wants to offload Venezuela's 50-percent stake in Louisiana's Chalmette refinery.
While those deals are making waves up north, it's the other fuel situation that could really upset the locals. Taking away the almost-free gasoline that many Venezuelans see as a birthright could be the political equivalent of lighting up at a service station.
The 1989 "Caracazo" massacre of protesters rallying against a previous hike in gas prices has gone down in folklore. Independent researchers estimate 2,000 died as cops and soldiers shot into crowds, creating a wave of popular fury that helped sweep Hugo Chavez to power a decade later.
Even Chavez never dared tinker with Venezuela's bargain basement gas prices, which were actually introduced decades before he became president in 1999.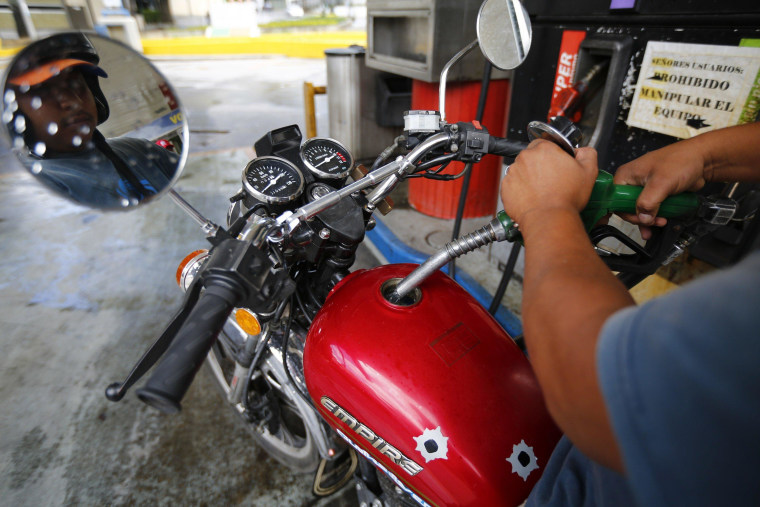 But, critics say, he did compound the problem by launching his PetroCaribe program, under which hundreds of thousands of barrels of Venezuelan crude are sold below the market rate to regional allies, in particular Cuba.
"It could hardly be more politically sensitive. In the public imagination, the price of gas is tied to the Caracazo," says Igor Hernandez, an economist who heads the energy program at the Caracas Institute of Advanced Administrative Studies.
Margarita Lopez Maya, a politics professor at Caracas' Central University, adds: "Raising gas prices will be a critical step, but everything is critical right now in Venezuela. We have this explosive mix although I don't know that this will be the match that ignites it all."
But the scale of Venezuela's economic strife appears to make change inevitable.
According to John Saucer, vice president of Houston-based analysts Mobius Risk Group, Venezuela's cheap gas costs the government somewhere between $12 billion and $25 billion a year.
Hernandez adds that for PDVSA, Venezuela's state-owned oil company, to cover its production costs, it would need to set pump prices 25 times higher. And to make up for not selling at international market rates, it would need to make them 60 times higher.
That's at the official exchange rate, he adds. If you make your calculation based on the black market rate, the price would have to rise another 1,000 percent or so.
Although Venezuela has even larger oil reserves than Saudi Arabia, production is actually fallingdue to the underinvestment in exploration and production of the last 15 years as the Chavez and Maduro administrations have spent massively — and, critics say, unsustainably — on social programs for the poor voters who swept them to power.
Saucer, who grew up in Venezuela, says that PDVSA was actually regarded as a "model state-owned oil company" in the 1980s and 1990s — innovative, vertically integrated and relatively efficient.
He recalls seeing the massive Punta Cardon refinery, on Lake Maracaibo, in the early 1990s: "It was one of the most state-of-the-art refineries I had ever seen, and I am from Houston."
No more. PDVSA is now a creaking, corruption-riddled hulk, most analysts say, unable to adequately exploit the world's largest oil reserves of nearly 300 billion barrels. Venezuela now even has to import 60,000 barrels of refined gasoline a day.
And squandering its oil windfall isn't all. Since 2007, the Venezuelan government's lavish social spending has run up a $56-billion tab with China, which must now be paid back in oil.
That partially explains the fire sale of Citgo and the Chalmette refinery. Instead of vending oil to the US for hard cash, Venezuela now has to send it to China to pay its bills.
"China took a long-term view," Saucer says. "They've got access to the type of heavy crude they want. They now have a secure supply line from Venezuela."
That also suits Washington, which has focused its energy policy on sourcing more and more of its oil domestically and from the relatively safe havens of its immediate neighbors, Canada and Mexico.
Although details are not being made public, Citgo is reported to have attracted three offers so far, ranging from $8 billion to $15 billion.
"You would put them [Venezuela] in the category of distressed seller but if people want the assets, then the bids will be real," Saucer says.
But there may be another reason, beyond the hard cash, that Venezuela wants to get rid of its US interests. After nationalizing oil facilities belonging to ConocoPhillips and Exxon, among others, the government now faces hostile rulings at the International Center for the Settlement of Investor Disputes (ICSID), a World Bank tribunal.
"The Maduro government is trying to head off the possibility that the ICSID puts liens on their assets in the US," Saucer adds.
Back on the streets in Venezuela, the pending energy reform may be more a question of balancing the household books than macroeconomics, with many wondering how they will be able to afford gas that's no longer so cheap it might as well be given away.
Hernandez says current prices at the pump amount to an annual subsidy of $3,300 per person for the richest 25 percent and $469 for the poorest 25 percent. "In a supposedly socialist country, subsidizing gas like this is actually extremely regressive," he adds.
Yet it may be the poorest — in other words, predominantly Chavista supporters — who are least able to forego their cheap fuel. And for Maduro, Venezuela's turmoil may be about to get even more combustible.
Correction: A previous version of this story mistakenly named Chevron as one of the corporations whose assets were expropriated by Venezuela.
This was originally published on GlobalPost.
Also on GlobalPost:
Feast your eyes on Latin America's best restaurant's 29-course special
The two big lies about pot in Uruguay