CARACAS, Venezuela — Roberto Patiño, a rising star in Venezuela's unraveling opposition movement, pushes through a crowd of children clutching spoons and waiting to eat.
The 30-year-old organizes a crew that hands out hundreds of meals each day in slums throughout the capital. It's the only solid nourishment of the day for many of the children in La Vega neighborhood of western Caracas. And while it doesn't come with a serving of explicit political indoctrination, there's no doubt it's a sharp rebuke to the government's narrative that it alone can feed the poor.
"We've found fertile ground in these slums," Patiño said of the lunches financed by Venezuelan donors at home and abroad, "for the message of change and creating a new Venezuela."
As President Nicolás Maduro cracks down on opponents amid an unprecedented economic crisis, desperation has driven some critics, especially those in exile, to openly support violent shortcuts to removing him from power. There was an apparent attempt on Maduro's life in August with explosives-laden drones and some critics have welcomed recent suggestions by the Trump administration favoring a military coup.
But many of the beleaguered opposition figures remaining in the country see their best hopes in capitalizing on widespread discontent with Maduro's rule playing out in rough neighborhoods long considered his strongholds.
It's there where Patiño, a former student leader, and other grassroots organizers in their 20s and 30s have been feeding children, encouraging women to become community activists and organizing protests to demand public services like reliable drinking water and electricity.
Twenty-eight-year-old Marialbert Barrios, the National Assembly's youngest member, has been giving talks at empowerment workshops urging women in a working-class section of Caracas to replace their passive complaints with action toward making their neighborhood better for everyone.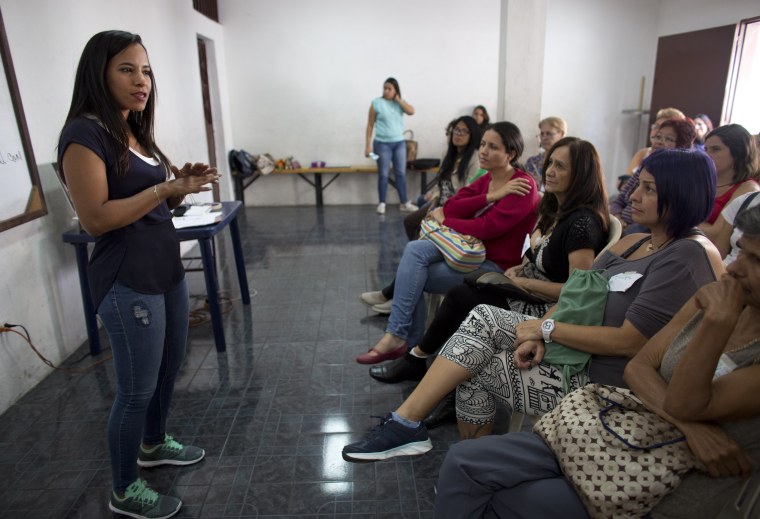 It's a long-term strategy in a country where citizens are increasingly giving up on democracy and when the opposition's old guard is increasingly discredited.
"It's time that this generation took a step forward against totalitarianism and took the reins in the fight," Manuela Bolivar, a 35-year-old opposition lawmaker, tweeted recently.
Years of strong-armed government tactics — and internal battles over egos and strategy — have left Venezuela's opposition divided and feckless.
Things looked up briefly when the opposition won control of congress in 2015. But it quickly found itself outmaneuvered when Maduro began to ignore its dictums and target its leaders for promoting street protests last year seeking his resignation that left more than 120 people dead.
Things took a turn for the worse this year with the breakdown of negotiations between Maduro's government and the opposition aimed at laying the groundwork for fair elections. Maduro barred many top critics from the ballot in May presidential elections, leaving the opposition divided over whether to boycott the vote. Amid widespread allegations of vote rigging, Maduro easily won re-election despite polls showing overwhelming unpopularity.
The failures helped turn sentiment against the opposition's traditional leaders. On social media, figures including former National Assembly President Julio Borges and former presidential candidate Henrique Capriles are routinely denounced — with little direct evidence — as sellouts who have cut secret deals to coexist with Maduro.
Other opposition figures have been jailed, banned from politics by government-controlled courts or exiled, like Borges and former Caracas Mayor Antonio Ledezma.
In addition to a generational divide, exile is also driving internal frictions. Some leaders still in Venezuela like Capriles and former presidential candidate Henri Falcón have recently hinted they are open to a new attempt at dialogue, saying the tough talk from abroad will only lead to more bloodshed and consolidate Maduro's grip on power.
Allegations that several prominent opposition leaders, along with government officials, received payments from graft networks inside the state oil company or from a Brazilian construction giant also stained their credibility.
"Venezuela needs absolutely different leadership," said Luis Vicente León, head of the Caracas-based polling firm Datanalisis, citing polling that shows the opposition is just as unpopular as Maduro. "I'm not sure if that means young. It means fresh, which is different."
Among the young is Miguel Pizarro, a 30-year-old with shaggy black hair and heavily tattooed arms who was elected to the National Assembly at age 21.
He recently brought local TV cameras to the sprawling slum of Petare to call attention to crumbling and abandoned government apartment buildings that house hundreds but have been condemned as unsafe.
Like Patiño, he's focused on bread-and-butter issues rather than confrontations in the streets.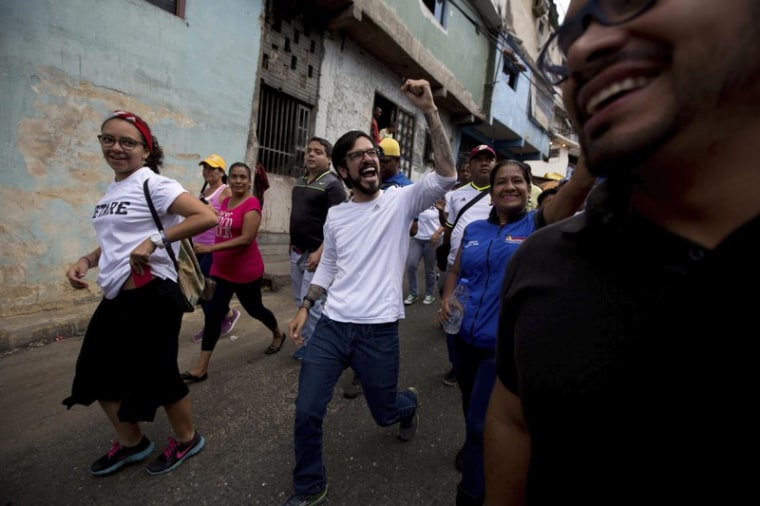 "The challenge for political leaders is to win back the right to listen to the country," Pizarro said. "This has been lost because we haven't been fighting for and talking about what the majority of people need."
The opposition's overall unpopularity and sharp internal divides indicate that government officials' crackdown has been successful.
"They're not successful at dealing with the economic crisis and hyper-inflation," said Michael Penfold, a Caracas-based fellow for the Woodrow Wilson Center in Washington. "But they are quite good at playing the divisive game with the opposition."
Patiño, meanwhile, said that he's deferred his political ambitions to focus on feeding 1,800 children five days a week in 21 slums of Caracas.
He believes it's his best chance at influencing his country by providing a vision of Venezuela's future different from the one featured in incessant government propaganda.
He's also founded other projects, like one that collects data on murdered Caracas residents in an attempt to fill the void left by the government's refusal to publish crime statistics.
Patiño comes from a wealthy family and says he could have made a career abroad, with several job offers upon completing his master's degree at Harvard University. But he says the struggle is at home in Venezuela, feeding children one meal at a time.
"I launched this initiative, first out of a sense of humanity, a sense of what is needed right now," Patino said. "But also out of the thought that this is what service should be about."
FOLLOW NBC LATINO ON FACEBOOK, TWITTER AND INSTAGRAM.