CARACAS, Venezuela — Former oil worker Jairo Peña, 65, was lying on a piece of cardboard, his head wrapped in a bandage and his eyes glazed over. A government medic had just tried to coax him to take a sip of water after she checked his vitals. Around his neck hung a handmade sign that explained in Spanish why he was refusing to eat.
"Huelga de hambre," it said. Hunger strike.
He and dozens of other former oil workers on Sunday were on hour 74 of their strike for the back wages and compensation they claim Venezuela's socialist government promised more than a decade ago.
At first glance, the 40 men could be mistaken for a group of homeless people. Some were barefoot, unshaven, others shirtless, showing off emaciated bodies.
A hunger strike by these oil workers, who were once the backbone of support for Venezuela's late President Hugo Chávez, shows the level of desperation in a country where the runaway inflation rate hit 130,060 percent in 2018, according to the government's own data. In the third quarter of 2018, Venezuela's GDP shrank 22½ percent over the prior year.
Critics of Chávez and current President Nicolás Maduro say the root of Venezuela's economic crisis stems from government mismanagement and corruption, while the government blames the widespread shortages and hyperinflation on U.S. sanctions that have frozen billions of dollars of the country's oil revenues around the world.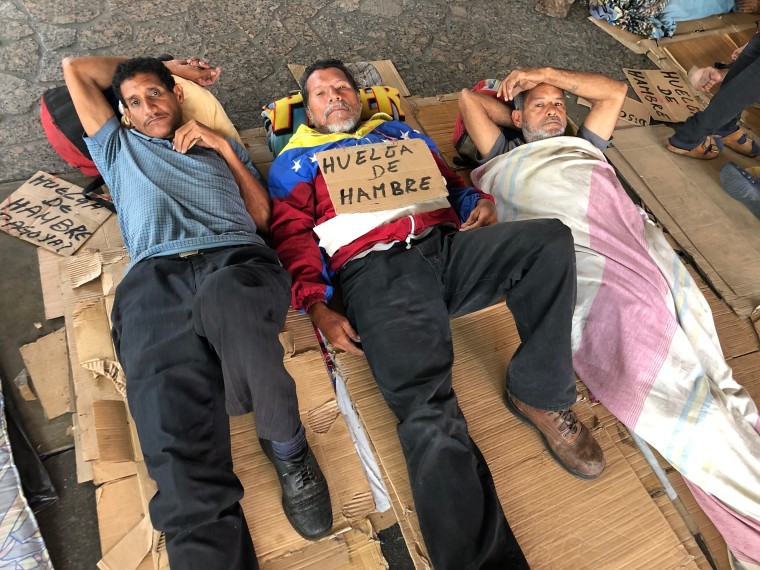 On Sunday morning, standing guard over the hunger strikers were hundreds of other former oil field workers. They say they represent thousands of ExxonMobil contract workers who are owed years of back wages.
Once they held the most coveted jobs in the country, working for transnational oil companies such as ExxonMobil and Venezuela's oil giant PDVSA. But now, instead of enjoying retirement along the Orinoco Basin, which holds the world's largest producible oil reserves, they have spent the last 16 months away from home in a public square in the middle of Caracas, petitioning for the government to compensate them.
Caracas' Plaza de la Moneda, or the Plaza of Currency, is located adjacent to the Central Bank. It is a place where Venezuelan pensioners from all walks of life frequently gather to peacefully protest their inability to keep up with the cost of living.
On Sunday, family members of the hunger strikers said they had become desperate and frustrated with the inaction from the government.
One of Peña's four daughters, Jinny, knelt by his side in tears.
"It's very hard to see my dad like this," she said, adding that her father has high blood pressure and problems regulating his blood sugar and thyroid.
"He has worked his whole life and is here demanding his rights," she said. "He has a family that loves him and we are worried because he cannot go on like this."
A few feet over, Oneida Bello collapsed sobbing on top of her son, Ricardo, as he weakly embraced her from his cardboard bed.
"We are here suffering as we wait," the 64-year-old mother said. "We have been here for 16 months without a response from the government. We want our back pay."
Her son said he simply wanted someone from the government to acknowledge the hunger strikers.
"In the name of Christ, I am begging them," he said.
Ricardo Bello, 47, followed his parents' footsteps in the oil fields.
"My son earned this. My husband earned this — I, too earned this," Oneida Bello said. "We haven't seen anything. We just keep fighting to get paid."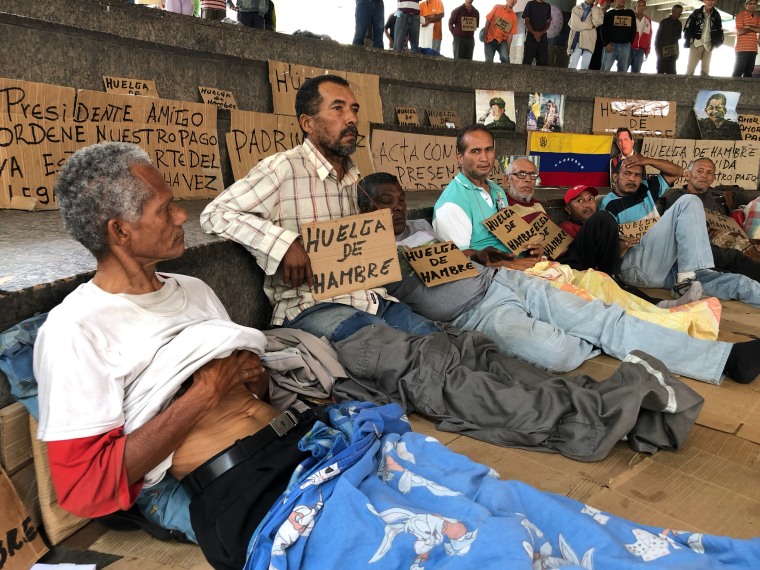 It's a complicated legal story that dates back to when hostilities broke out between Venezuela's PDVSA and ExxonMobil. After years of court battles and frozen assets, the oil giants settled their score, but the workers claim they were forgotten.
Pedro Amado, 58, a spokesperson for the group, claims Chávez made a deal that supposedly would give more than $5 million to thousands of oil workers to offset lost wages and bonuses.
He is now demanding that Maduro uphold that promise.
According to Amado, Maduro did meet with the group three months ago. The president allegedly directed his chief of staff to solve their problems, Amado said.
Representatives for Maduro's government did not immediately respond to requests for comment about the alleged meeting and there has been no public response to their demands. NBC News could not independently verify that the group met with Maduro. The hunger strike has received limited media attention.
Amado claimed the workers have not heard a word since and so last Thursday morning they began the hunger strike.
He stressed that the strikers have no political agenda.
"We are not enemies of the government," he said.
One of the chants that rang out across the plaza during the demonstration was, "Somos petroleros, no somos guarimberos." A guarimba is a Venezuelan term for an anti-government protest, so the slogan is meant to say the group are simply oil workers, not political protesters.
The hunger strike comes at a time when Venezuela has been embroiled in a political battle between Maduro and opposition leader Juan Guaidó, who proclaimed himself interim president in late January.
Taped to the walls of the encampment were multiple posters of Chávez along with handwritten signs urging Maduro's government to honor the late president's promise.
Amado said these oil workers dedicated their youth to the dangerous profession of extracting oil and gas for the country.
"We risked our lives and this is how they pay us?" he asked.
Even if the government were predisposed to pay them, it's not clear if cash-strapped Venezuela even has the funds.
Economist Jeffrey Sachs, who is a professor of sustainable development at Columbia University, said the principal causes of the economic free-fall in Venezuela were both economic mismanagement and U.S. sanctions.
The Trump administration ramped up sanctions in August of 2017 and then again in January of this year, both of which contributed to "the devastation of the economy," Sachs said.
"The economy was already gravely imbalanced before August 2017, but the sanctions threw Venezuela to hyperinflation and catastrophe," he said.
He added that Venezuela's oil earnings have plummeted since January as a result of the sanctions, and the economy was currently in a state of "utter collapse."
In the end, that tactic "punishes the Venezuelan people," he said.
In the plaza in Caracas, the impoverished former oil workers vowed to stay as long as it takes.
Amado said the group has the right to demand their back pay, citing workers rights in the constitution, while clutching a copy in his hand.
The hunger strikers "were willing to die there," he said.
As of Monday evening, the men were still occupying the plaza.