More than 7 million Venezuelans voted to reject President Nicolás Maduro's plans to rewrite the country's constitution, according to opposition leaders who also promised a "Zero Hour" of national protest.
"Venezuela stood up with dignity," Julio Borges, who leads the opposition-controlled legislature, said of the throngs who showed up in Venezuela and around the globe in the unsanctioned election held Sunday.
Borges said 7,186,170 votes were cast in the informal referendum intended to de-legitimize Maduro who has been the target of months of street rallies, in which nearly 100 people have died, including one death in Sunday's referendum.
A 61-year-old woman was killed Sunday and four people wounded in shooting that erupted after government supporters on motorcycles swarmed an opposition polling site in a church in the traditionally pro-government Catia neighborhood of western Caracas.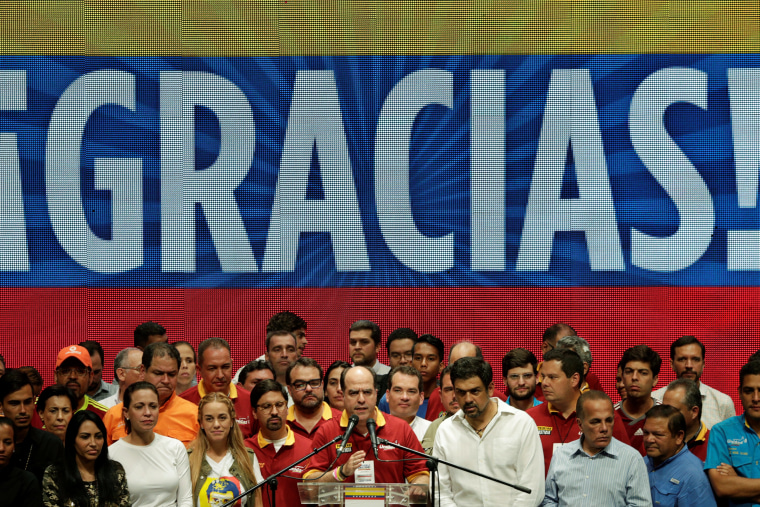 While the vote has no legal impact because it was not sanctioned by the government, the opposition regards it as an important, symbolic vote to condemn Maduro's plan to convene a a special assembly that would rewrite the country's 1999 constitution.
"We don't want a fraudulent Constituent Assembly imposed on us. We don't want to be a country without freedom," Borges said.
The next round of opposition tactics, to be announced later Monday, could include lengthy road blockades and sit-ins, a national strike, or possibly even a march on the presidential palace.
Among those voting Sunday were at least 93, 166 Venezuelans in the state of Florida, officials told NBC News.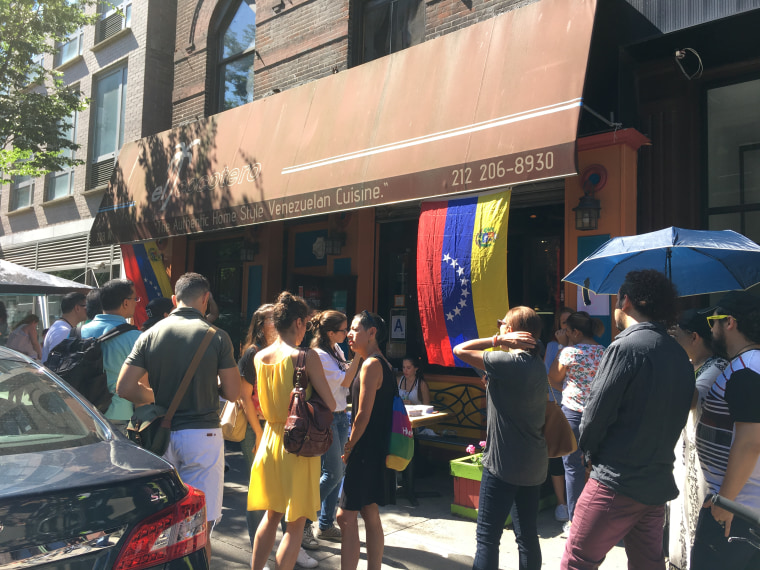 Analysts said the vote tally was an impressive show of support. However, it fell short of the opposition's 7.7 million-vote showing in 2015 legislative elections and the 7.5 million votes that brought Maduro to power in 2013.
David Smilde, a Tulane University expert on Venezuela, said Sunday's results would likely rally the international community even more strongly against the July 30 vote Maduro has called for the constitution rewrite.
"Overall this vote, I think, makes it difficult for the government to just proceed as planned," Smilde said. "I think it's going to embolden the international community to reject it."
RELATED: Venezuela's Opposition-Led Symbolic Vote on Sunday Could Be Turning Point, Experts Say
The opposition mayor of the Caracas borough of Sucre, Carlos Ocariz, said pro-government paramilitary groups attacked voters outside the Our Lady of Carmen Church around 3 p.m. The chief prosecutor's office said Xiomara Soledad Scott, a nurse, had been killed and three wounded in the incident.
Video posted to social media showed massive crowds outside the church, then hundreds of people running in panic outside the church as motorcycle-riding men zoomed past and shots rang out.
Maduro made no mention of the incident in comments on state television shortly after the official close of opposition polls at 4 p.m., but he called for an end to violence that he blamed on the opposition.
"I'm calling on the opposition to return to peace, to respect for the constitution, to sit and talk," Maduro said. "Let's start a new round of talks, of dialogue for peace."
On social media and under the hashtag #HoyElPuebloDecide, people were posting videos and photographs of long lines of people waiting to vote.
Participating in the vote is important, said Maibe Ponet, 42, who was getting ready to vote in New York City.
"For Venezuelans living abroad, today's vote is an expression of solidarity for our fellow Venezuelans who have been in the streets for more than 100 days fighting for their basic rights," Ponet said. "But it's also an expression of extreme frustration against the government of Maduro; enough is enough. There is no way back, this movement must continue until the government acknowledges our requests."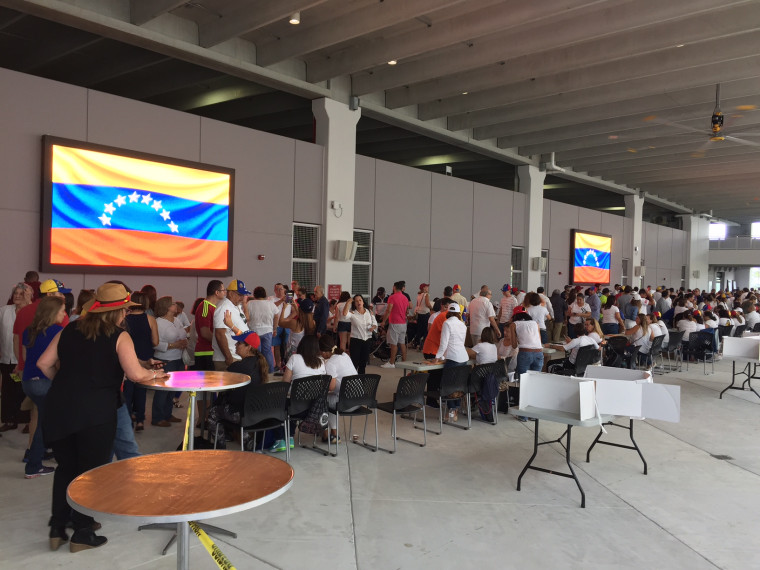 Martha Power Pérez voted in a polling station in Doral, Florida.
"People have to know that the majority of people want change and we need this change for Venezuela," Power Pérez said. "We are going against the president in changing the constitution."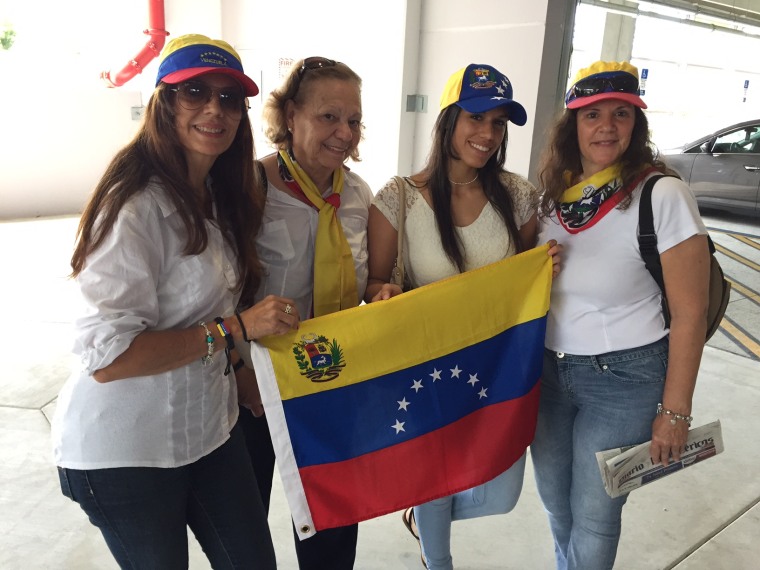 At the University of Miami in Coral Gables, Florida, volunteers were expecting 35,000 people as lines went around the block by early afternoon.
Reuters and the Associated Press contributed to this report. Alastair Jamieson reported from London.