NEW YORK, NY -- Invariably when baseball season starts, commentators talk about fathers and sons at the ballpark. They regale viewers with stories of Little League and playing catch in the yard. Every season is the promise of a clean slate that lures us into the traditions, statistics of the past, while promising a chance at redemption. But my favorite time of the season is the World Series. That's when every pitch can become the play that transforms the metaphysical into the personal. And it will always remind me of my Aba.
I first learned my Abuela was a baseball fan in the summer of 2001. I had flown down from Brooklyn to Miami to move her into her new apartment. At the age of seventy eight, it would be the first time my grandmother had set up house on her own. I don't know who was more scared, her or me.
Abuela was formidable by every standard. Not your average "suburban doctor's wife," she was fiercely opinionated and sardonic. She relished a good argument and had disdain for piety.
But her sparring partner, my Abuelo, had died. We had all lost our North Star. But her struggle to come to terms to life without him was as beautiful as it was heartbreaking.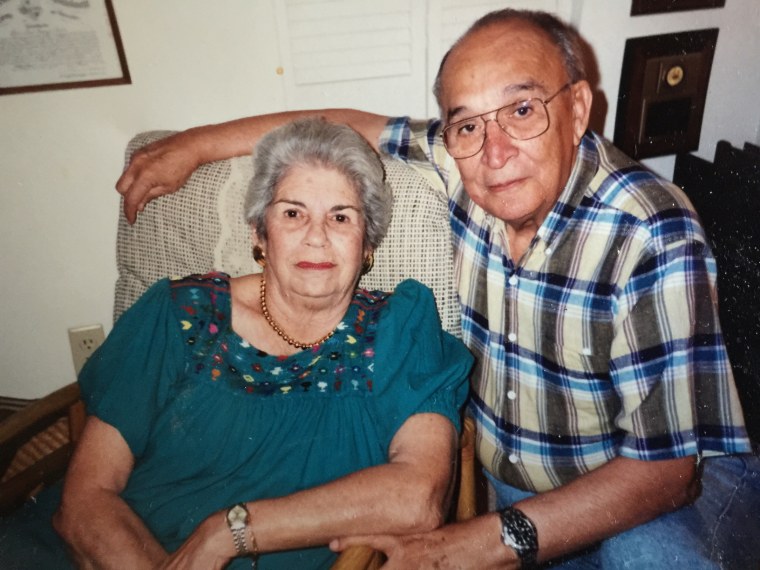 She set up new cable and electricity accounts on her own. She haggled with movers by tenderly admitting she was recently widowed, only to hang up after getting a great deal and triumphantly exclaiming, 'Heh, I'm a tiger!' But it was at dusk, as we had our 'happy hour' whiskey and crushed ice in the den, that my grandfather's absence was suffocating.
Hoping to cheer her up, I went for the remote, "It's time for your novela!"
She kept the remote from me and flipped through the channels, "You're grandfather was the one that liked novelas. I like la pelota," and she settled on the Marlins game and leaned back in her recliner.
"You know I love baseball! Why didn't you tell me?" I asked.
"I don't have to tell you everything," she retorted, with a shoulder shrug and her eyes on the screen. "Look at my boys, son un fenómeno (they're amazing). Your Yankees don't compare."
With that rev of the engines we were off!
I was bragging about the number of championships and legends, she insisted that the Marlins were pound for pound a better team and that the numbers spoke for themselves. Even when the Marlins were having off years, they still beat the Yankees whenever they played.
It wasn't until the fall of 2003 that our arguments reached a fever pitch.
The underdog Marlins and the heavily favored Yankees would face off in the World Series. Her taunts went on a schedule. Every afternoon she'd call and ask if I was ready for the game. I'd come back asking if she had tissues to wipe away her tears. She replied she didn't because she had all her tissues shipped to me.
During the actual games, every time the Marlins did something spectacular, my Abuela called with a bucket of salt to rub in my Series wounds. I would pick up the phone and be reminded of the score through her laughter, "Gorda, don't get mad. I told you my boys were the best!"
"I bleed Yankee blue, old woman!" I seethed back into the phone.
She then gave me the chance to jump ship. "You're from Miami, you should be rooting for the Marlins anyways!"
"Never!" I yelled. I always hung up annoyed but smiling. When the Marlins took the series in six, my grandmother couldn't have been happier. Although it hurt, a lot, I conceded the victory. I had no choice, a fact she loved.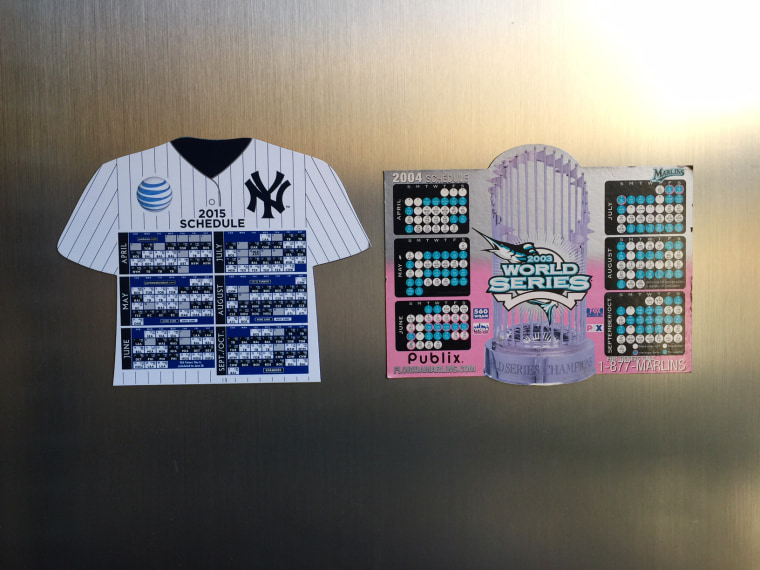 It's natural for boys and men to love the game, so many of them grew up playing. But I think women love the game because they get it on a visceral level. Even if you're the best hitter in the league, you strike out two thirds of the time and yet just one play can turn you into a legend.
Women appreciate that baseball is a game of loss.
In July of 2004, I once again flew down to help with my Abuela's apartment. But this time it was to dismantle it.
My Abuela died, and I had lost my sparring partner.
As we were sorting her things, I peeled the Marlins calendar magnet off her fridge. It was surrounded by pretty souvenir magnets of her and Abo's world travels, but the one I was taking had the 2003 Marlins' World Series trophy on it.
That one meant the world to me.