NEW YORK — On Monday morning I woke up in Bogotá, Colombia at my family's house. Like others who voted "yes," I felt shocked and disoriented. A day earlier, Colombians voted to reject a peace agreement between the government and leftist FARC rebels that would have ended the 52-year long war and threw the negotiations into turmoil.
After failed attempts by three previous administrations, this was the closest Colombians had ever been at ending the war that has claimed more than 200,000 lives.
Just one week before that, I had also woken up at my family's house, feeling hopeful and proud as I watched on television Latin American presidents and international diplomats, including U.S. Secretary of State John Kerry, descend onto the coastal city of Cartagena to attend the signing ceremony of the peace accord that would take place later in the day.
RELATED: Colombians Vote 'No' on Peace Deal
The only hitch was that the agreement had to be approved by a referendum by Sunday. Everyone felt comfortable it would pass based on opinion polls.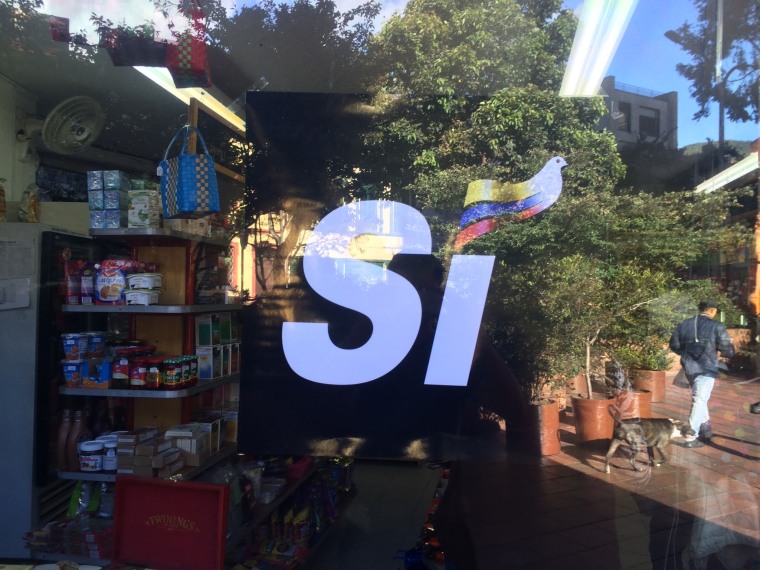 That same afternoon I went to the Bolívar square, in downtown Bogotá, where the Cartagena ceremony was going to be projected onto big screens followed by a concert by one of my favorite Colombian bands, Aterciopelados.
Once I got there the mood was euphoric, accompanied by a sea of white flags and balloons. I also noticed groups of young men and women wearing red shirts and holding red flags contrasting against the white backdrop.
RELATED: In U.S., Colombians React to Historic 'No' on Peace Accord
These groups broke into cheer at the screen's projection of the FARC leader, Rodrigo Londoño, coming on to the stage at the coastal city. I confirmed with the colleague I was with that the people in red were in fact FARC urban militias.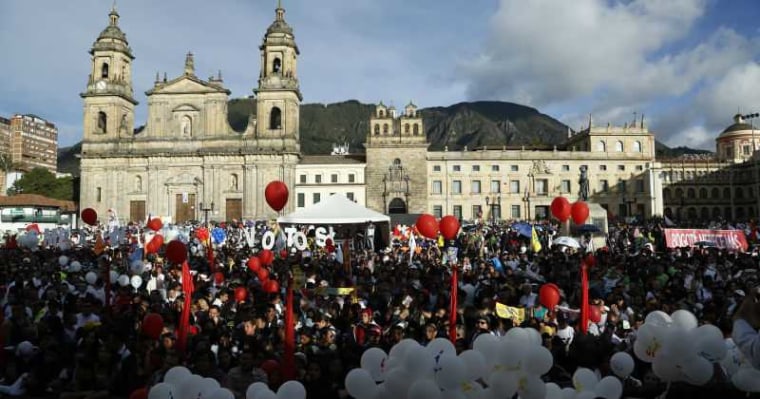 I had never consciously seen a FARC member in real life before and I didn't know what it would feel like to meet one. My father was killed by the FARC in the early 90's when the rebels attacked the national oil company's pipeline where he worked as the head of security and logistics on the Caribbean coast. He had previously served as captain in the National Police and was in charge of fighting insurgents in that same region. When the FARC attacked the oil company they recognized my father, gave him a war trial, and executed him.
I've come to terms with my father's death and have forgiven those who killed him. However, standing next to FARC members in the square as their leader was seen on the big screens was not easy.
As night fell over the colonial walled city of Cartagena, Londoño said: "In the name of the FARC I ask sincere forgiveness to all the victims of the conflict and for all the pain we may have caused in this war."
My father was killed by the FARC. But I honored his life by forgiving the rebels and embracing a new chapter in our history.
I couldn't help but choke up during this moment along with many others in the crowd. For me it was a definite moment of closure.
Later on in the concert, the lead singer from Aterciopelados, Andrea Echeverri, asked those in the crowd to hug a stranger in the name of peace.
A college-aged man wearing a red shirt approached me and offered me a swig from his aguardiente bottle, I took a drink and gave him a hug.
I realized this was the new peaceful Colombia many of us had imagined and dreamed of, and I had made peace with it. I had honored my father's life by embracing a new chapter in our history.
But my whole family was not on the same page. In fact, some of them, especially my mother's generation, were considering voting "No," rejecting the peace accord. I don't blame them, although I tried to persuade them to change their vote.
My mother was five when this conflict started in 1964. Since then most Colombians have learned to loathe the FARC. And she has her reasons to disapprove of the peace deal and thinks the government is being too lenient with the rebels, offering them what she calls "amnesty" for their crimes.
RELATED: After Five Decades of War, Colombia, FARC Rebels Signs Historic Peace Accord
This sentiment resonates with many Colombians who have lived through the worst of the war, whose families were victims of kidnappings, bombings, extortions and expropriations. They were traumatized by the war's atrocities and massacres broadcast into their homes on news reports, day after day, year after year.
Understandably, the country has endured a collective trauma.
My mother is entitled to feel her pain, as are many other Colombians, and I respect that.
Talking to my friends in Colombia I realized most of their families were divided by the vote. The younger generations opted for "Yes," older generations for the "No" option.
These dialogues on a family scale later widened into the public sphere. In a sense, I was witnessing Colombians exercising their democratic right to express their ideals without resorting to guns and violence.
RELATED: Colombia May Receive Nobel Peace Prize, Pope Visit for Ending War
On Sunday afternoon as the results were coming in they started to reflect this reality, a divided nation just like my family and many other families.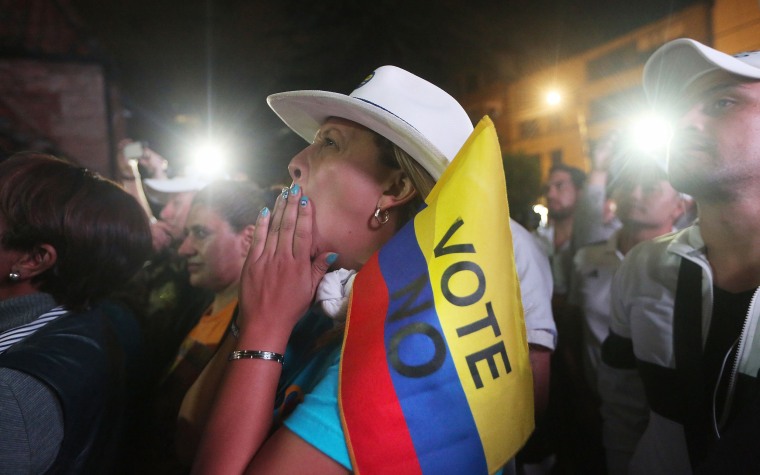 By the end of the day the Yes vote was defeated by a powerful No campaign, which was led by the right-wing ex-president Alvaro Uribe, who in his two terms as president believed in peace through the extermination of the rebels.
The campaign also played out on people's fears that the FARC would take over the country's politics and implement a Castro-Chavez-style regime, and heightened a sense of impunity towards the FARC. It also packaged the referendum as an approval vote of the Santos administration as a whole instead of the peace accord itself.
Right after learning the official result my instinct was to go to the streets and interview people, which I eventually did, though I first asked my family if it was safe. After all, did a "No" vote mean we were still at war and bombs could go off in downtown Bogotá?
That feeling we all knew too well, we felt all over again.
RELATED: Colombia to Sign Peace Accord After 5 Decades of Violence
I went downtown with my colleague as the President and FARC leader confirmed the cease-fire agreement stood in place. We found a mostly empty Bolívar square and a feeling of uncertainty and despair amid the drizzle — a stark contrast to less than a week before, when the square rejoiced at the prospects of peace.
I can't help but feel like the country failed its victims, its youth who dream of a peaceful Colombia, and all Colombians in general. The results also showed that many victims were ready to forgive.
In fact, the majority of the provinces hit hardest by the conflict voted in favor of the peace accord.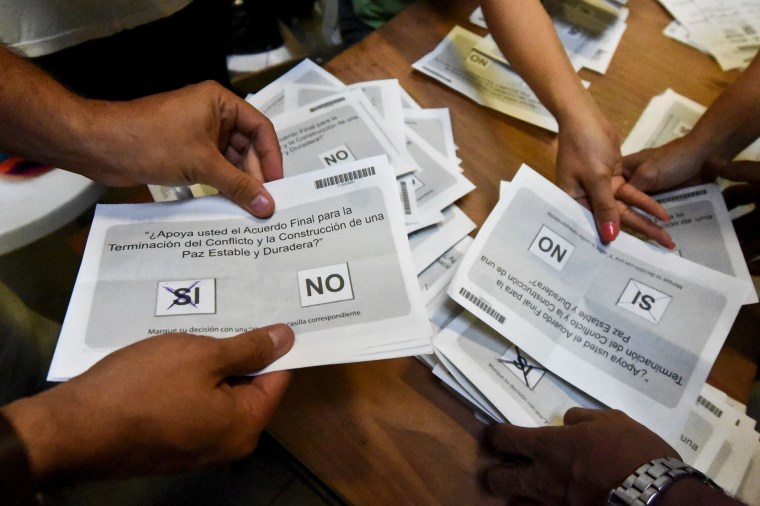 In the town of Bojayá, at least 119 mostly indigenous and Afro-Colombians had been killed in 2002, when a church was blasted by FARC mortar bombs. Yet 96 percent of its residents voted "Yes."
RELATED: Colombia: Permanent Cease-Fire Takes Effect
By Monday morning many Colombians like myself woke up heartbroken, uncertain about the future and how the political crisis could be resolved. That same morning I left for the airport to get on a flight back home to New York wanting to stay a little longer to feel and mourn collectively with the rest of the country.
I realize that not everyone is ready to forgive and there is no timetable for when a person heals and forgives, if ever. But a new agreement, with a larger consensus, has to come fast. We can't afford to lose any more lives in a lethal war that has become senseless. The road ahead is rough but I know that eventually peace in Colombia will prevail.
Luis Gallo is a media maker and artist. His work has appeared on NPR, PRX, StoryCorps, Deutsche Welle, Remezcla and Vice. He's currently an artist in residence at the Queens Museum.