Let's just say that in a Cuban household, pernil (slow-roasted pork) and parties go hand in hand.
Many of my childhood Christmas memories involve sitting around the dinner table with my parents and extended family from Florida. They'd reminisce about "la Cuba de ayer," pre-Castro Cuba, while I'd pile my Abuela's pernil on my plate.
As in most Cuban-American households, pork was not only a staple at our dinner table during Nochebuena - Christmas Eve - as well as on random weeknights and summer shindigs. It was practically its own food group. In fact, pork was so vital to our gatherings that it was a challenge for any guest who was vegetarian or abstained for religious reasons to find something to eat at our house.
My college friend Joel, who follows kosher dietary laws, likes to tell the story of how he fasted all day, saving his appetite in anticipation of the bounty awaiting him at my 21st birthday party. He looked at the generous spread on my table – bite-sized sandwiches filled with a pink, creamy spread; empanadas; chicharrón, or fried pork rinds; and finger foods that looked like mozzarella sticks.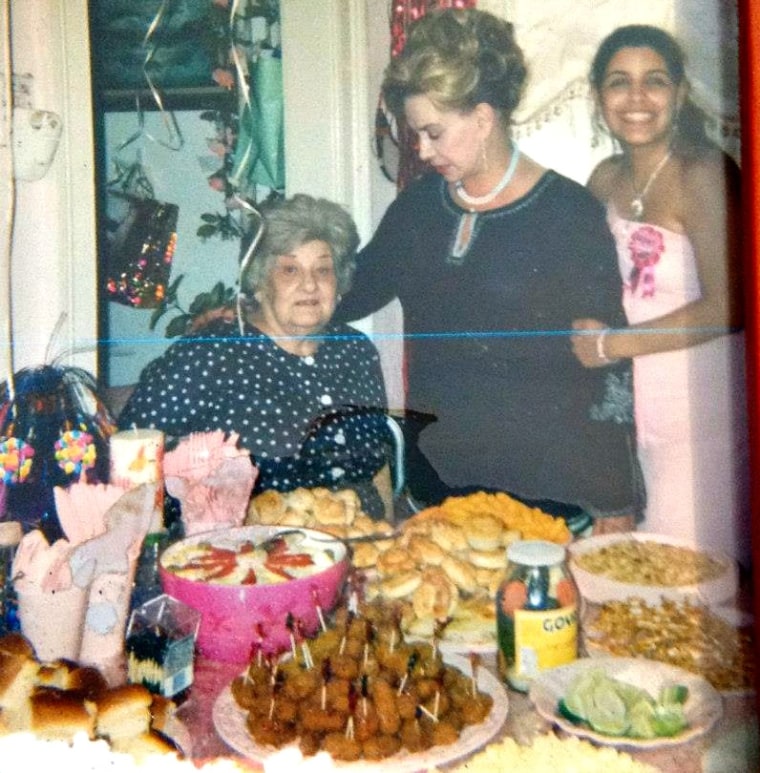 But before Joel dug in, I explained what each item was: the finger foods, in fact, where croquetas de jamón (an appetizer containing dry-cured ham), the savory empanadas contained non-kosher beef. My friend then reached for the small sandwiches with the pink creamy spread, which he'd been staring at hungrily for several minutes. "How about this?" he asked, hopefully. "That's cream cheese…mixed with deviled ham," I said. I was embarrassed that we had few meat-free alternatives. Joel ended up eating potato chips.
RELATED: For Many U.S. Latinos, It's Not Christmas Without Roasted Pork
My parents and I weren't trying to be bad hosts: we just assumed that most people ate pig products and a lot of meat. In fact, most of my peers in the urban and predominantly Latino Union City, N.J. ate the same meat-filled meals. Arroz con pollo - chicken and rice - and picadillo - seasoned ground beef come to mind.
The famous sandwich cubano - Cuban sandwich - has both ham and pork, as if asking a person to choose between different parts of the pig was sacrilege.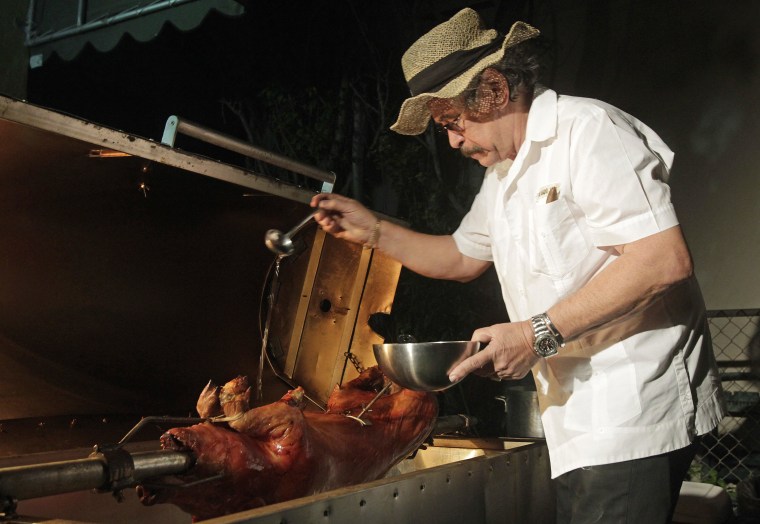 It was difficult for me to understand why anyone would give up meat - until I did.
My love of pigs (alive, not simmering on a plate) helped me make my decision. During my anorexic teen years, I'd become a vegetarian more out of my desire to cut calories than concern for wellbeing of animals and the health of the environment. But in early 2014 after years of feeling guilty about becoming more aware of both animal cruelty issues in factory farms and the health benefits of plant-based diets, I decided to give up eating all meat except for fish (I love the taste of seafood and have found it particularly difficult to stop eating it).
Save for a couple of slip ups at a brunch and summer mixer at my office where I've dabbled in some chicken eating, I've maintained a mostly meat-free lifestyle.
My parents have been receptive, and after some evangelizing on my part, became partial vegetarians themselves. In the past year, they've seen their high cholesterol go down and their energy levels go up. They still cook traditional foods like plátanos maduros (ripe plantains) and arroz con frijoles (rice and black beans), but they've also expanded their culinary tastes to include hummus and samosas.
It took a while for my extended family to come to terms with my decision. One of my cousins initially became defensive and even questioned my Cuban credentials. "Why would you stop eating meat? It tastes so good…don't you like pernil or sandwiches cubanos? And what are you going to do for Christmas? It's not Noche Buena without roast pork," I remember him telling me soon after he found out about my new diet last year. "I don't even know how to cook anything without meat." He still teases me from time to time, but he set aside some veggie burgers for me during a yearly cookout at his house last summer. Not eating pernil doesn't make me less of a Cuban American – it just makes me more compassionate toward other living creatures.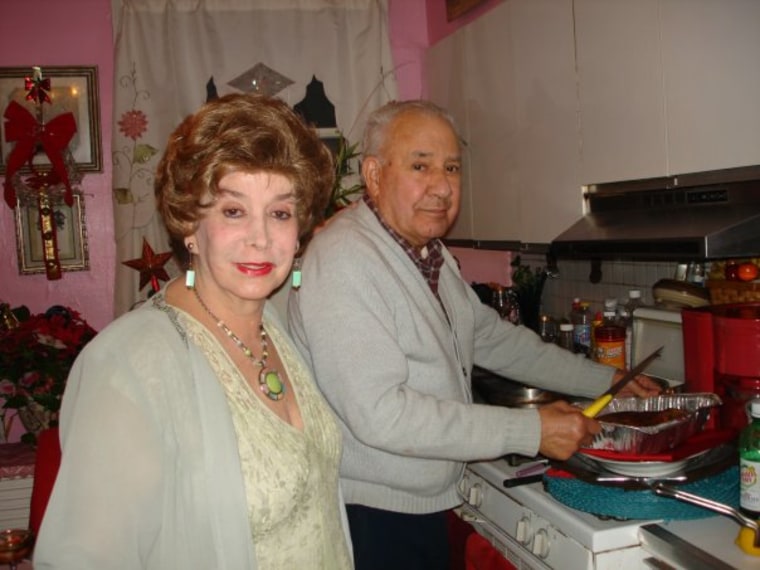 I have also realized how many of our delicious dishes are plant based - from rice and frijoles to delicious sauteed yuca con mojo (yucca with onions and olive oil) to tostones (fried plantains). I have also learned to use seitan (a wheat alternative) when I make ropa vieja, a shredded beef dish.
More importantly, I know that the contents on my plate don't define the love of my culture. For me, being Cuban American has more to do with how passionate I am about my family and about political issues. And fine - if I must tap into one cultural stereotype, being Cuban-American also means I get to show off my salsa moves on the dance floor.
Despite not chowing down on pernil, I am enjoying the blessings of the holiday season surrounded by a loving boyfriend, loyal friends and a career I love.
On Nochebuena, I look forward to going to Mass with my family to celebrate the holiday with fellow parishioners at our local church. That's the one custom that we'll never change, and the one that pulls me back to my family and my roots, no matter what is - or is not - on my dinner plate.