When Jews were being persecuted and executed by Nazis during the Holocaust, help came from non-Jews such as Swedish diplomat Raoul Wallenberg or German industrialist Oskar Schindler. In the Civil Rights Movement, white students volunteered, marched with and at times died alongside black youth to end Jim Crow laws. Recently, national protests on civil rights or fair pay have been multiracial.
As we start a new year, many of us will be constantly working to serve and elevate our growing community, but the work is not confined to us alone. As with other movements reaching for equality and non-persecution of a people, individuals from various walks of life have been contributing to helping Latinos – including Latino migrants who risk death trying to reach the U.S. – even if they may not be Hispanic themselves. As we near the end of this holiday season and look to the year ahead, I am thinking of those voices who may not be Latino, but who offer their care and love to nuestra comunidad as a reason to mark the humanitarian spirit at this time of year. Perhaps they can be considered honorary Latinos.
Lanaea Featherstone of Baltimore, Maryland, is one example. She is co-founder of the William & Lanaea C. Featherstone Foundation, which provides computer literacy and financial training to Baltimore's Hispanic immigrant community and other programs for underserved communities. The foundation even gives away computers. Latinos make up about 4.2 percent of the city of Baltimore's population, according to the U.S. Census Bureau. I know her work well; I am on the foundation's board of directors.
"I live by the mantra 'to whom much is given, much is required …' and I'm here to help make a difference and to change lives," she said. Lanaea is winning widespread recognition for her work, earning it support from companies like IBM. And her foundation has been nominated for awards from the Baltimore mayor's office and the Maryland Hispanic Chamber of Commerce.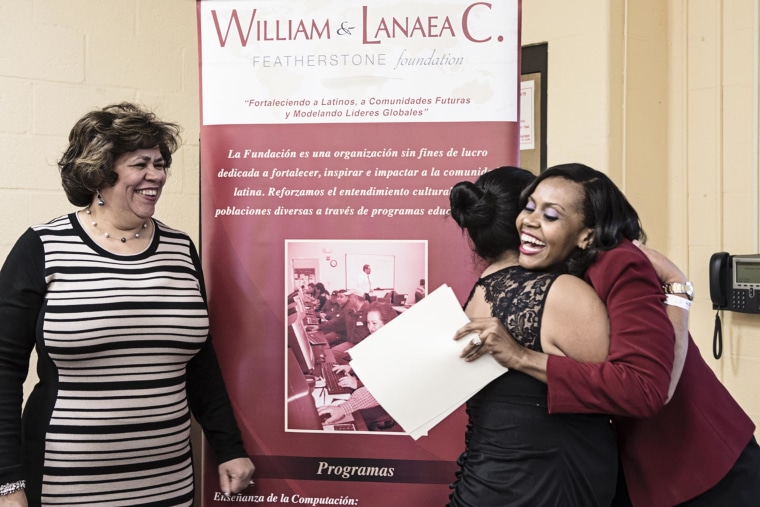 Lanaea's work has helped change the world for the better. She helped a single mom who came here from Mexico to learn how to use a computer. Those skills helped the mother go from being a waitress to being recruited for a job with New York Life.
She is not alone. Civil rights progress for Latinos has been moved forward, in part, thanks to contributions made by people who are not Latino. Democratic Rep. Al Green of Texas is one of several members of Congress who have been arrested while protesting on the National Mall for immigrant rights. He also has called for measures that would prevent families from being broken up through deportation to be part of any immigration reform legislation.
The Rev. Gregory Boyle in Los Angeles is a Jesuit priest whose work in the barrios of Southern California has turned gang intervention into an industry. "Father G," as he is often referred to by the people he works with, has helped scores of Latinos from lower income neighborhoods to either leave or avoid life in a gang. Boyle founded Homeboy Industries in 1988 to replace what he saw as the need for a life of crime with employment opportunities, echoing its motto, "Nothing stops a bullet like a job."
"Quite honestly I can't remember even a single time when a Latino gang member said to me: 'What do you know? You're a white guy,' said Boyle. He said he was once asked how he "reached" hard-core gang members. He said it's not about "reaching" but about shared connections.
"The answer, of course, is kinship -connection; we belong to each other," Boyle said.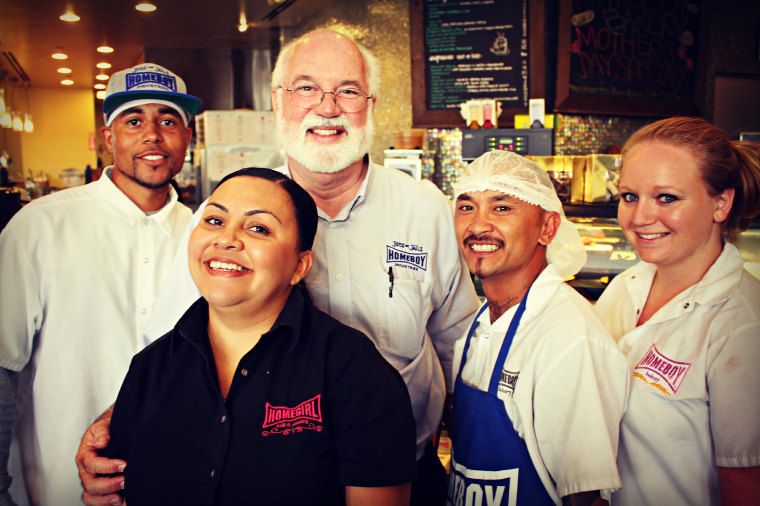 Since its founding, Homeboy Industries has provided a wide range of job opportunities, from working in a bakery or grocery store to silk screening or a job in a farmers market. It now provides jobs to almost 300 people each year with an annual operating budget of more than $14 million. And the candidates Homeboy Industries seeks to employ most are, according to its website, "…those with the MOST barriers to employment: youth recently released from juvenile camps and halls, or adults from prison, those with visible tattoos and those who are trying to leave their gang."
In Cullowhee, North Carolina, Amy Schmidt is the executive director of Vecinos, a non-profit organization that provides health care and case management to migrant and seasonal farm workers. Her organization works through Western Carolina University and provides interpreters for patients who need to be seen at local clinics or hospitals.
"There is often a refusal to use interpretation services. This really is a problem," said Schmidt. "Most of this negativity stems from a place of fear and misunderstanding. People don't always realize that our mission is to help farm workers access the basic resources that all human beings deserve regardless of where they live or what they do," Schmidt said.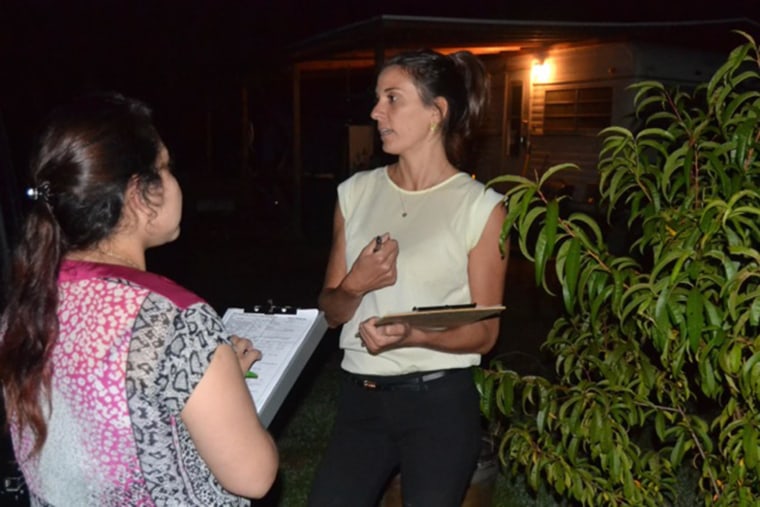 She tries to see the point of view of the farmworkers' experience. "Often their lives are filled with uncertainty. Where will they live during the next crop season? Who will care for their children while they go to work in the fields? Where will they find a doctor in the next town? We try to create a space where are patients can feel safe and cared for," Schmidt said.
Sister Judy Stephens works with Latino families through Catholic Charities in Salina, Kansas. She often accompanies recent arrivals from Latin America to doctor visits and has advocated on their behalf to former Gov. Mark Parkinson to support comprehensive immigration reform.
"In the beginning women who were pregnant asked me to go with them to the doctor as their interpreter," said Stephens. "My Spanish wasn't the best, but I worked at every visit until the doctor understood the patient and vice versa."
Being in Kansas has its challenges. "Kansas is a rural Republican state, but also has many rural folk who are friendly," she said. "So it often happens that once they get to know Hispanics, the negativity really disappears, until you start talking about laws currently in place, etc."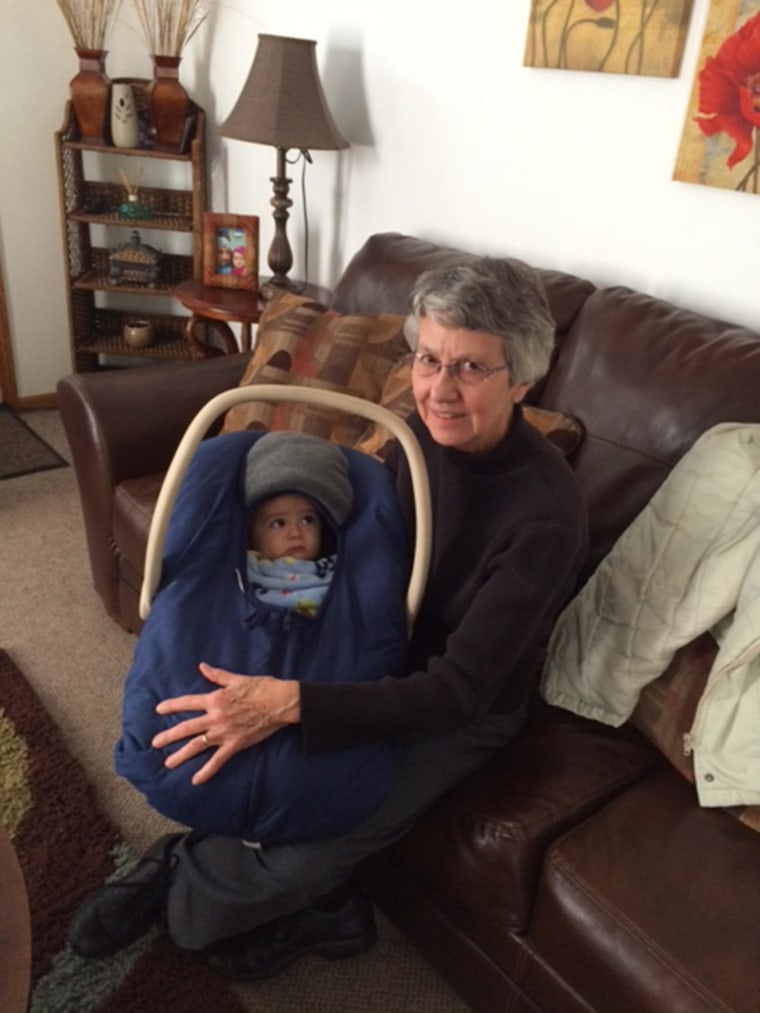 As is the case with others throughout the nation, Stephens has seen up close how difficult creating a life can be for people newly arrived to this country. "The challenges they face are many: legalization is the first. Finding affordable health care is very challenging; learning English is as well, for some. Being separated from family in their home country is hard, but now the Internet helps a lot. Some cannot adapt to the culture here, and the individual way we live in the U.S."
From computer and business training to helping provide access to health care, many of us in will be working this year to improve the lives of Latino families across the nation. But as we set our sights on making 2015 an even better year for our community in an increasingly diverse and blended country, I wanted to pause and thank those who are working with us to make our families healthier and more prosperous.
--Kevin Olivas
Kevin Olivas is a freelance journalist. He has been an on-air radio news reporter in Southern California and has also worked for the National Association of Hispanic Journalists (NAHJ).