NEW YORK, New York — I used to see her late at night, when I was channel surfing and would pause for a moment to watch variety shows on Spanish-language television. There was something about this one performer that was so engaging. She sang in Spanish, spoke to the audience in English, and her music was a fusion of old-fashioned and contemporary sounds. With her outrageous costumes and cascading hair, she seemed a little corny and very cool at the same time. "Who is that girl?" I remember thinking.
"That girl" was Selena Quintanilla Perez. And the more I learned about her, the more I liked her.
For millions of Selena's fans, the 20th anniversary of her death on Tuesday will be bittersweet. There will be joy as we remember the Queen of Tejano (Tex-Mex) music who helped usher Latino culture into the mainstream. Yet there will also be sorrow, as we recall the tragic circumstances of her death and reflect upon her rich legacy.
I felt an instant kinship with Selena because she seemed to embody the contradictions of being Latino. Here was a Latin singing sensation who was born in Texas and had to study Spanish with a tutor as her career took off. Here was the chica whose musical idol was Michael Jackson but who sang about "El chico en el apartamento 512." Here was the so-called "Mexican Madonna" who never lost touch with her roots, living with her parents in a working-class neighborhood of Corpus Christi.
I felt an instant kinship with Selena because she seemed to embody the contradictions of being Latino.
Back in the 1990s, Selena was one of few Latinas on television who actually looked like most Hispanic young women I knew. She was a brown-skinned girl with a curvy figure. In those days, long before "Ugly Betty" and "Jane the Virgin," this was rare, both in Spanish-language as well as network television.
I can honestly say that I learned from Selena. Her music broadened my Spanish vocabulary, even if it was embarrassing when my dad laughed his head off after I asked what a "dino" was (Selena's original group was Selena y los Dinos, and in case you want to know, it means "guy" or "dude"). Thanks to Selena, I became familiar with genres like Conjunto, a Tex-Mex sound with roots in Europe, and Cumbia, which NPR recently referred to as "the musical backbone of Latin America."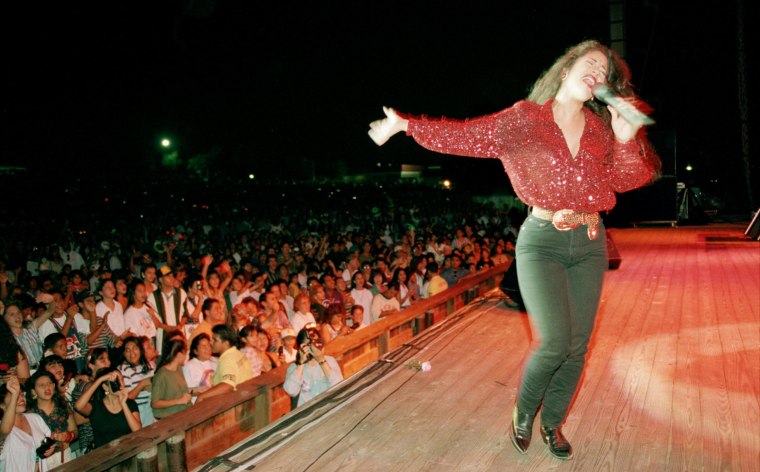 Over the years, Selena has remained an extraordinarily inclusive and appealing figure. Just look at how she has been commemorated: there have been record-breaking TV specials, stage musicals, documentaries, books, and the film biography of her life that made Jennifer Lopez a star.
For many little Latina girls, having a sleepover and watching the "Selena" movie has been a childhood rite of passage. If you've been to a quinceañera or Latino wedding in the last two decades, you've probably danced to "Amor Prohibido" or "Bidi Bidi Bom Bom."
Not so long ago, one of my friends went to a bachelorette party at a seedy Houston nightclub. She reported back that the entertainment was a Selena tribute show featuring female impersonators. "And they were all amazing!" she told me. Drag queens, it turns out, really like Selena too.
Back in the 1990s, Selena was one of few Latinas on television who actually looked like most Latinas I knew.
It is a sad irony that Selena never realized her dream of crossover success while she was alive. But once the news of her death hit page one of the New York Times, the world posthumously discovered her charisma and talent. Selena's bilingual album "Dreaming of You" rocketed to the top of the charts, and she was on her way to true superstardom.
Like James Dean or Marilyn Monroe, Selena has now achieved legend status because she died before her time. That doesn't mean we miss her any less.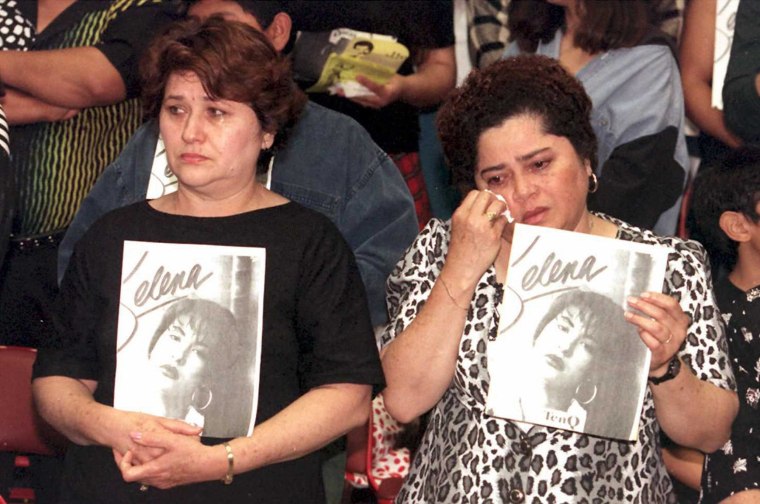 Last year, I interviewed Selena's father for an article for NBC News. Although I have interviewed plenty of celebrities and politicians, the idea of speaking to Mr. Quintanilla made me incredibly nervous, as though I were calling up a member of the Kennedy clan. When he had to postpone our talk a couple of times, I secretly hoped he would cancel.
Mr. Quintanilla proved to be pleasant and accessible. We chatted about Selena before our conversation veered off course. He told me about his grandkids, and I found myself telling him about my nephews. When he mentioned how hot it was that day in Corpus Christi and how he had some errands to run, he reminded me of my own father. It was the strangest thing, but talking with Mr. Quintanilla was like talking to a family member. He even called me mi'jo, a much-used term in Spanish which is short for mi hijo (my son).
I still marvel at that intersection of my personal and professional life. Then again, Selena was known for bringing people together.
Over 20 years after Selena first caught my eye, I am proud to count myself among the fans who celebrate her life through her music. Selena was authentically, joyously Tejana — and for that I will always be grateful.