"1-2-3-4 come on baby say you love me,
5-6-7 times,
8-9-10-11 I'm just gonna keep on counting,
Until you are mine"
With soap bar in hand, I remember zestfully singing through Gloria Estefan and the Miami Sound Machine's classic "1-2-3" chart-topping hit song in my shower back in the summer of 1988. To be frank, just last week and 27 years later, I was singing them again after seeing "On Your Feet," the new Broadway musical which recreates the remarkable story of Gloria and Emilio Estefan, the iconic couple whose unwavering belief in their passion and music catapulted them to international stardom.
These timeless lyrics and songs you'll hear in the show are a taste of what you'll experience at the ebullient musical aimed at satisfying a hungry global mass of Gloria Estefan and the Miami Sound Machine fans. In the musical you have it all - the nostalgia of the melodies, those trademark congos, and of course, those vintage 80's outfits.
Though the music is the main draw here, I would argue that the love story is the front row seat. Unlike other Broadway musicals, the Cuban-America couple's love story is the driving force of the show. It is its defining arc, its emotional center and emblematic seal. Many of us remember the couple's early days, the births and the adolescence of their children, the family's evolution as one of the more recognized Latino musical familias in the U.S. Through it all, a love like Gloria and Emilio's is the stuff that fantasies are made of, and to witness it on stage, through the electric chemistry of their alter-egos, Ana Villafañe and Josh Segarra, is pure romantic bliss.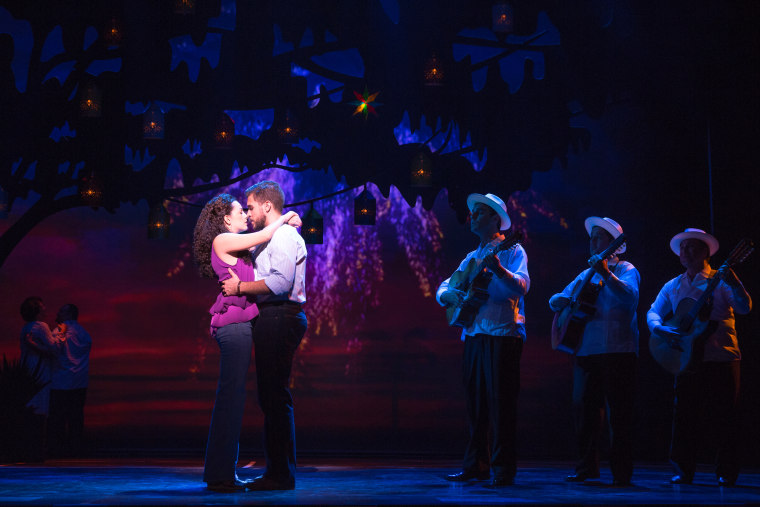 Nonetheless, the magical marriage of love and music is perfectly accentuated in the show's crowd-pleasing ballads. You can hear a lifetime of loving devotion in many of the songs, such as Emilio's poetic and heart-wrenching bolero of "Con Los Años Que Me Quedan," a favorite in so many of our parties, weddings and anniversaries.
"Y te aseguro que los años que me quedan,
Los voy a dedicar a ti,
Hacerte tan feliz,
Que te enamores más de mi,
Yo te amaré hasta que muera"
"And I assure you that with the years I have left/I will dedicate them to you/Make you so happy/You will love me more/And I will love you until my death," is the English translation. The beauty of these mellifluous melodies lie in how they are also interwoven within powerful themes of aspiration, hope, fighting for one's beliefs and even the meaning of what it means to be an American. To many of us, the Estefans are the immigrant dream come true.
Though the music stands on its own, Sergio Trujillo's creative choreography lifts the music to different heights. A brilliant dance number with wooden "chancletas" (flip-flops) is not only memorable, but rousingly fun.
Some of the more emotional and dramatic moments of the show came in the second act, where we learn about Gloria's ill father, played movingly by Eliseo Roman. Many of us remember reading about how much her father's illness and death profoundly moved Gloria. Roman's voice and acting depth are sure to bring many to tears. We learn that her mother Gloria Fajardo, played by Andrea Burns, had dreams of becoming a Hollywood star, and that her "Abuela Consuelo," a Tony-worthy supporting performance by Alma Cuervo, was the beacon of reason and light throughout her young adult years.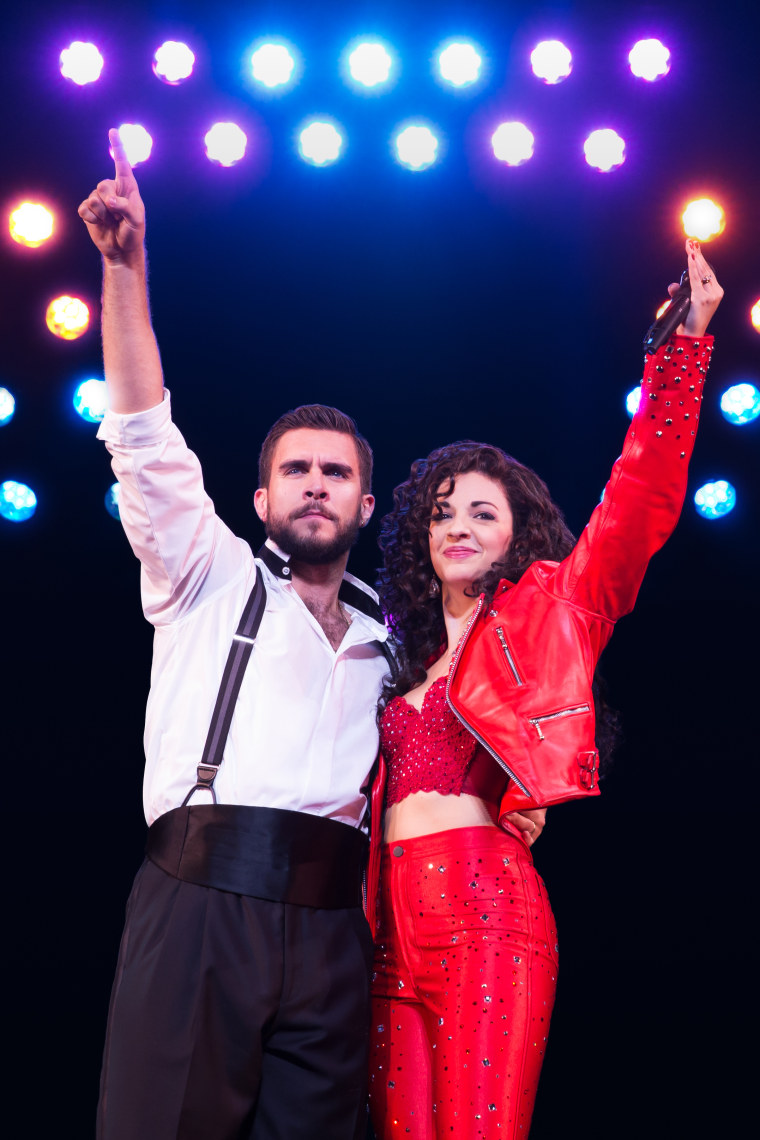 The cherry on top is Gloria and Emilio's lasting legacy - their music. With twenty-six show-stopping songs which include the iconic uptempo beats of "Conga," this is a show where you can sing, dance, laugh, cry and even fall in love all over again, in Spanish and English. This is one of the things we've loved the most about Gloria's music through the years - toggling between the two languages we love.
Alas, I can't help but be disappointed that some of my personal favorite tracks, like "Words Get In The Way," "Bad Boy," "Can't Stay Away From You" and "Como Me Duele Perderte" didn't make the cut. That was bound to happen, since there have been so many songs through the years.
But according to Gloria Estefan herself, she's glad that book writer Alexander Dinelaris didn't just create another jukebox musical. "He [Dinelaris] had a lot to choose from and I'm glad he didn't use just the hits, he chose songs the I call "deep tracks" that really advance the story. I think you'll be very surprised when you see how he uses those songs."
RELATED: Opinion: Latino Representation On Broadway Welcome, Overdue
For many Hispanics who grew up with these classic songs, one can't help but see how much of a "friend" these melodies have been for us. Through the heartbreak and the uplifting moments, they have carried us through our own coming of age with the bilingual sounds of our youth into adulthood.
When, and if, the show ever leaves the lights of Broadway, "On Your Feet" should enjoy a plethora of success through national and international tours around the world. With the magic of the music and the inspirational resonating themes of a Latino couple that defied the odds to achieve the ultimate American dream of fame and fortune, "On Your Feet" is not just a musical, it is the story of our Latino experience.