WASHINGTON, D.C. — A good chunk of this year's presidential campaign has been about workers and jobs, issues that have been the daily life of Labor Secretary Tom Perez, one of the administration's top Latinos considered a potential 2016 vice presidential pick.
Perez is one of three Hispanics who have emerged as potential running mates to Hillary Clinton should she be the Democratic nominee. Housing Secretary Julián Castro and House Democratic Caucus Chair Rep. Xavier Becerra, D-Calif., are two others.
Whether or not Perez ends up on a presidential ticket, the former civil rights enforcer has been vigorously touting and not so subtly contrasting the administration and his party's achievements in a not-so-veiled swipe at presumptive Republican presidential nominee Donald Trump. In an interview with NBC News, Perez spoke of sustained job growth under President Barack Obama, and said Latinos share common values that include a belief in building "ladders of opportunity" instead of "high walls" and a belief that America works best when we "work together, instead of try to divide each other."
Although unfamiliar to a big part of the country, every first Friday of the month for nearly three years, Perez has delivered – and given the administration spin to – the news of jobs gained and lost, employment rates going up and down and whether the economic recovery is holding.
Last Friday, he told Americans that the country saw another month of job creation in April, 160,000 jobs created. The total was not as high as projected, but it is still a plus.
"We've now had 74 months of job growth, that's the longest streak on record," said Perez, adding this represented 14.6 million jobs created as well as wage growth in the last several months. And significantly, Perez said, the nation saw its lowest rate in seven years of people considered long-term unemployed, those who have been looking for jobs for six months or more.
Perez reminds that at the depths of the Great Recession, the unemployment rate was 10 percent, compared to 5 percent today.
"If you administered truth serum to the Republican leadership in Congress and you said to them, 'You're in charge. You're the president and you're able to tell the electorate on January of 2016 in an election year that unemployment went from 10 percent to 5 percent,' I'm quite certain that they'd take that in a New York minute and that's where we are now," he said.
Perez has emerged as a staunch defender of the Democrats' record, saying that if you administered 'truth serum' to Republicans they would gladly take the administration's drop in unemployment from 10 percent to 5 percent.
Perez, 54, is following the protocol of not addressing questions about being a potential vice presidential candidate. But with the economy and jobs taking a central role in the race, Perez and his fierce defense of the Democrats' policies and their impact on workers and working families have become something of a bullhorn, particularly as Trump has all but clinched the GOP nomination.
"Trump has made it very clear that he is going to hang NAFTA around her (Clinton's) neck ... wouldn't you want someone with credentials on labor or job creation defending you?" said Robert Raben, founder and president of the Raben Group lobbying and consulting firm in Washington. Raben said he became friends with Perez through the Hispanic National Bar Association.
A couple of days after Trump announced his presidential bid last June by saying Mexico sends to the U.S. Mexicans who are rapists, criminals and people bringing drugs, Perez spoke to the annual National Association of Latino Elected and Appointed Officials conference in Las Vegas. His speech preceded Clinton's.
Few were thinking of him as a potential vice president. But his energetic speech on the potential and successes of Latinos, civil rights and the fight for working people brought the NALEO audience to its feet and there was some buzz among attendees that perhaps Clinton should consider him.
Oscar Ramirez, a Democratic strategist said a younger running mate such as Castro or U.S. Sen. Cory Booker, D-N.J., might bring the excitement of youth to the ticket and help Clinton with younger voters. Sen. Tim Kaine, D-Va., would be a safer pick should there be an eight to nine point gap between Clinton and Trump and might help with white male voters, he said.
Perez, he said, is somewhere in the middle. He's Latino and liked by many in the inner circle of the progressive movement, although he is not considered an ideologue, which has helped him in interactions with the business community. He also is highly respected by Obama, said Ramirez.
"When he became Labor Secretary, some of the biggest issues of the Obama administration, Tom became the point man on," said Ramirez, who has worked for Perez in previous Maryland political campaigns.
In addition, Perez headed Maryland's Labor, Licensing and Regulation Department. He has been a federal prosecutor and civil rights law enforcer in four administrations and served as a special counsel to the late Sen. Ted Kennedy.
Perez's parents were born in the Dominican Republic, but fled during the bloody dictatorship of Rafael Trujillo. Perez is a native of Buffalo, N.Y., where his father moved for work after serving in the military.
His father, a World War II Army veteran and a physician with what was then called the Veterans Administration, died when he was 12.
"One thing I learned in the year 1974 is you have to live your life with a fierce urgency of now because you never know what the future will bring you," Perez said.
His father's first heart attack came on an Easter Sunday while his mother was recovering from surgery and when she had been enduring chronic health issues. Later that same year, his father suffered a fatal one.
"My dad worked himself to an early grave because he wanted to make sure his kids could get good educations," said Perez, who is a graduate of Brown and Harvard universities. His four siblings are all doctors but he chose law, being the black sheep but making a single concession: "I had to promise not to be a plaintiffs injury lawyer."
"Our parents taught us to whom much is given much is expected, so everybody in their own way is doing a lot to make sure we live our values and one of our values is to build community and to make sure when we see injustice – as Dr. (Martin Luther) King would say, 'Injustice anywhere is a threat to justice everywhere'– and so we're working to remedy those injustices."
Although he may not be a household name, the places and people associated with Perez's work running the Justice department's Civil Rights Division in the Obama administration certainly are.
There's Joe Arpaio, the Arizona sheriff known for his crackdowns on immigrants here illegally, whom Perez investigated for civil rights violations and who was ultimately found to have racially profiled Latinos in traffic stops.
"His philosophy of policing is not only bad policing, it's contrary to our values. The most important currency you have as a police officer is trust and respect of the community, the entire community," Perez said. "I remember someone from his office said he's constructing a wall of distrust and the community."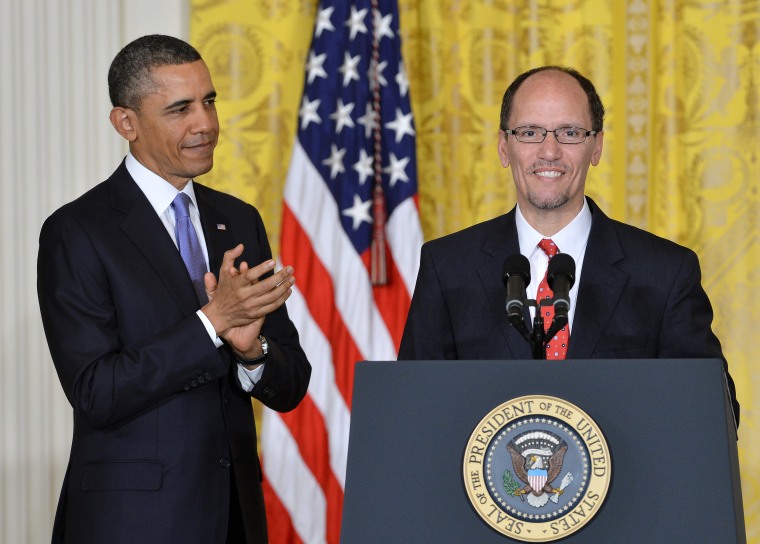 Perez led the investigation of the fatal shooting of Trayvon Martin in Florida, a young black teenager whose shooting death led to national debate over racial profiling. He vigorously opposed voting rights laws in Texas and South Carolina as racially discriminatory.
Long before the #BlackLivesMatter movement that grew out of the deaths of Eric Garner and Michael Brown, the Justice Department's Civil Rights Division that Perez led as assistant attorney general had investigated the New Orleans Police Department for misconduct that included excessive use of force. The department was forced to develop a consent decree that required creating new procedures.
His views have made him a target of Republican criticism and questioning in his Senate confirmation hearings. His immigration stance, his vigorous protection of voting rights have all been points of attack in his nominations. He was confirmed as Labor secretary with all Democrats voting for him and all Republicans against.
But his appeal and articulation of his Latino background could go a long way in what is expected to be a bitter general election that started for the GOP with a blasting of the largest Latino group in the country, those of Mexican descent, by the man who is now expected to be the party's presidential candidate.
"Latinos in America, family is everything and hard work is in our DNA," Perez said. "And keeping the ladder down for others is I think just a core value."