NEW YORK, NY – In a penthouse atop a luxury Manhattan hotel, there are discreet signs that this is a high-level business meeting. The men are a sea of dark suits and discreet ties, while the women favor well-tailored ensembles and pearls. At one table, the Wall Street Journal and Investor's Business Daily are splayed out next to a Louis Vuitton purse and a Blackberry.
And if you take a closer look, you will see that nearly all of the guests and speakers in attendance here are Latinos. They gathered in New York City this week for the New America Alliance's (NAA) 15th Annual Wall Street Summit to network, strategize, and focus on accelerating on the economic progress of U.S. Latinos.
"I think it is important as a young Latina to have role models, and so a forum like NAA really brings together leaders, women and men, in finance, in all areas in pension side, in banking, entrepreneurs, investors, so that's the beauty of a forum like this and why I'm here," said attendee Bianca Caban. "Because I really do appreciate learning from these role models that have done it and that kind of truism applies to many industries, 'you can't be what you can't see.'" Although Caban has done investment deals all over the world, she finds coming together with her peers at NAA "empowering."
The New America Alliance was co-founded in 1999 by Henry Cisneros, former Housing Urban Development Secretary, and Raul Yzaguirre, former ambassador to the Dominican Republic. Their goal was to build upon the success of Hispanics to help make a stronger America. Today NAA's membership is composed of over 100 Latino business leaders who are committed to giving back to their communities. NAA promotes Hispanic leadership in entrepreneurship, corporate America, and in the public sector. The group also aims to increase Latino access and control of capital, and to invest in human capital to improve educational achievement and develop new leaders.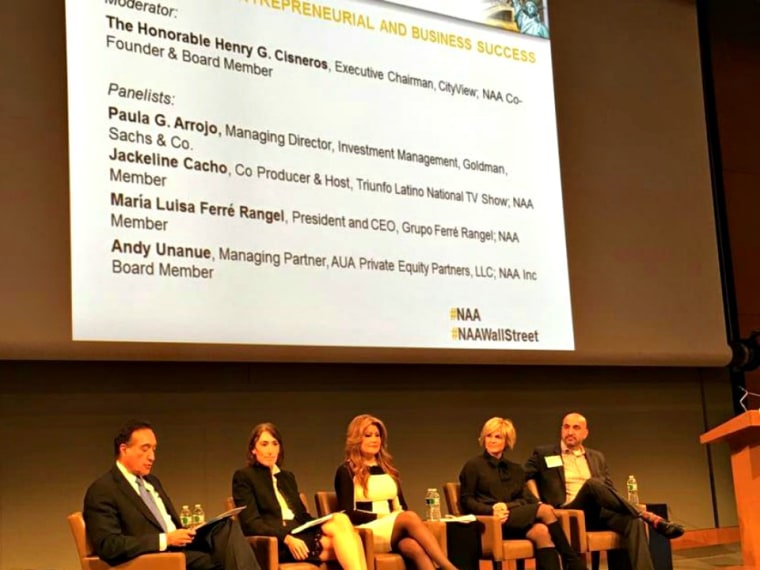 NAA has experienced significant growth over the past decade. In 2003, NAA reported approximately $500 million of private equity capital being managed by U.S. Latinos. By 2015, NAA estimated the total institutional assets managed by Latino and diverse firms in its membership being close to $60 billion.
Latinos in the financial sector work in a world in which they are very much a minority. The New York Times reported last year that Wall Street's young bankers are mostly white and male. Nearly 78 percent of first-year bankers in 2014 were men, while the incoming class of analysts was 65 percent white. A separate study by the Hispanic Association on Corporate Responsibility found that Latinos held just three percent of board seats on Fortune 500 companies in 2013.
These are figures that NAA is working to change, through panel discussions on the economic force of Latinas and the importance of pension fund diversity across markets.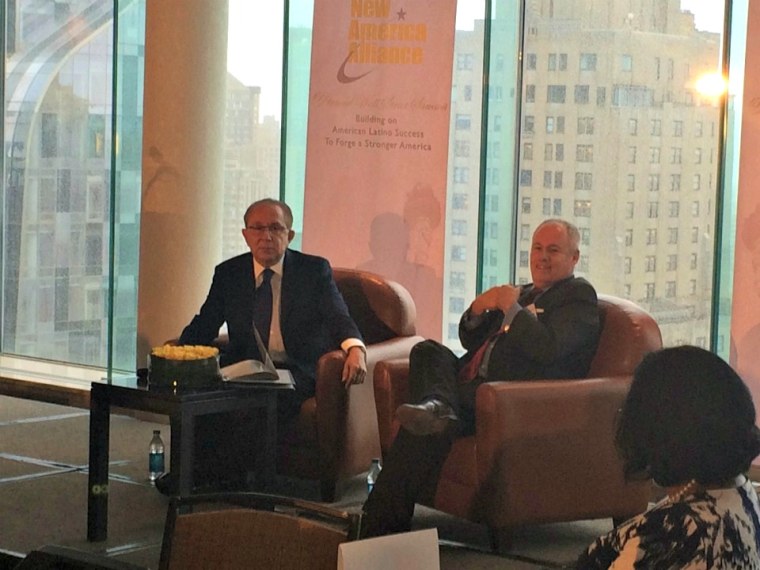 Tom Soto, Managing Director at TCW-Craton and incoming chair of NAA, explained to NBC News why it important to have Latinos represented on pension boards. "The difference between a community that is able to build community wealth and a community that continues to struggle is the community itself and its individual members being able to have personal financial success, professional success, professional growth. And its not just in the service of providing resources for the public, it is also providing resources for the consumer market," he said.
"When we look at our own community, and we compare ourselves to other communities… we see that their success as communities overall has been because of the ability to access capital and grow personal wealth," added Soto. He said this is then reflected in community wealth and the ability to increase philanthropic capacity, which improves everything from education to public health care to quality of life."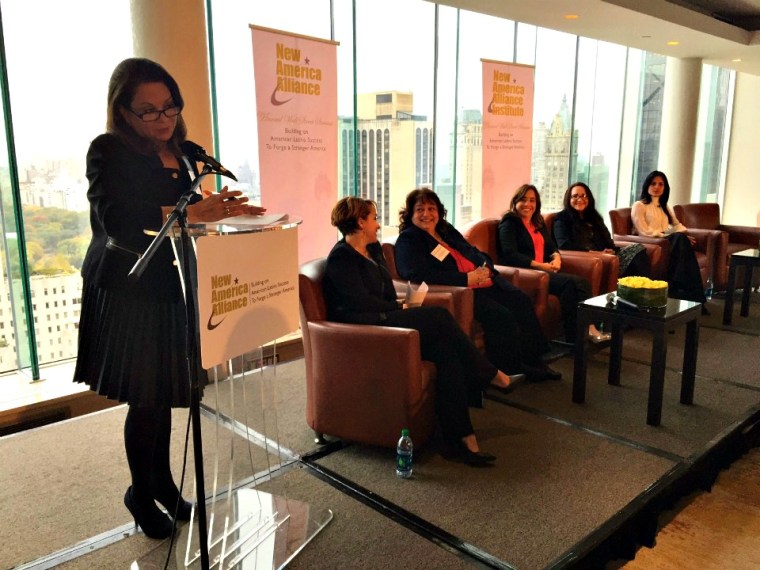 In other words, the money that Latinos earn goes into pension funds – and NAA leaders believe that Latinos should play a role in managing such monies and investing them back into Hispanic communities.
"We believe that it is a key milestone in the life of the Latino community to be able to provide access to capital so that members of our community can become just as successful financially and professionally," Soto said, "and just as successful as contributors to the community overall through philanthropic activity, volunteering, and contributions to those that are in need."
Gerson Guzman, Managing Director at Corinthian Capital agreed that more Latinos are needed on pension and corporate boards, but added that it is critical for Latinos to be proactive in their careers. "I regularly talk to college students, business students, and what I tell them is don't self-select out yourself out of opportunities," he said. "A lot of time we tell ourselves as Latinos, I can't do that. No - throw your hat in the ring, apply for the job, apply for the programs, get in there and practice your interview skills, learn the modeling skills and take a shot. You'd be surprised by what you'd be able to accomplish. I wouldn't be here if I hadn't taken that approach."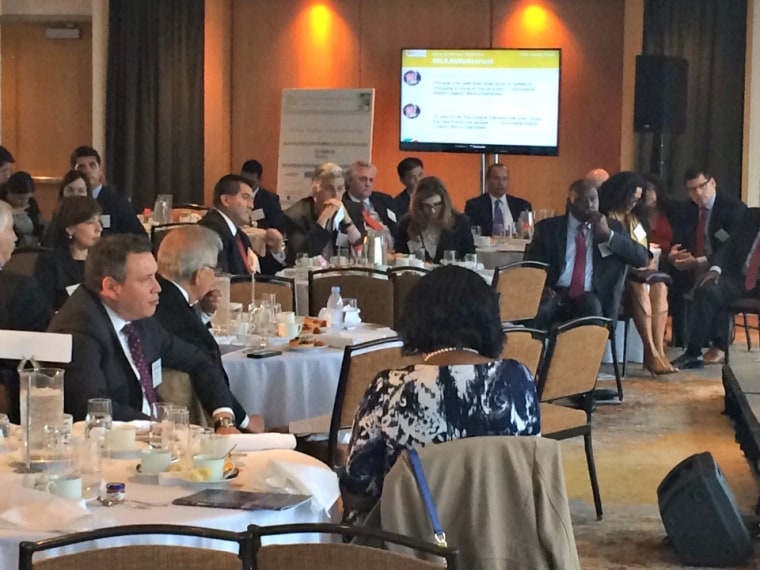 This week's three-day NAA meeting featured major sponsors like Goldman Sachs, AARP, Clearlake Capital, Herbalife, Univision, and more. At Wednesday's Mayor's Forum, guest speaker Michelle Caruso-Cabrera of CNBC spoke passionately about the need for less government regulation of industry, pointing to the economic problems in Greece and Cuba as illustrative of the dangers of over-regulation of markets. Other NAA guests and speakers included former Albuquerque Mayor Martin Chavez, and New York City Comptroller Scott Stringer.
Maria del Pilar Avila, Chief Executive Officer of NAA, noted that being a Latina in a traditionally male-dominated field had been a benefit. "Being Latina, it provides me with perspective that I wouldn't have if I didn't have the upbringing, expectation to succeed, and also the empathy and the commitment to support others to do the same thing. So when you are ready to give back, you receive much more than you give."
Avila eschewed the description of her group as "elite," preferring instead the term "pioneers."
"What it means is that we are in a position to continue to build American Latino success, make America stronger, and give back, and open doors so that other Latinos and others across the country have the opportunities to do as well or better than we have done," she said. "It is all about making everyone stronger together. That's what we're about."