In a video gone viral, a white woman is seen spewing racial slurs at a Latina and a black women at a Walmart store in Centerton, Arkansas.
The video, posted on Monday on Facebook by Eva Hicks, shows the woman yelling at Hicks saying "go back to Mexico... go back... wherever you're from." In the video Hicks is heard saying she was just trying to get her medicine on the shelf and that she said "excuse me."
"You're in America," the white woman continued.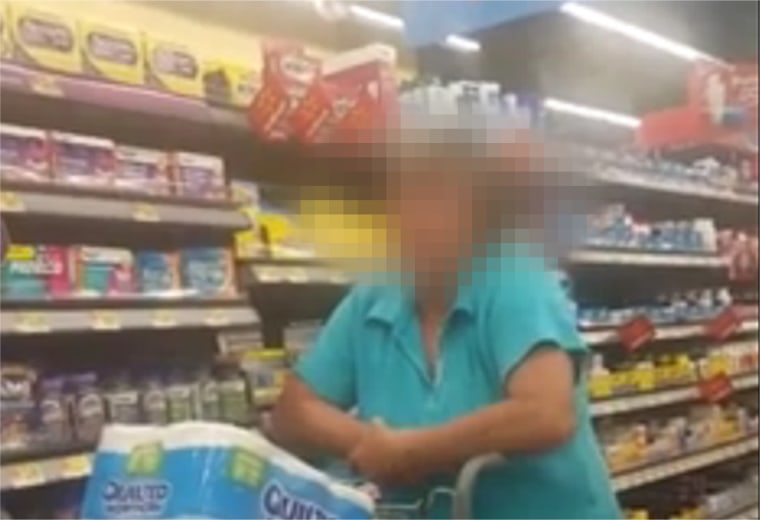 That's when a third customer intervened, at one point calling out the white woman for berating Hicks. The black woman told the white woman "Stop being ignorant." The white woman then said, "a ("n" word) calling me ignorant?"
"Yes, all this go back to Mexico and all that stuff, yes, absolutely," the black woman shouted. Hicks was speechless to hear the white woman use the racial slur and said, "Oh my goodness, you're very rude."
"It's not your country. We don't want you here," the white woman said.
"No, I'm not going to get out of here... because this is my country," Hicks continued. Hicks is heard sobbing, and the white woman continues to mock her.
RELATED: Sprint CEO Denounces Woman in Video Using Racial Slur
At this point a store manager intervenes and tries to resolve the conflict. The manager eventually tells the white woman to leave the store for being "inappropriate."
In an interview with NBC News a representative of Walmart said that they have tried to reach out to Hicks to apologize for the incident, but have not been able to reach her. Walmart representatives said they are also gathering information to reach out to the third customer who intervened. Randy Hargrove, the senior director of Walmart Media Relations, said the behavior of the white woman was "unacceptable."
"We value and respect everyone who visits our stores. We have no tolerance for the language or actions of this customer and are proud that our assistant manager responded appropriately by asking her to leave the store," said Hargrove.
Hargrove said they haven't been able to identify the woman who was using the racial slurs, but he said she will be banned from all Walmart stores once identified.
We reached out to Hicks for comment and are awaiting response.
CORRECTION: (May 24, 2017, 6:30 p.m.): An earlier version of this article misstated the town where the incident took place. The video was captured in Centeron, Arkansas, not in Bentonville, Arkansas.