From the opening whistles and finger snaps to the soaring notes of composer Leonard Bernstein's "Maria," "West Side Story" is one of America's most recognized and beloved musicals. A half century later, an acclaimed Latin jazz musician "reimagined" the score, creating a mostly instrumental album that has been drawing rave reviews and raising funds for an island dear to his heart.
"Two years ago, I came up with the idea of re-arranging the music from Leonard Bernstein's masterpiece, 'West Side Story,' and performing it with my Multiverse Big Band, but in a way that has never been done before: a complete Latin jazz reworking of the entire score in celebration of the show's recent 60th anniversary and Maestro Bernstein's centennial," said bandleader and Latin jazz percussionist Bobby Sanabria, about his two-disc compilation, "West Side Story Reimagined.
"Besides paying tribute to the composer and music, I saw this as an opportunity to give back and help my ancestral homeland Puerto Rico," he said.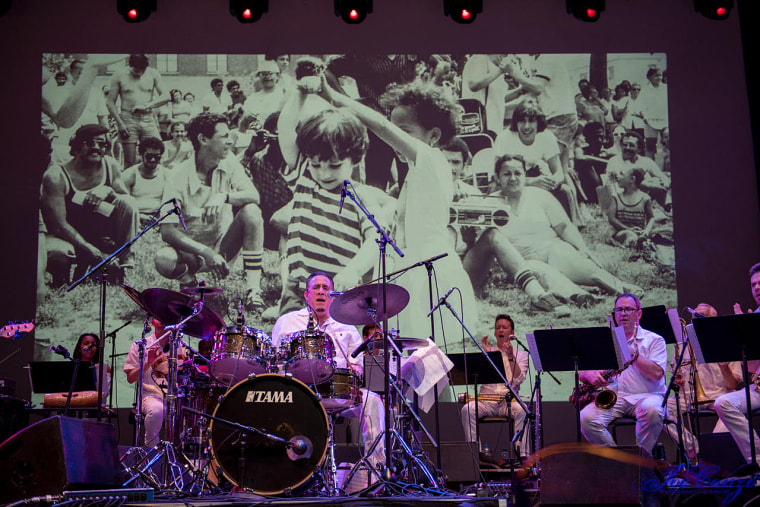 Sanabria, 61, who has garnered seven Grammy nominations, was 15 when he was first introduced to "West Side Story." Inspired by Shakespeare's "Romeo and Juliet," the 1957 musical revolves around a forbidden romance amid the racial tension between two New York City gangs: the Jets, who are white, and the Sharks, who are Puerto Rican. The musical was written during a time in U.S. history that saw a wave of Puerto Rican migration to the mainland, the "The Great Migration" of the 1950s.
The musical was later adapted to a film of the same name in 1961, which won ten Academy Awards including Best Picture and Best Music.
"On the 10th anniversary of the film, in 1971, my parents took me to see it in a Bronx theater," Sanabria told NBC News. "I was completely flabbergasted. I had a love affair with the music and how it dealt with the themes of hate and bigotry… It was very unique how it was done, but the music blew my mind. I couldn't get it out of my mind."
Sanabria was born in 1957, the same year as the musical's creation. Growing up in New York City to Puerto Rican parents, he said he could relate to the rhythms — as well as the larger themes of ethnic tensions and prejudice.
"On any given summer night, you'd hear drums in the park…Salsa was the gospel of the masses at the time," said the jazz musician about his formative years. "My mother was from Yabucoa, Puerto Rico, and my father from Guanica, Puerto Rico, and they met in New York City - in a house party in the Bronx.," he said.
"New York was very territorial back then. My parents experienced that, and so did my sister and I," said Sanabria, speaking of the prejudice Puerto Rican families felt.
"They were American citizens, but they [white New Yorkers] just feared them out of ignorance. Those whites abandoned those neighborhoods. Now the sons of daughters of the whites that fled want those neighborhoods back," said the musician, referring to the changes in recent decades that have brought many young whites to New York City neighborhoods that had been seen as primarily ethnic enclaves for decades.
Its themes and music still resonate
The themes of "West Side Story" are more timely than ever, said Sanabria. Coincidentally, Steven Spielberg is currently working on a new adaptation of the film.
"In certain parts of this country it's very dangerous to be Latino right now," said Sanabria. "This CD is an affirmation of all the great contributions we've made to art, theater music, poetry, and activism. It all started with us in New York City. It's also an affirmation for Latino culture in general and what we've contributed to the United States."
New York City now, said Sanabria, is much more ethnically diverse; neighborhoods that used to be primarily Puerto Rican now have many Mexican, Dominican, Haitian, Indian and Brazilian families compared to 1950s New York.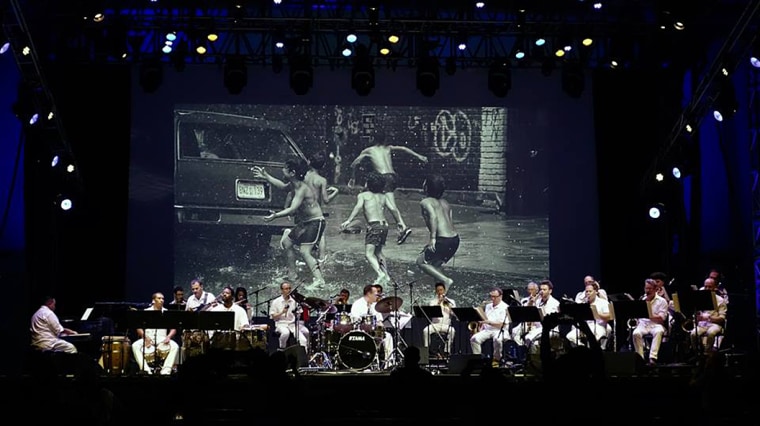 "When my ancestors came from Puerto Rico, mambo was the biggest thing, but Bernstein didn't know about the bomba and plena, so I incorporated that — as well as Dominican, Brazilian and funk sounds," said Sanabria.
Even though he never got the chance to meet Bernstein in person, Sanabria educated himself on his life and his love of authentic Latin music, which he says was evident throughout the original score, including the Mexican huapango (Puerto Ricans were fans through the popular Mexican cinema at the time) on the "America" rooftop scene.
"In 1942, Bernstein went to Key West, and he first heard Latin music broadcast from Cuba," said Sanabria. "That's how he first fell in love in Latin music. His wife was from Costa Rica, but raised in Chile…His three kids spoke Spanish fluently. He always loved Latin music. He would go to the Palladium with his wife. That's why the mambo scenes sound authentic."
"That's why 'West Side Story Reimagined' represents all the rhythms from those communities," said Sanabria about the eclectic sound of his one hour and twenty minute album, where Sanabria provides vocals and plays the drums, cowbells, police whistle and samba whistle.
Matthew González plays the bongó/cencerro, primo bomba drum, Iyá batá, requinto pandereta, ganza, and Dominican güira; Takao Heisho plays the claves, Cuban güiro macho, cencerro, Puerto Rican guicharo, okonkolo batá drum, maracas (Cuban and Venezuelan), shekere, tambourine, cuica, pandeiro, triangle, gong and police siren.
Giving back
The devastating effects of Hurricane Maria a year ago has led to another wave of migration of Puerto Ricans to the mainland. The Center for Puerto Rican Studies at Hunter College in New York estimates that over 135,000 Puerto Ricans have migrated to the mainland in the six months after the deadly storm.
Sanabria, who also teaches at the Manhattan School of Music and The New School for Jazz and Contemporary Music, partnered with the Jazz Foundation of America to ensure that a large part of the proceeds from the sale of "West Side Reimagined" will go towards helping musicians in Puerto Rico who lost their homes, performance venues, recording equipment, and instruments, with housing and medical expenses.
Sanabria is one of several Puerto Rican artists who have used their talents to help Puerto Rico; Lin-Manuel Miranda's "Almost Like Praying," whose song's title and chorus also comes from West Side Story's song, "Maria," has also raised millions for the island.
After live recording the album at Dizzy's Club Coca-Cola in NYC with his entire 22-piece orchestra, and then holding a concert at Lincoln Center in August, Sanabria will be performing 'West Side Story Reimagined' at The Kennedy Center in Washington, DC on January 18, 2019.
Aside from helping Puerto Rico, Sanabria hopes his album can help bridge persistent divisions, a goal sought by the "West Side Story" creators.
At the close of the second CD, Sanabria says: "Maestro Bernstein, he succinctly had the answer. In this world of violence, hate and ignorance what will we do? We will make even more beautiful music, more beautiful theater, more beautiful poetry, more beautiful art, and more beautiful dance as in this West Side Story."
FOLLOW NBC LATINO ON FACEBOOK, TWITTER AND INSTAGRAM