Many parents dream of watching their child cross the graduation stage to receive their diploma, and it's a child's wish to look up and see their parents in the audience.
But for one Harvard student, that dream almost didn't become a reality.
Norma Torres Mendoza, 25, is graduating from Harvard University's Kennedy School of Government with a Master's in Public Policy and International Affairs on Thursday. She is also an undocumented immigrant.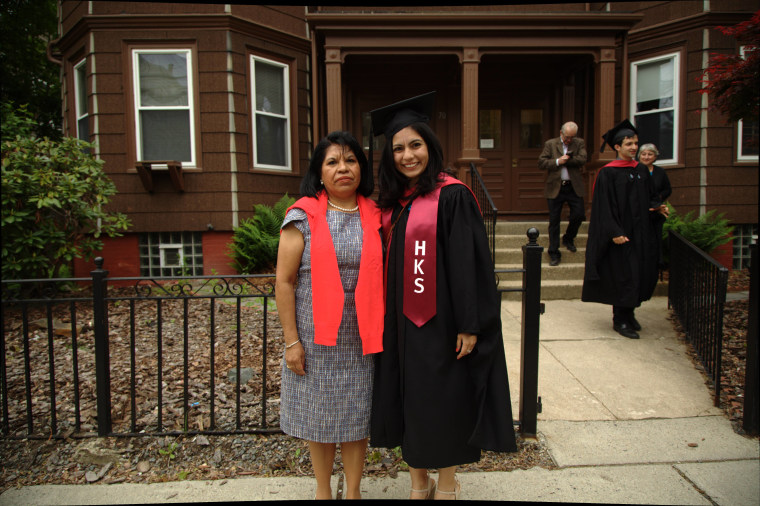 Mendoza can travel, work and study freely because she has Deferred Action for Childhood Arrivals, or DACA, which allows young immigrants like Mendoza who qualify to receive a renewable two-year exemption from possible deportation.
But it's a different situation for Mendoza's mom, Carmen Torres. As an undocumented immigrant, she can't risk flying without being detained — and possibly deported. She lives in Houston, Texas, nearly 2,000 miles away from her daughter's graduation in Cambridge, Massachusetts.
Mendoza didn't want her mother to miss her graduation from one of the most prestigious institutions in the world, where many of the nation and world's leaders have studied. Mendoza took it upon herself to make sure her mother wouldn't miss her long awaited day.
RELATED: Immigrants Qualifying for Executive Actions Deeply 'Embedded' in U.S.
Mendoza flew to Houston and then drove her mother almost 2,000 miles, a total of three days, stopping along the way to snap a picture at each state crossing, a small price to pay to have her mother by her side.
"I was pretty excited to show my mother where I've been for the past two years," said Mendoza, about giving her mom a grand tour of her current city.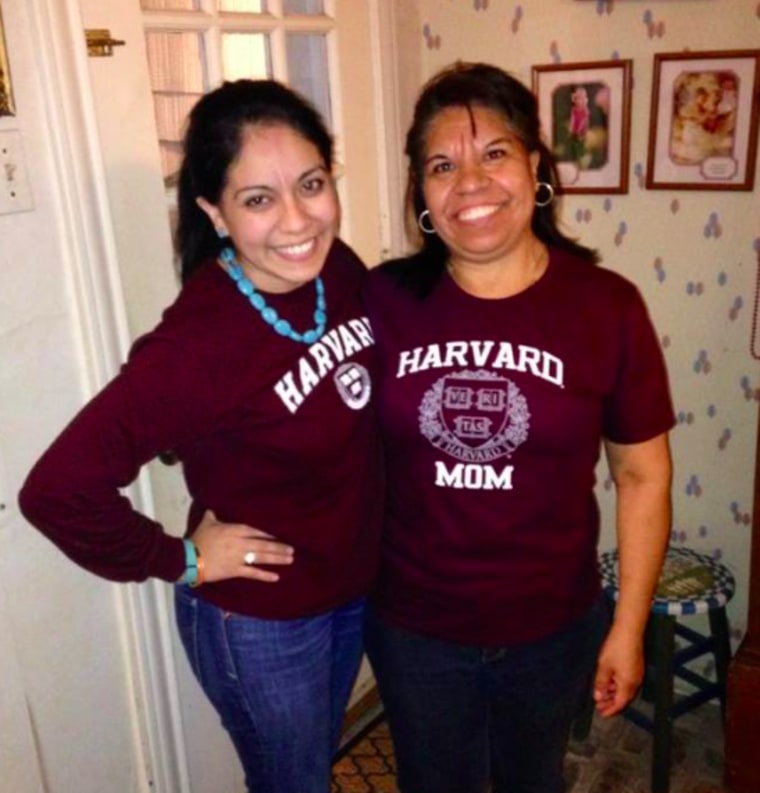 Torres is undocumented and has worked as a housekeeper in the United States since leaving Mexico 16 years ago.
"My mother always told me that education was the only thing that no one could ever take away from me," said Mendoza.
RELATED: American Dream: After Qualifying For DACA, Young Immigrants Buy Homes
Mendoza definitely listened to her mother.
Prior to attending Harvard, Mendoza worked for Deloitte Consulting where she was a Human Capital Analyst. While earning her Bachelor's degree in Political Science and Hispanic Studies from Rice University, Mendoza co-founded the Young Owls Leadership Program. YOLP has helped more than 300 Houston area students be the first in their families to attend four year universities.
Ahead of the official Harvard University graduation, Mendoza walked arm and arm with her mom at Harvard's second annual Latino Graduation on Tuesday, a student-led initiative to celebrate the accomplishments of Latino graduates.
The Latino Graduation included a presentation of a specially designed stole presented to the graduates by distinguished faculty and guests who have contributed to their academic and professional achievements.
RELATED: For These Latino Families, Supreme Court Immigration Case Is Personal
"It's unbelievable because my mother comes from a very humble background," said Mendoza. "I don't think she's ever imagined that she would be at this point in her life where her daughter is getting a Master's from Harvard."
This summer, Mendoza plans to drive back home to Houston on a mission to mobilize the Latino vote in this presidential election season. After that, she's leaving her options open.
"I'm still going through a few offers for a full time job beginning in August," said Mendoza.
Thursday, she will officially graduate from Harvard University. And her mother will be proudly watching from the audience.
"She taught me the value of working hard, persevering and ensuring that we leave this country better than we found it."