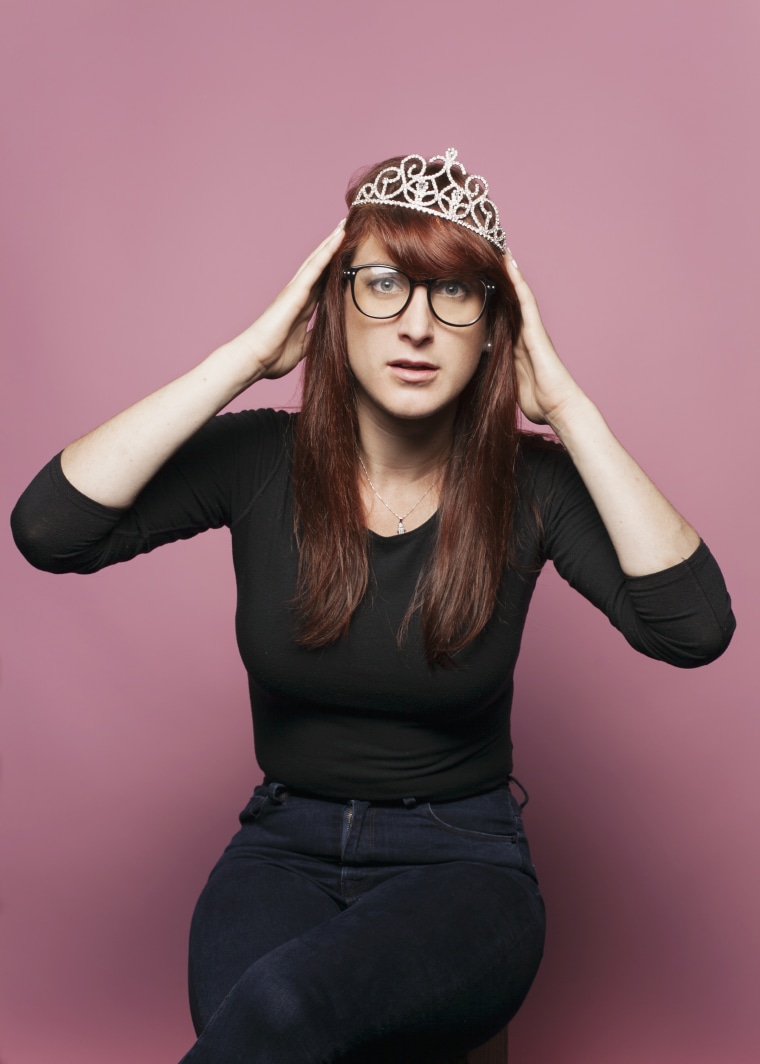 NAME: Joanna Hausmann
HERITAGE: Born in Caracas, Venezuela
HOMETOWN: New York, NY
OCCUPATION/TITLE: Comedian and Content Creator
Joanna is a full-time video creator, writer and producer for Univision's bilingual digital platform "Flama." Her viral creations have garnered over 20 million views and have been featured in places like Cosmopolitan Magazine, The Huffington Post, BuzzFeed, Latina Magazine, NPR and the BBC. She is also the host of her very own vlog series titled "Joanna Rants" that have collectively reached over 8 million views. Joanna is a house performer at the Upright Citizens Brigade Theater in New York and, like so many others, hates wet socks.
As a little girl growing up in…wait, where did you grow up?
Ok, so I was born in Royal Leamington Spa in England, then I went to live in Caracas around six and then we moved to Washington, DC, but then I came back to Venezuela and went to high school, then my family came to Boston and now I'm in New York. So, yeah, I moved around a lot.
So growing up in Caracas, did you know you wanted to be a comedian?
No. I wanted to be a marine biologist. I went to zoo camp and realized that I was the clown - I just couldn't sit still in my class and I would imitate our teacher and the animals; we would get these little fake animals in class and I would make them talk. My parents knew I was meant to be a comedian and pretty much after I got over the zoo camp thing, about when I was nine, I decided that I was going to be a comedian.
Boy, that must have been So. Much. Fun. for your poor teachers.
Actually, I think that I was always more of a clown for my teachers than I was for my fellow students. For example for Halloween, I dressed up as Marilyn Monroe in the 8th grade and then Woody Allen and all my friends thought that I had dressed up as nerd. So yes, I was a class clown but I never got into trouble because my teachers thought I was funnier than my friends did. In fact, my friends' parents thought I was funnier than they did, too. It was because my references were really dated.
Aside from Woody Allen, who were your greatest comedic inspirations?
When I started watching comedy as a teenager the stuff I liked – "The Office" (the UK version) and "Parks and Recreation" – was moving away from the sitcom genre and into single-camera set-up, which was dry and kind of awkward and silent and subtle. I really loved Ricky Gervais, I would laugh because it felt so real. Especially compared to 90's comedy, which I really didn't love, it was so over-the-top, just so campy. When I watched "The Office" for the first time, I was like "Holy crap! Is this a reality show or what?" and no one else in my school in Venezuela loved "The Office."
Aside from that, I think that every female comedian says Tina Fey, and I do love her but Amy Poehler, for me, is a bigger inspiration. I love the way she commits to all her characters – she's funny but she's also an amazing actress as well. And, of course, Louis CK, especially after I learned he is a Mexican Jew - that's a real inspiration.
How did you get from impressing your high school teachers with oldie in-jokes to being the full-fledged funny woman you are today?
I went to Tufts University. Both my parents were professors so I love academics and loved taking classes. I majored in History and English and wrote several one- act plays then, eventually, a full play, which was produced. After one of the performances several older people came up to me and said, "I had the lowest expectations but this was really good." That's when I realized I had some sort of talent to make it in the real world.
So after I honed in on creative writing I also performed, acted and then I applied to grad school but ended up going to Second City in Chicago, which is really home to all that comedy entails – you can really feel all the history there. I had never done sketch before but I did it all, it was an intense program where I learned improv, sketch, standup writing, directing for sketch…it was the most intensive, amazing program and when I was done I was like, "Oh, OK, now I know what I'm doing."
And you are, famously Jew-tina, correct? In one of your stand-up shows you say got the worst of both worlds because you're "bad at dancing and terrible with money."
Yes, so my mom and dad were both from immigrant families in Venezuela. On my mother's side, my grandmother was from Cuba and escaped Fidel Castro and on my dad's side his family were Jews from Germany and Belgium who escaped the Holocaust. So both sides escaped persecution to find a new life in Venezuela and are very proud of their Venezuelan-ness.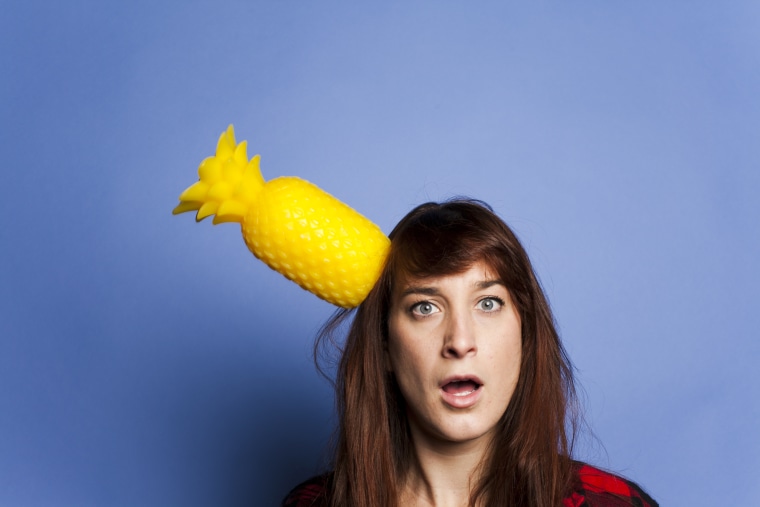 How do you integrate your diverse background into your comedy while walking the fine line between playing off stereotypes and exploiting them?
It's interesting because a lot of times I have to review scripts that come in and I see people using stereotypes as crutches instead of using them to illuminate something. Stereotypes are something that, as a comedian, you can, in a certain way, use as a tool to reverse expectations. I think comedy has to come from a very genuine, real place. For instance, my mom is a very stereotypical Latina mom and I celebrate the hell out of her being the way she is. She's not a crutch, I use my stories about her to depict a part of my life that is real. In that way, walking the fine line is easy when you look within yourself and tell a story that's true to you, rather than using a stereotype to get laughs.
I've seen a lot of comedy about violence, about having a lot of babies, all those old, overused tropes that aren't celebrating anyone's identity and that's just not useful. I think people laugh when they realize you're not humanizing a stereotype but, rather, using a stereotype to humanize yourself.
And how, exactly, does a stereotypical Latina mom take her lovely daughter using her in stand-up routines? And do your parents worry about you not having a quote-unquote real job?
To be honest, my mother is not so happy about some of the things that blow up on YouTube. She says, "A lot of people think they know what I'm like!" and I'm like, "Mom, that's exactly what you're like, just embrace it!" Thankfully both my parents are very progressive and they both always told me that the number one thing in life was to find my passion and do what you love, versus finding who you love. They are the most supportive of anything I do.
And why do you do what you do?
The stuff I make for online audiences, for example, I really want them to feel identified with. I want them to see themselves in what I'm saying – that makes me feel connected with the world. I like the feeling of people not being alone in their identity – but through laughter.
Is it working?
I really didn't set out to change the world, I just wanted to make funny stuff that people could identify with. What I'm really attempting to do, subconsciously, is to humanize "the other" and make people realize that we're pretty much all the same. Just because I'm Jewish, Venezuelan and white doesn't mean I don't have the same perspective on life and the world as all the people who watch my stuff.
Sometimes I'll get people saying to me, "Wow, you're the first Jewish person I've ever liked" or "the first Latina I could understand." I don't want to be an exception. I want to be a portal to understanding that ethnicity and nationality don't really mean anything. If my comedy can do something to make people more understanding of each other at a human level, then I'll feel like I'm doing at least one thing right.
Any advice for all the Latina marine biologists out there looking to break into comedy?
It's very hard to silence the voices coming from society, from family expectations - inside your heart and your head you probably know what you want to do, so you should do it. Look to other women to help and support you because they are going through the same thing, but, really I feel like this is the time of women.
We are breaking all the statistics – more of us are going to college than men, there are more of us in higher places of power… no one else's expectations should limit us. One of my most heartfelt goals is to represent women in a way that they feel proud and that shows that beauty and loveliness is so secondary to everything else they can give to the world.
Latinas have a lot of expectations on them to look and act and be a certain way, and and I say f--- it all.
Esther J. Cepeda is a Chicago-based journalist and a nationally syndicated columnist for The Washington Post Writers Group. Follow her on Twitter, @estherjcepeda