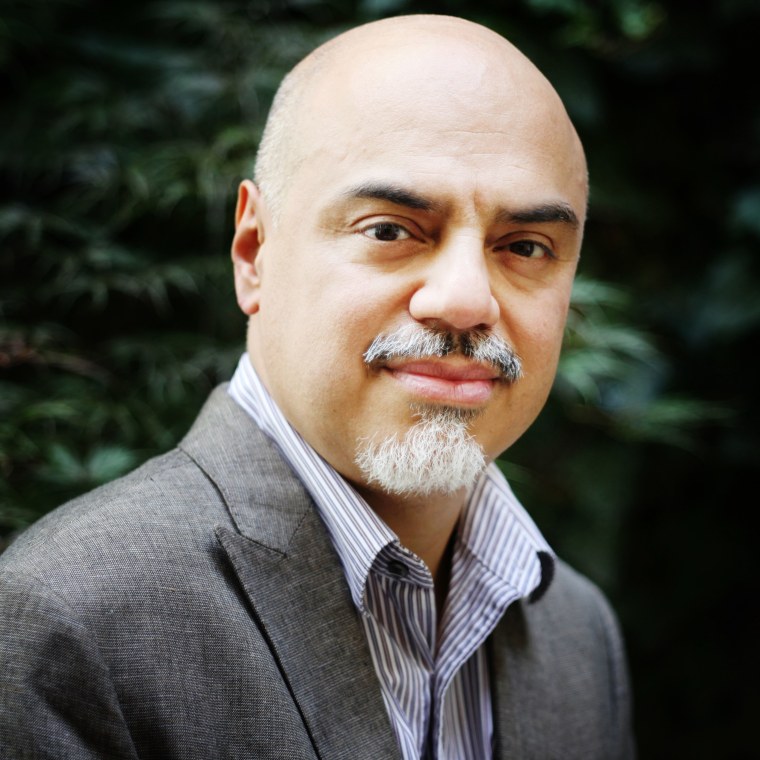 NAME: Hector Tobar
AGE: 52
HERITAGE: Guatemalan-American
HOMETOWN: Los Angeles, CA
OCCUPATION/TITLE: Author and journalist
Héctor Tobar is the author of four books, including his most recent, the critically acclaimed bestseller "Deep Down Dark: The Untold Stories of 33 Men Buried in a Chilean Mine and the Miracle That Set Them Free" as well as Translation Nation: Defining A New American Identity in the Spanish-Speaking United States. Tobar is also an accomplished journalist who spent nearly twenty years at the Los Angeles Times and has written for The New Yorker and LA Weekly. Earlier this year the New York Times named him one of a stable of op-ed section contributors. Tobar is also an adjunct professor at Loyola Marymount University and Pomona College and is currently an assistant professor at the University of Oregon's school of journalism and communication.
Did you always know that you wanted to write for a living?
I grew up in a home where my father really valued reading and books. But I never had an idea that being a writer could be a profession anyone could pursue. I didn't know it growing up and even in college no one ever suggested I become a journalist, a novelist or anything like that. I studied Sociology and Latin American Studies in college and started reporting at a community newspaper and caught the journalism bug. Talking to people, collecting stories, making an argument and trying to persuade people of a truth – that, to me at 24 years old, was the first time I realized writing was a profession that I could pursue.
Who supported you in your decision to go into journalism?
I would say, for starters, my father. As soon as I began to be published, especially in the pages of the LA times, he became my principal cheerleader. He'd call me after every story, read each of my books three times. It came out that he'd been keeping a secret his whole life: his mother had been illiterate. For him to have a son who is a writer was really an amazing family achievement. My father, too, had to fight to be educated – he left Guatemala and came to the U.S. and attended night school in his early 20's to earn his GED and learn English.
Also there were many professors and editors throughout the years who were really encouraging. Everyone from a U.C. Santa Cruz literature professor who was a radical leftist and incredibly passionate about ideas and language and very inspiring all the way up to so many editors at the LA Times who advocated for me in newsrooms and my book editors today.
Was it difficult being a Latino journalist in the 90's when newsrooms were still in the beginning stage of becoming more diverse?
When I was first hired at the LA Times, I was part of a group of people from underrepresented groups hired to integrate the newsroom. We were targets of resentment, people were skeptical of our abilities.
So I spent my whole career walking that tightrope just trying to be absolutely professional and I was able to show people what I could do. I always derived so much pleasure from seeing peoples' faces when they would see my copy and it was polished, well-organized, elegant and forceful. We all have this chip on our shoulder and I lost mine when my third book was translated into French. I went to Paris and all these French journalists referred to me as a "romancier;" (novelist) I thought, "OK now I'm a writer, I can take that chip off."
How has the perception of Latinos changed over time?
I think the most important thing is that Latinos have changed the U.S. and changed the way people think about the U.S. America is now just a lot more comfortable with the idea this is a multi-ethnic country. I've seen this in my lifetime, it's just so much easier to be ethnic.
In our society today, there's been so much intermarriage that Millennials are more likely to grow up in an American middle class that is more integrated than 25 years ago. So there is a higher sophistication [though] not as much as I'd like; writing about communities of color, especially topics like immigration, bring out so many hateful misconceptions. I think people grow up today with a lot of self-confidence about their cultural identity. For example my wife's family didn't want her to speak Spanish because you got punished for speaking it at school, but my dad always spoke to me in Spanish.
I have a beautiful daughter who is 11 years old and she is a morena, (brown-skinned) but she has many, many powerful role models to choose from: thinkers, authors, athletes, musicians, there are so many Latinas breaking ground in so many fields.
I didn't grow up with that. I hope today more kids grow up with a sense of power about their culture, nobility and of their history.
How does one become a good writer?
You keep working at it. I believe that the day that I decide I have no more to learn about writing is the day I will no longer be a good writer. I am trying to learn something new and try something new everyday. I'm always trying to advance my craft, to deepen my ability to understand human truths and create art. For me that's a constant, every-day education because I try to do something new with every paragraph and the keep reader off balance. I want the reader to say, "What's he going to do next? What's on the next page?" That learning, working, bettering is a lifelong process.
Any advice for young and aspiring writers out there?
I think the most important thing I've learned in my life is that there's nothing more important to being successful than to fail. I've learned more from the failures than the successes. Years ago I wrote a novel that didn't sell and that was extremely helpful because it taught me what I needed to do to write a novel that was worthy of being published.
I fail every day when I write something that's not up to par and it's called a draft. You can't be afraid to fail if you try to do something that you haven't done before. You have to stretch yourself as a thinker and as an artist.
Esther J. Cepeda is a Chicago-based journalist and a nationally syndicated columnist for The Washington Post Writers Group. Follow her on Twitter, @estherjcepeda