Puerto Ricans from all walks of life mobilized in Old San Juan on Wednesday night for one of the largest protest in the island's history — 100,000 to 500,000 people shouting "Ricky, Renuncia!" ("Ricky, Resign!") at the island's governor, Ricardo Rosselló.
People have been protesting everyday in San Juan and other parts of the island for a week, demanding Rosselló's ouster. So far, there's no indication they will stop anytime soon.
This is a historic moment for an island that is not largely known for mass mobilization or protests — even after it was destroyed by Hurricane Maria in 2017, the deadliest natural disaster in U.S. history. After a storm that resulted in the deaths of at least 2,975 people and no electricity for months — even a year for some parts of the island — there were no protests in the streets.
So what got Puerto Ricans to this point? Here are five things to know.
It started with leaked private chats
On July 8, local media outlets published excerpts of profanity-laced and derogatory private chat messages between Rosselló and some administration officials and some close associates, including lobbyists.
A few days later, the island's Center for Investigative Journalism (known as CPI for their name in Spanish) published 889 pages of the chats — and that's when public anger ignited, leading to the protests.
What's in the chats?
The chats, on the encrypted messaging app Telegram, shocked islanders for their vulgarity and crassness and raised questions about possible conflicts of interest and violations of the law.
There were insults: The group made fun of an obese man the governor had posed with in a photo; called former New York City Council Speaker Melissa Mark-Viverito a "whore"; made homophobic remarks about pop star Ricky Martin; and said that Carmen Yulín Cruz, the mayor of San Juan who had announced her intent to run for governor against Rosselló in 2020, was "off her meds ... either that, or she's a tremendous HP," the governor said, using the Spanish initials for "son/daughter of a b----."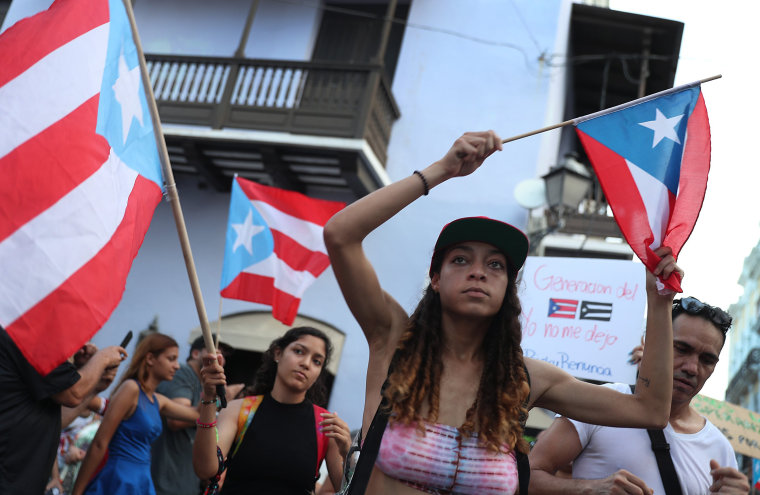 The group also made jokes about the corpses that piled up after Hurricane Maria, something that struck a chord among many Puerto Ricans and is repeatedly mentioned during the protests.
Puerto Ricans also got a window into the administration's efforts to steer the media narrative and smear political opponents. In the chat, politicians also shared confidential government information with people who were not public officials.
Beyond the insults, island and federal authorities are investigating whether the chats point to wrongdoing such as corruption or conflicts of interest.
Who's in the chat?
The members of the chat group were Luis Rivera Marín, Rosselló's secretary of state; Christian Sobrino, who held a series of economic posts; Alfonso Orona, Rosselló's former chief legal officer; Ramón Rosario, former public affairs secretary; Raúl Maldonado, former chief financial officer; one-time communications aides Carlos Bermúdez and Rafael Cerame; Edwin Miranda, a communications consultant; Interior Secretary Ricardo Llerandi; Public Affairs Secretary Anthony Maceira; and Elías Sánchez, a lobbyist and Rosselló's former campaign director.
The Center for Investigative Journalism published an investigation alleging that the messages show glimpses of a multibillion-dollar corruption network as well as the use of public resources to do partisan work.
According to CPI's investigation, Rosselló was aware that Sánchez, Miranda and Bermudez were giving preference to companies that Sánchez lobbies for and granting them government contracts — some of which were funded with federal money.
Why the calls for Rosselló's resignation?
Many see the leaked chats as the last straw for an island still struggling to recover from a devastating hurricane, all amid a decade-long financial crisis.
The messages were also leaked on the same week Puerto Rico's former secretary of education, Julia Keleher; former Puerto Rico Health Insurance Administration head Ángela Ávila-Marrero; and four others with government contracts under Rosselló's administration were arrested and charged with 32 counts of money laundering, fraud and other related charges for allegedly embezzling $15.5 million in federal funding from 2017 to 2019.
The Rosselló administration has been rocked by various other corruption investigations since June. Rosselló ousted Maldonado as chief financial officer after Maldonado said on a radio show that Puerto Rico's Department of Treasury is run by "an institutional mafia of many years."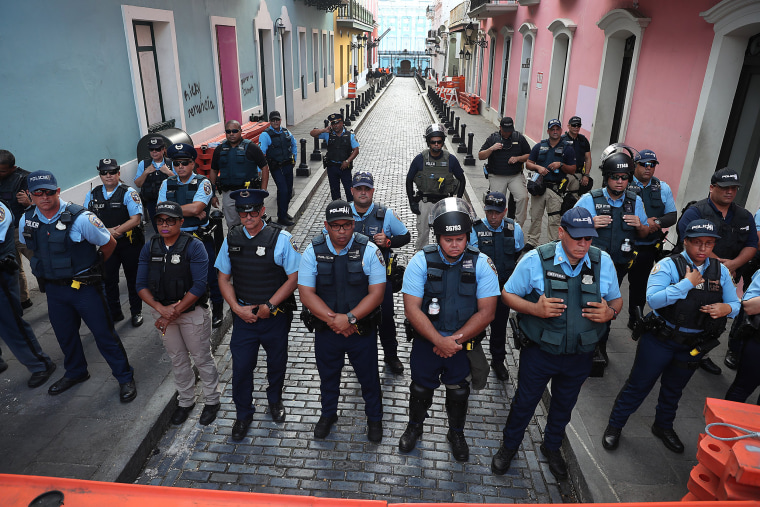 The FBI is also investigating the finances and donation requests of Unidos por Puerto Rico, the nonprofit organization created by Rosselló's wife, Beatriz Rosselló, to handle Hurricane Maria-related donations.
Unidos por Puerto Rico, which received $41 million in donations, was run for a time by Jorge del Pino, the brother-in-law of lobbyist and group chat member Elías Sánchez.
Well over 45 public officials have either resigned or been fired since Rosselló became governor in 2017.
Will Rosselló resign or be impeached?
In the wake of the revelations, Puerto Rico's Department of Justice and the Office of Government Ethics has launched investigations into what has been dubbed #TelegramGate or #RickyLeaks to determine whether the leaked conversations — showing public officials, lobbyists and others discussing public policy issues and party politics — point to possible law violations.
The president of Puerto Rico's House of Representatives, Carlos Méndez Núñez, appointed three lawyers to investigate the contents of the leaked chats to see if there's reason to start an impeachment process.
Puerto Rico House Rep. Dennis Márquez already introduced a resolution to initiate impeachment proceedings against Rosselló, outlining 18 possible crimes that stem from the leaked chats.
Rosselló has doubled down multiple times on his plans to remain as governor, amid dozens of calls from people inside his pro-statehood party and other sectors to step down.
Democratic 2020 presidential candidate Julián Castro, who made Puerto Rico his first campaign stop after announcing his candidacy, became the first presidential hopeful to call for Rosselló's resignation at a press conference with reporters. Sen. Elizabeth Warren did too, tweeting that "the people have spoken, loud and clear" and Rosselló should resign. Other Democratic candidates including Sens. Bernie Sanders and Kirsten Gillibrand as well as Rep. Tulsi Gabbard and Marianne Williamson have also said publicly they stand with the people of the island.
According to Puerto Rico's constitution, if the governor's seat is vacant, the secretary of state is next in line. But Rosselló's secretary of state, Luis Rivera Marín, resigned in the wake of the leaked chats.
FOLLOW NBC LATINO ON FACEBOOK, TWITTER AND INSTAGRAM.