WASHINGTON -- It's been nearly six decades since Hawaii became the 50th U.S. state. Puerto Rico – or the majority of 23 percent of its residents who voted Sunday — have said it's time to make the U.S. territory the 51st state.
But don't start altering the star pattern on Old Glory just yet. The vote hardly makes becoming a state a done deal for Puerto Rico – which like Hawaii is actually an archipelago of islands.
Puerto Rico has been down this path before and thus far hasn't made much headway. Like many times before, there's all kinds of politics mixed up in the Puerto Rico quest to be a state.
It's been a while since the Union added another state, so here's a look at what Puerto Rico Gov. Ricardo Rosselló and his pro-statehood administration plans to do next and whether the political conditions are ripe for such a momentous change.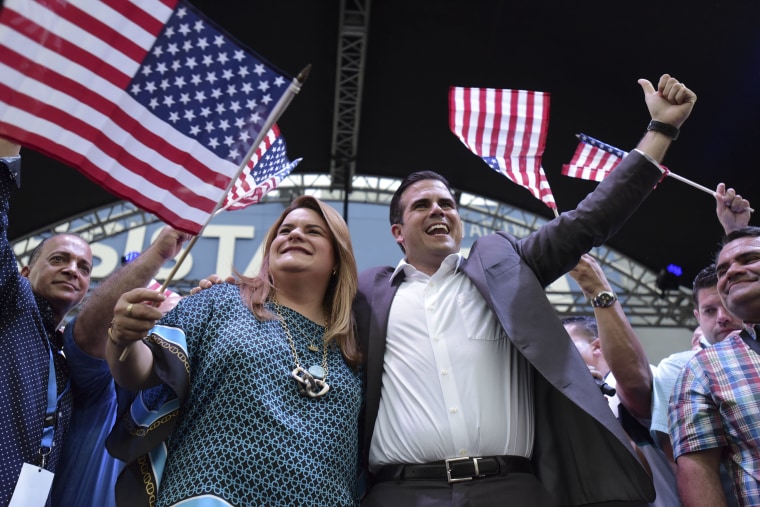 Does the vote mean statehood is automatic?
No. Despite support for statehood from 97 percent of about 500,000 Puerto Ricans who went to the polls, Congress can ignore the vote.
So why was the plebiscite held?
For the pro-statehood government, the vote allows Puerto Rico to tell Congress there is support for statehood. The Puerto Rican government will emphasize that 97 percent of voters in the plebiscite said they want Puerto Rico to be the 51st state.
RELATED: Amid Low Voter Turnout, Puerto Ricans Vote for Statehood
Only about two in 10 Puerto Ricans who are registered to vote turned out to the polls, and two out of the three main political parties boycotted the vote. But supporters argue other territories were admitted as states despite low participation.
"The federal government cannot ignore the results of this plebiscite and the will of our people," said Rosselló on Sunday. "It would be quite ironic to demand democracy in other parts of the world but not in their own backyard. This is our home."
What comes next?
Jenniffer González-Colón is Puerto Rico's resident commissioner in the House. She can't vote in Congress, however. She will file a new bill – replacing one she filed in January based on Puerto Rico's 2012 plebiscite – that petitions for statehood and cites Saturday's vote results.
Then, González-Colón plans to ask the House Natural Resources Committee to hold a hearing on her bill. It would require House and Senate approval and the president's signature for Puerto Rico to become a state.
"We are going to use every method, every path, to make this message go through. This is a movement," González-Colón told NBC Latino. "This is a way to give voice to the will of the people."
Meanwhile, in the coming weeks, Rosselló will appoint a group of seven people who will travel to Washington to act as its quasi-congressional delegation of two senators and five House members. That delegation will be trying to make the case to members of Congress to approve the statehood legislation.
Rosselló also was to be in Washington this week to make the case for Puerto Rico statehood.
But they won't be the only ones knocking on the doors of congressional members. Opponents of statehood will wage their own effort. Héctor Ferrer, president of the pro-commonwealth Popular Democratic Party (PPD in Spanish) says his group is preparing a letter to Washington explaining the vote, including that in their view the plebiscite was designed to give statehood the victory. That will be followed by visits to Washington and plans for its own presence in the nation's capital.
"The statehood party is going to Washington to tout this "victory" and we're going to be right there along with them, telling everyone that they are pushing a falsehood," Ferrer told NBC News.
Has this been tried before?
Puerto Rico is following what is known as the Tennessee Plan.
Like Puerto Rico, the territory that became the state of Tennessee was looking for a speedier path to statehood. Rather than wait on a slow-moving congressional protocol, It held a vote for statehood, set up a state government, elected House and Senate members and demanded the resistant Senate seat them. After some legislative maneuvering, Tennessee picked up House support and within a few months became a state on June 1, 1796.
Puerto Rico's government has referred to the Tennessee Plan as its template to get statehood, although its delegation is appointed and not elected, and has said it too will demand to be seated.
Does Congress want Puerto Rico to be a state?
There have been members of Congress that pledge support, but many bets are that Puerto Rico will have a very challenging time getting backing in Congress.
The turnout will be taken into account as it has been in the past. In addition, legislation passed in 2014 set aside $2.5 million for Puerto Rico to hold a vote on its status, with the condition it get approval of its ballot from the Department of Justice.
Although Puerto Rico's government worked with DOJ on its definitions, Attorney General Jeff Sessions did not sign off on the final ballot. By holding the plebiscite anyway, Puerto Rico, which is mired in debt, gave up the $2.5 million and some say the federal approval that could have given Puerto Rico more clout with Congress.
RELATED: Puerto Rico Holds Vote Sunday on Statehood Amid Criticism Over Timing, Costs
"This is as close to dead on arrival as you can get," says Federico de Jesús, a political consultant with FDJ Solutions. "Why would Congress and the administration, for that matter, pay attention when they didn't follow the rules?"
To deal with Puerto Rico's ongoing debt crisis, Congress appointed a fiscal board to try to bring it to solvency. While the board had no say on whether the plebiscite could be held, it does have say on Puerto Rico entering any contracts worth more than $100,000 a year. De Jesús says any lobbying or public relations contracts, which would usually be far more, would have to be approved by the fiscal board.
Where does the administration stand on Puerto Rico's status?
During his campaign, President Donald Trump said in a statement he'd "do my part to ensure Congress follows the Constitution and that he was "firmly committed to the process where Puerto Ricans might resolve their status according to constitutional and congressional protocols."
In addition, the Republican Party platform includes supporting language for Puerto Rico's self-determination that also urges Congress to approve legislation admitting Puerto Rico as a state based on the 2012 plebiscite.
But White House spokesman Sean Spicer was non committal in Monday's press briefing, essentially punting the issue to Congress and saying "the process will have to work its way out."
Additional reporting by NBC Latino contributor Patricia Guadalupe.